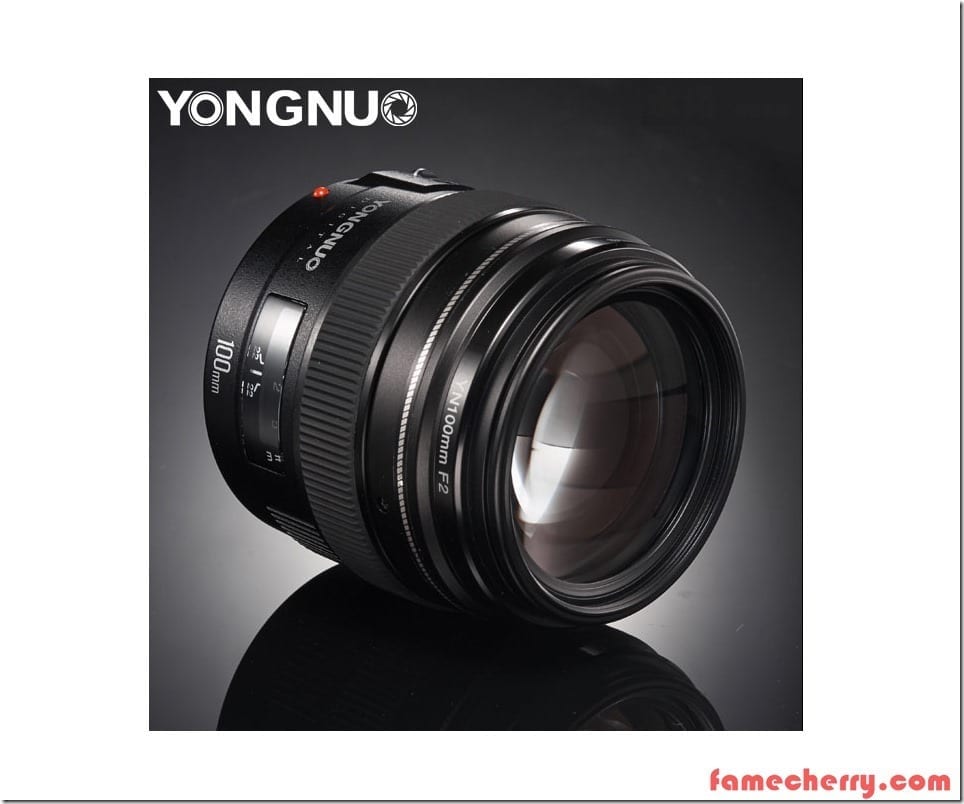 Price : RM 759 Approx
( Actual Price In Cost Sheet )
Description : The Yongnuo 100mm f2 Canon is a budget-friendly lens that is comparable to the Canon 100mm.

( We also accept payments in SGD ) ( Kindly Contact Us For Unbelievable Best Price )
Purchase Options : Shipping Available To All Parts of Malaysia, Self Pick Up Is Available at our branch in Cheras
Community
Join The Zenit Worldwide Community : https://www.facebook.com/groups/zenit-world 
Orders & Enquiries

Please email us at shops.famecherry@gmail.com or call us at 012-3375629

( We are also available on Whatsapp but if urgent please make phone call ya )



Lens Review
Here's Yongnuo's New US$170 100mm f/2 Lens for Canon EF :http://www.digitalrev.com/article/here-s-yongnuo-s-new-ususd170-100mm-f-2-lens-for-canon-ef 
YONGNUO LAUNCH BUDGET 100MM F/2 LENS WITH AN 85MM ON THE WAY :http://www.diyphotography.net/yongnuo-launch-budget-100mm-f2-lens-85mm-way/ 
Yongnuo Releases a Dirt Cheap 100mm Lens for Canon Users :https://fstoppers.com/gear/yongnuo-releases-dirt-cheap-100mm-lens-canon-users-152107 
Yongnuo 100mm f2 Lens Sample Images
Yongnuo 100mm f2 Flickr Group : https://www.flickr.com/groups/3168576@N23/ 
Video Inspiration

Description :
Ideal Background Blur and Quick Autofocus
—YONGNUO Medium telephoto Lens Prime YN100mm F2
Perspective Compressed Effect
The 100mm focal length, which is the equal of 160mm on the APS-C camera, it will let the work generate spatial perspective compressed effect and more close to the background.
Large Aperture
F2 large aperture, which blur the background and highlight the subject.
Supports Auto Focus (AF) and Manual Focus (MF) Mode
Supports auto focus (AF) and manual focus (MF) mode, allows you choose the focus mode as needed.
Nine Aperture Blades
The aperture blades up to 9 pieces, which allows you to shoot the near circular defocused spots,appropriately narrow the apertures can shoot the 18 astral effect.
Metal Bayonet, Outstanding durability
Adopts chrome high precision metal bayonet, which effectively improve the goodness to fit the camera body and the bayonet ruggedness, wear and corrosion resistance for durable use.
Equipped with Focusing Range Indicator
Equipped with focusing range indicator to convenient you to judge the object distance and the size of the depth of field.
Supports Multiple Shooting Modes
Supports multiple shooting modes, and the aperture and data can be displayed in the EXIF Information.
Glass Lenses, Multi-coated
The whole series products are formed by glass lenses,which with multi-coated and effectively improve light transmittance and the inhibit the ghost shadow and glare in photographing.
Gold Plating Technology
Adopts gold plating metal contacts, effectively improve the signal conductivity and corrosion resistance.
Specifications:
• Aperture range : f/2 – f/22
• Number of blades : 9
• Focus mode : AF, MF
• Maximum magnification : 0.140x
• Focal length : 100mm
• Lens size : 76.6 x 122mm
• Full frame :Yes
• Model number : YN100mm F2.0 C
• Filter size : 58mm
• Compatible with Canon mount
• Weight : 400-500g