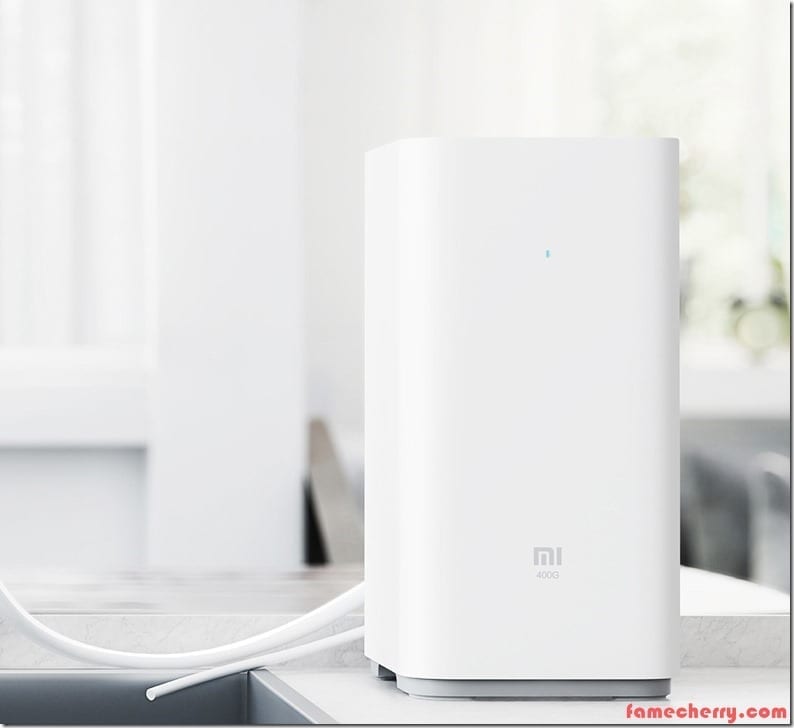 Price : Our cost price 249 China Yuan ( About RM 160.09 )
Our commission we can discuss
( Actual Price In Cost Sheet )
Description : The Xiao Mi Water Purifier offers ultra-fine 0.0001-micron filtration that removes bacteria, antibiotics and heavy metals, giving you the best clean drinking water.
( We also accept payments in SGD ) ( Kindly Contact Us For Unbelievable Best Price )
Purchase Options : Shipping Available To All Parts of Malaysia, Self Pick Up Is Available at our branch in Cheras
Community
Join The Zenit Worldwide Community : https://www.facebook.com/groups/zenit-world 
Orders & Enquiries

Please email us at shops.famecherry@gmail.com or call us at 012-3375629

( We are also available on Whatsapp but if urgent please make phone call ya )



Video Inspiration

Features

– Reverse osmosis (RO) purification
– As pure as bottled water
– 8x filtration speed
– Real-time TDS water quality monitoring
Ultra-fine RO filtration
Filter materials sourced from Dow/GE
Clean, drinking water at home begins with Reverse Osmosis (RO). Unlike typical water filters, RO has an ultra-fine 0.0001-micron filtration that removes bacteria, antibiotics and heavy metals. Mi Water Purifier has four filtration layers in total to provide thorough cleansing. It does not have a storage tank to keep purified water to avoid bacteria growth and secondary contamination. The result is like drinking bottled water, only from your tap.
Drink clean
Effectively removes sediments, limescale deposit, bacteria and heavy metals.
Bacteria
Virus
Antibiotics
Heavy metals
Inorganic matter
Organic matter
Micro-filtration
Ultra-filtration
Reverse osmosis (RO)
As pure as bottled water
Certified by the Chinese CDC and American NSF
Mi Water Purifier is compliant with the "National Food Safety Standard – Packaged Drinking Water". This means that it's able to turn tap water into high quality purified water, similar to bottled water at your local supermarket. Stringent tests at China's Institute of Environmental Healthy and Related Product Safety showed that it exceeds national standards for filtering out bacteria, heavy metals and inorganic matter. Mi Water Purifier is also NSF58 certified. This stringent test conducted by the American National Sanitation Foundation (NSF) is based on an immersion test that measures the precipitation amounts for 77 different substances.
Up to 99.9% Bacteria filtration
Up to 99.7% Organic matter filtration
Up to 99.9% Heavy metal filtration
Up to 100% Antibiotic filtration
High-flux 400 gallon flow | 8x faster filtration speed
Most water purifiers use storage tanks as a solution to slow flow rates, but often these tanks cannot be cleaned and act as a breeding ground for bacteria. To prevent this from happening, Mi Water Purifier has been creatively engineered to have a high-flux flow without using a storage tank. First, we improved the RO filter design to accommodate multiple water channels instead of one, increasing filtration area and efficiency. Next, a booster pump sustains a high-flux flow. Lastly, we increased filtration efficiency by to up 8 times, so you can enjoy fresh, pure water right from the tap.
4x filtration area, multiple filtration channels
Unlike conventional filters, Mi Water Purifier uses 4-5 RO filtration membranes instead of just one. Larger membranes are also used to improve filtration efficiency.
High-flux booster pump
Capable of 100,000 start-stops and 2000 hours of continuous operation. Provides pressure for tap water to pass through the RO membrane.
Water quality monitoring in real time
Connect Mi Water Purifier with your phone via Wi-Fi, so you always know the TDS value and water quality status of your home. The phone app also alerts you when filters need to be changed. It calculates filter lifespan precisely by analyzing your water quality and frequency of use. This is vastly different from typical water purifiers, which estimate filter replacement dates. Mi Water Purifier also has an independent automatic detection module that checks on each of its 23 core components so you can troubleshoot issues easily.
Compact on the countertop
Smaller base area than an A4 paper, installs in 5 minutes
Installing water purifiers can be complicated and overwhelming. Which is why we challenged our engineers to create a simple, compact purifier that looks beautiful on any counter top and installs easily, without extensive changes to your kitchen. As a result, Mi Water Purifier is extremely compact and has a base area smaller than an A4 paper – even smaller than some electric cookers. It's simple to use and takes a few minutes to unbox and set up. Comes with 6 different adapters that fit most tap heads.