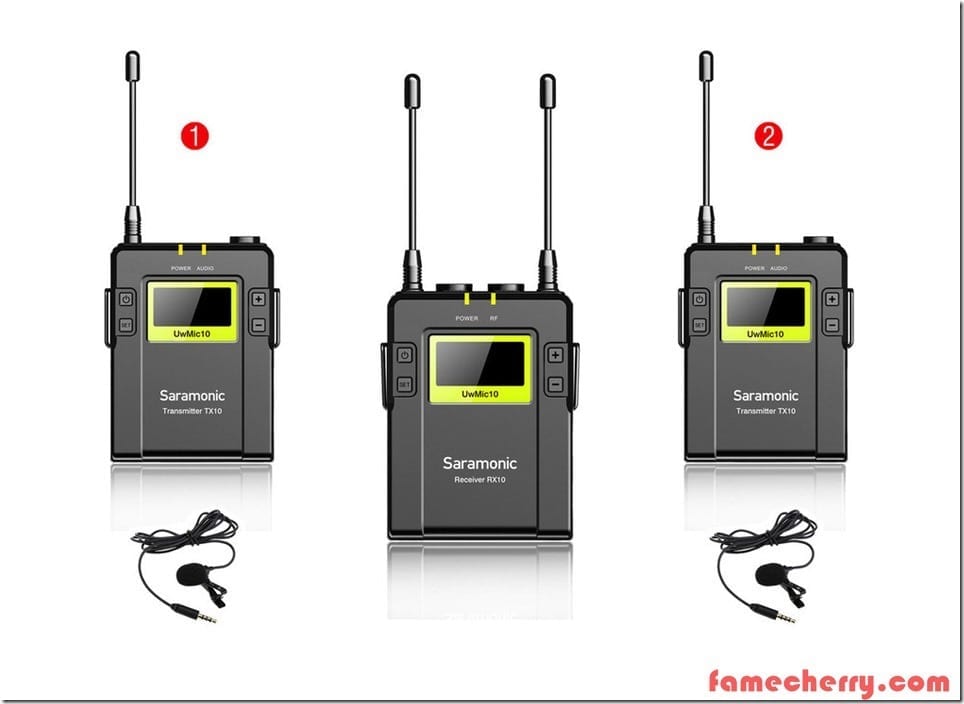 Price : RM 1388 Inc GST ( Free Postage Within Malaysia )
Description : The Saramonic UwMic 9 is now available in Malaysia. The UHF Wireless Lavalier Microphone System provides stable, interference free audio in portable, compact and low cost package. This system is a perfect fit for DSLR videography, field recording and interviews, broadcast TV, ENG, providing dependable audio broadcasting and recording. The system includes a camera-mountable, wireless receiver, 2 wireless body-pack transmitters and clip-on lavalier mic.
( We also accept payments in SGD ) ( Kindly Contact Us For Unbelievable Best Price )
Purchase Options : Shipping Available To All Parts of Malaysia, Self Pick Up Is Available at our branch in Cheras
Community
Join The Zenit Worldwide Community : https://www.facebook.com/groups/zenit-world 
Orders & Enquiries

Please email us at shops.famecherry@gmail.com or call us at 012-3375629

( We are also available on Whatsapp but if urgent please make phone call ya )



Video Inspiration


Features
Characteristics:
– Reliable, broadcast-quality audio
– Wireless transmitter with lavalier microphone
– UHF frequency range: 614 MHz – 696 MHz
– 96 selectable channels in 2 groups
– Operates over 330′ (100m) in open areas. Or 200′ (60m) with obstacles
– Easy to read LCD displays
Receiving Unit:
The UWMIC9's RX-10 receiving unit is a camera-mountable integrated wireless receiver. It features a wide switching RF bandwidth, an easy-to-read LCD display and infrared synchronization between transmitter and receiver.
Equipped with an auto-scan function, the RX10 can automatically search for an available transmission frequency. The headphone jack enables real-time monitoring or the receiver via headphones, especially useful for cameras that lack a monitor output.
Transmitting Unit (X2):
The UWMIC9's TX-10 compact transmitter employs a crystal-controlled PLL synthesizer. It is equipped with a muting function and a BMP-type mic input. The RF power output can be switched among high, middle and low.
Specifications
Channels: 96 channels
Groups: A and B groups
Oscillator Type: PLL synthesizer
Output: 3.5mm mini jack
Antenna: 1/4″ wire antenna
Audio Output Level: -60 dBV
Headphone Output Level: 30mW (16 ohm)
Frequency Range: 614 MHz – 696 MHz
Sensitivity: -95 dBm
Signal to Noise Ratio: 70 dB or more
Voice Delay: 12 ms
Reference Deviation: +/- 5 kHz
Frequency Response: 40 Hz to 18 kHz (+/- 3dB)
Distortion: 0.5% or less
Spur Suppression: -60 dB
Weight: 218.7g (w/out batteries)
Battery: 2 AA size batteries
Dimensions: 170.9 x 63.m x 30.0 mm