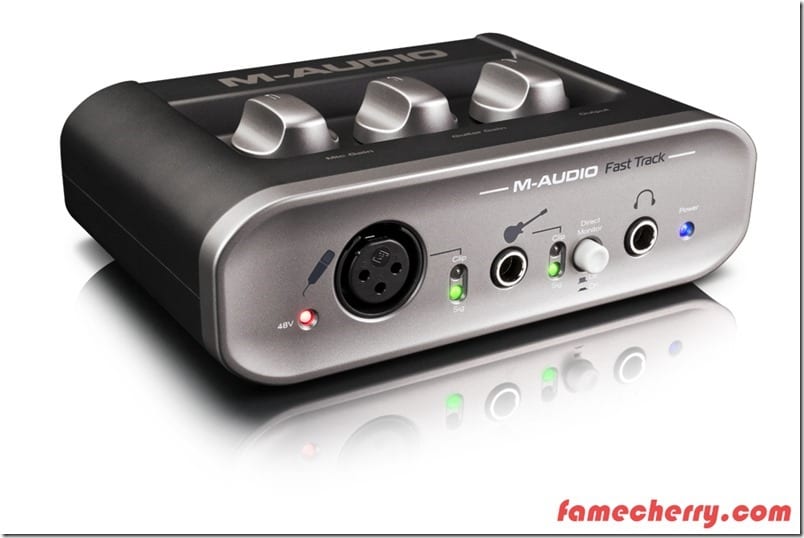 Price : RM 399
Product Description : Turn your computer into a powerful music production studio with the M-Audio(R) Fast Track MKII — the second generation of M-Audio's hugely popular Fast Track audio interfaces. Featuring a simple "plug-and-play" USB connection, Fast Track is the easiest way to record guitar, vocals and more with your PC or Mac. Simply plug in your instruments and you're ready to rock. Fast Track even offers phantom power so you can use professional-quality studio condenser microphones like the M-Audio Nova.
Specifications
– 2-input, 2-output audio interface
– Compatible with most popular recording software including Pro Tools M-Powered 8* and GarageBand
– 24-bit/48kHz professional sound quality
– Plug-and-play USB connection (USB 2.0 compatible)
– XLR microphone input with gain control and 48V phantom power
– 1/4 in. instrument input with gain control
– 1/4 in. stereo headphone output
– RCA stereo speaker outputs
– Output level knob for adjusting volume of headphones and speaker outputs
– Direct monitoring button
– Powered by USB–no power adapter required

Orders & Enquiries

Please email us at shops.famecherry@gmail.com or call us at 012-3375629

( We are also available on Whatsapp but if urgent please make phone call ya )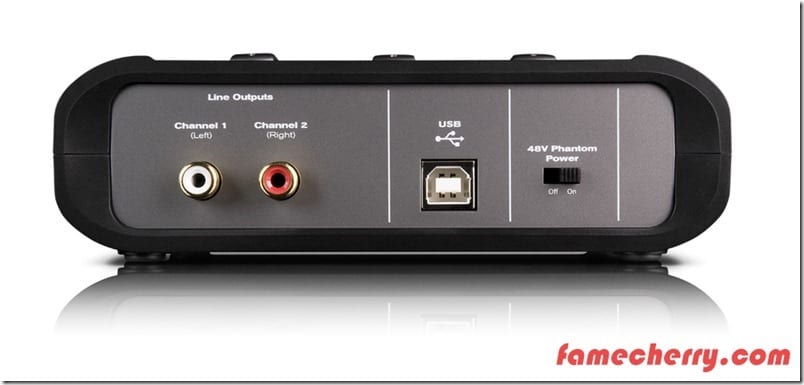 With M-Audio's Fast Track MKII audio interface and Pro Tools SE software, recording your own music on your computer is simpler and more affordable than ever. This USB-powered, 2-channel interface gives you the I/O you need to capture vocals or instruments: a phantom-powered XLR mic preamp, a 1/4″ Hi-Z instrument input for your guitar or bass, a stereo headphone jack, and a pair of RCA outputs for your monitor speakers. Part of M-Audio's hugely popular Fast Track series of interfaces, the MKII is compatible with a wide range of digital audio workstation (DAW) software applications — and it even comes bundled with Pro Tools SE. So if you're looking to get started in the world of Pro Tools, the USB-powered, 2-channel Fast Track MKII is simply one of the most cost-effective audio interfaces on the market.
One XLR Mic Input + One 1/4″ Instrument Input
When it comes to interfaces, bigger isn't always better. For example, if you're a singer/songwriter or solo artist, or you want to track some quick vocals over a beat you produced, you don't need lots of channels. That's why a 2-channel interface like the Fast Track MKII is so cost-effective: you get one +48V phantom-powered microphone preamplifier to plug in a microphone, plus a high-impedance instrument input that's designed for the direct 1/4″ input from your guitar or bass.You can even plug in a keyboard. Connect the included USB cable to capture both inputs to your computer at up to 48 kHz/24-bit resolution.
Direct Monitoring Button: Zero-Latency Recording
When an audio signal is recorded into software, your computer takes time to process and convert the audio. This process can introduce a slight delay, or latency, to the audio before it reaches the outputs — which can be distracting to an artist listening in the headphones. That's why M-Audio has included a zero-latency Direct Monitoring feature on the Fast Track MKII interface. Press the "Direct Monitor" button to send a mix of the microphone and instrument inputs directly to the outputs, and you'll hear your performance "live" in the headphones. Direct Monitoring doesn't affect what your audio software records — it just helps you record your own performance with no latency.
Inspiratio