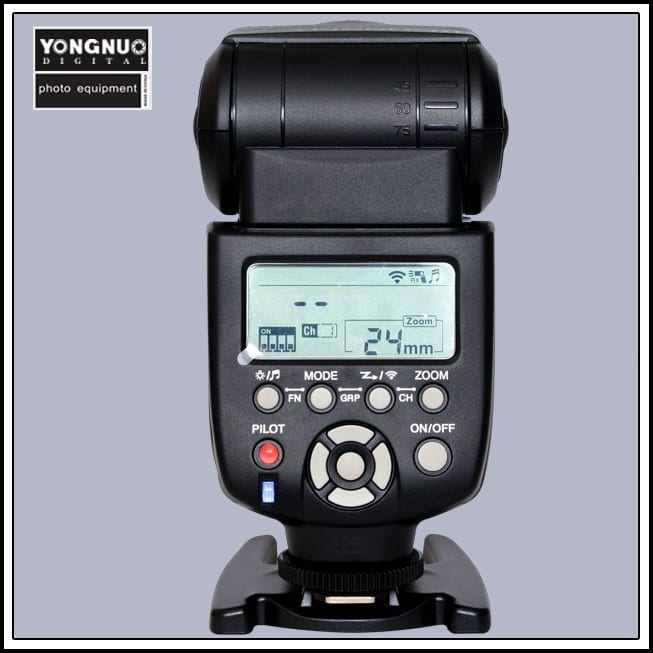 Speedlight : RM 249 ( This flash has built in wireless receiver !!! )
TX Commander Trigger : RM 169 ( You seriously need to check this revolutional product out ! ) * Highly Recommended *
Speedlight Pro Package : RM 269 ( 1 x YN 560 III + 1 x Lambency Diffuser ) * The Best Diffuser In the Market *
Speedlight Studio Package : RM 638 ( 1 x YN 560 III + 1 x TX Commander Trigger + 1 x PA-2000 Portable Battery Pack )
Promotion For Trigger : RM 65 ( RF-603 Tranceiver )
24 Color Gels : RM 19
Specifications:
#1, Circuit design: Insulated Gate Bipolar Transistor(IGBT)
#2, Guide No.: 58 (ISO 100, 105mm)
#3, Flash mode: M, Multi
#4, Triggering mode: Camera set-up, S1, S2, RX
#5, Zoom range: 24,28,35,50,70,80,105mm
#6, Vertical rotation angle: -7 – 90 degrees
#7, Horizontal rotation angle: 0 – 270 degrees
#8, Power supply: 4 x AA size batteries(Alkaline or Ni-MH are usable)
#9, Lighting times: 100 – 1500 times (AA alkaline cell used)
#10, Recycle time: approx 3s at full power (AA alkaline cell used)
#11, Color temperature: 5600k
#12, Flash time: 1/200s – 1/20000s
#13, Flash control: 8 levels of output control (1/128 – 1/1), 29 levels of fine tuning
#14, External interface: hot shoe, PC port and eternal charging port
#15, Wireless triggering distance: 100m(2.4G wireless); 20-25m indoor, 10-15m outdoor (Optical control)
#16, Additional features: The electronic flash head zooming, sound prompt, automatically saving setting, power saving mode, overhearting protection and advanced options.
Orders & Enquiries

Please email us at shops.famecherry@gmail.com or call us at 012-3375629

( We are also available on Whatsapp but if urgent please make phone call ya )


YN-560 III is almost identical in specifications to the YN560-II except for one game-changing addition: integrated 2.4GHz flash triggering.
What is the difference with YN 560 II?
YN 560 III comes with a wireless off camera receiver which supports the RF-603 & RF-602 !!!
RX mode can be selected though pressing down button [Triggering Mode]. The RX mode is transmitted by 2.4G radio, respectively supporting YONGNUO wireless trigger RF-602, RF-603. Choose to support the RF-602 or RF-603 triggering through the Advanced Options settings, provided with 16 channels(CH1-CH16). Just set the YN560-III and RF-602,RF-603 to the same channel wireless flash can be realized in using.
Functions
#1, using RF-602/RF-603 2.4G ultra-long-range wireless flash system
Adopted by global users trust the allways RF-602/RF-603 wireless flash system. Support 2.4G ultra-long-range wireless flash, the lead flashing distances up to 100 meters above.
#2, Full support for RF-603, RF-602 wireless transmitter
Same YN560-III can accept RF-603 and RF-602 wireless transmitter emits a signal, supports 16 channels, wireless flash easily.
#3, large-size LCD display
The YN560-III is equipped with large-size LCD screen, easy clear, intuitive view or set the flash of the function, and easy to use.
#4, equipped with power zoom function
ZOOM button, you can make a lamp covering a focal length between 24 ~ 105mm cycle movements.
#5, GN58 @ ISO100, 105mm
High index 2.4G radio flash support M / Multi mode.
#6, various trigger synchronization, flexible
The YN560-III can be triggered by the camera-top, 2.4G radio trigger, S1 and S2 to avoid the pre-flash-sensitive trigger.
#7, equipped with an external power outlet
The YN560-III is equipped with an external power outlet, to meet your higher demand for call back speed.
#8, equipped with a PC sync port
The YN560-III equipped with a standard PC synchronous port, using a PC sync cord flash sync flash.
#9, voice prompt system
Open to the voice prompts, the flash voice prompts work state, so you can focus on the creative process (Note: the sound can be turned off).
#10, a speeding call back system
Full light output recycling time of just three seconds, even without using the new battery, but also to get the speed of call back experience, only 4 to 5 seconds; You can also use external charging box call back again accelerated.
#11, Advanced Options settings
The YN560-III with Advanced Options settings according to their needs, you can customize the flash function.
#12, automatically save set
The YN560-III can automatically save your current operating settings, to facilitate the next time you boot.
#13, metal texture hot shoe interface, rugged, reliable, and to the force.