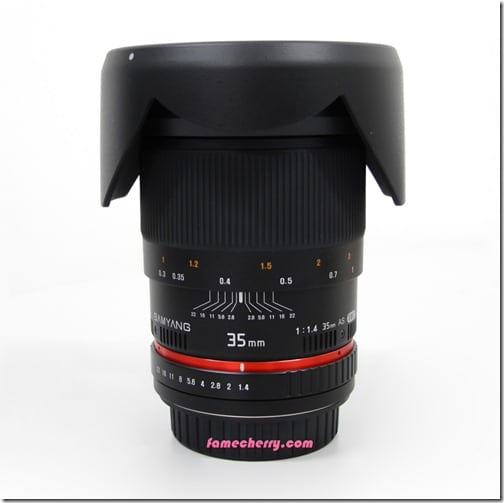 Price : RM 1680 RM 1580 ( Conventional Version )
Available  Mounts : Canon, Sony, Samsung NX, Pentax
Purchase Options : Shipping Available To All Parts of Malaysia, Self Pick Up Is Available at our branch in Cheras
Price : RM 1780 RM 1680 ( Nikon AE Version ) ( AE user can use Aperture Priority mode and set aperture through the camera )
Available  Mounts :Nikon Only
Purchase Options : Shipping Available To All Parts of Malaysia, Self Pick Up Is Available at our branch in Cheras
Sophisticated optics of Samyang 35 mm F1.4 UMC has been constructed upon twelve elements arranged in ten groups. The lens comes with two lenses made of the glass with high refraction factor, which reduces its weight and dimensions. Moreover, one aspherical lens minimizes the risk of chromatic aberration. Owing to the high-quality multi-layer coatings, our lens provides high contrast and faithful color imaging. Samyang 35 mm f/1.4 AS UMC uses the system of the so called "floating" lenses allowing to preserve high image quality with minimum focusing distance.
Samyang 35 mm F1.4 AS UMC has been designed with great care for the smallest details and perfect style. This applies both to optics and workmanship, which place the lens among the best photographic products worldwide.
Benefits of the Samyang 35mm f/1.4 AS UMC for Canon include:
– Stronger sharpness than the Canon EF 35mm f/1.4L USM, even at aperture f/1.4.
– Sharpness and resolution is more consistent across an entire image, and at more apertures.
– Vignetting is better controlled on the Samyang 35mm, although the difference is less than 0.2 EV, and would probably not be noticeable on a final RGB image.
– Chromatic aberration is also slightly better controlled on this lens.
Detailed Review
Samyang 35mm f1.4 vs Canon 35mm f1.4 : http://www.dxomark.com/index.php/News/DxOMark-news/Samyang-35mm-f-1.4-AS-UMC-Canon-Affordable-everyday-lens
Orders & Enquiries : Please email us at

shops.famecherry@gmail.com

or call us at

012-3375629

( We are also available on Whatsapp )


Sample Photos Here at https://www.google.com/search?q=Samyang+35mm+F1.4
In Action
Click to access f=35mm%20Fno1.4.pdf