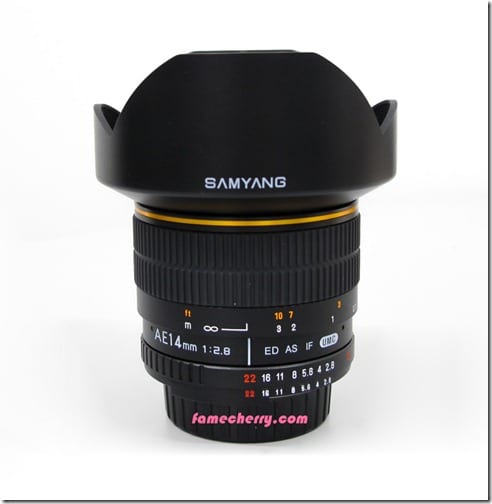 Promotional Price : RM 1350 RM 1280 ( Conventional Version )
Available Mounts : Canon, Nikon, Sony, Samsung NX, Pentax
Purchase Options : Shipping Available To All Parts of Malaysia, Self Pick Up Is Available at our branch in Cheras
Optical construction is based on 14 elements in 12 groups. 2 ED low dispertion lenses, one hybrid aspherical and one glass aspherical which combine to minimize distortion and chromatic aberrations. Advanced lens optical construction allows to deliver razor sharp images even in corners. Samyang 14mm f2.8 works perfectly even with latest high resolution full frame sensors. The lens is optically corrected what is especially useful in architecture and landscape photography. 114° angle of view gives an extraordinary possibilities in creating pictures.
In a market dominated by zoom lenses, it's certainly refreshing to see Samyang offering a new alternative,high quality and moderate price prime lenses.
Promotional Price : RM 1560 RM 1380 ( Nikon AE Version )
Available Mounts : Nikon Only
Purchase Options : Shipping Available To All Parts of Malaysia, Self Pick Up Is Available at our branch in Cheras
Samyang AE 14 mm f/2,8 ED AS IF UMC with a Nikon F mount, is a wide-angle manual lens designed for Nikon reflex cameras with FX/DX sensor sizes. The lens is equipped with an electronic system allowing to fully control of exposure parameters from the camera level and use iTTL flash system the easy way. Owing to detailed information on available apertures, focal length and focus, shooting with Samyang AE 14 mm f/2,8 ED AS IF UMC is easier than ever before.

Orders & Enquiries : Please email us at

shops.famecherry@gmail.com

or call us at

012-3375629

( We are also available on Whatsapp )


Sample Photos Here at https://www.google.com/search?q=Samyang+14mm+F2.8
In Action