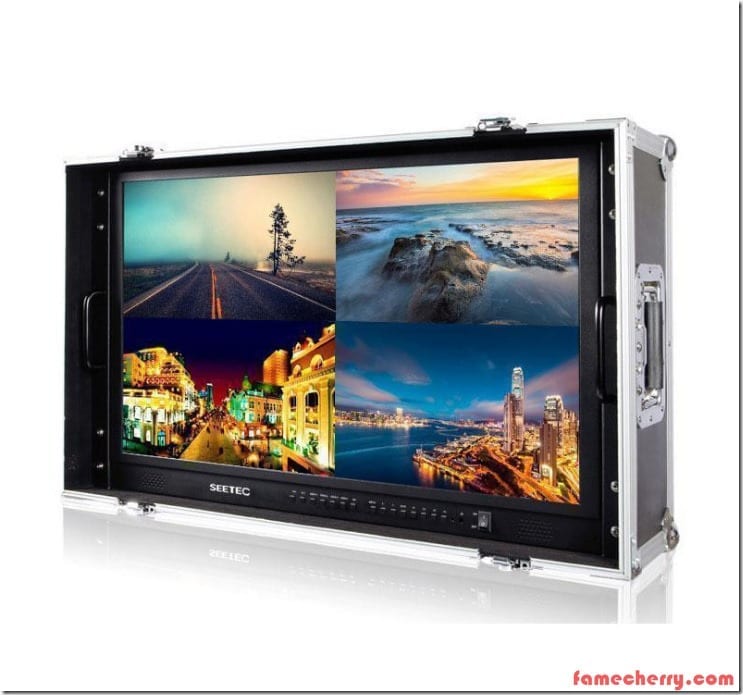 Price : 4699
( Actual Price In Cost Sheet )
Description : The Feelworld SEETEC 4K280-9HSD-CO is a 28 inch director monitor delivers an immersive 4K experience for images and video, bring unbeatable image clarity in cinematic display.
( We also accept payments in SGD ) ( Kindly Contact Us For Unbelievable Best Price )
Purchase Options : Shipping Available To All Parts of Malaysia, Self Pick Up Is Available at our branch in Cheras
Community
Join The Zenit Worldwide Community : https://www.facebook.com/groups/zenit-world 
Orders & Enquiries

Please email us at shops.famecherry@gmail.com or call us at 012-3375629

( We are also available on Whatsapp but if urgent please make phone call ya )



Information:
SEETEC Professional Broadcast LCD Monitor has been widely used in TV news production, broadcasting house, TV broadcasting truck and other fields. Since this series is working with other adjacent professional equipments, therefore, high stability, high reliability and electromagnetic compatibility are very important to make sure the whole system work smoothly.
The full metal case not only makes the product more solid and durable, but also solves the problem of heat dissipation. Full metal case improves the anti-interference capability! More Stability and Reliability.
Features

28″ 4K Ultra-HD Resolution
The SEETEC 4K resolution (3840 x 2160) 28″ LCD monitor delivers an immersive 4K experience for images and video, bring unbeatable image clarity in cinematic display.
Quad Split LCD Display
SEETEC new 4K280-9HSD-CO is the professional cost-effective Quad-split LCD Monitors with 4 x HDMI inputs, provides a new display solution for a wide range of applications that require ultrahigh resolution contents.
High Efficiency OSD Operation Design
You can fast and direct switching signal, and F1-F4 user-definable buttons, witch can be customized as shortcut function, such as peaking, check field, display rotate, center marker, safe marker etc.
Multiple Inputs and Outputs
Input:
4 X HDMI (HDMI2.0 X 1, HDMI1.4 X 3)
1 X DVI
1 X VGA
2 X Audio(L/R)
1 X SDI
1 X Tally
Output:
1 X SDI
Audio:
Stereo Headphone, Speaker
Innovative Design Portable Aviation Aluminum Case
Specifically Design for Field Production
Unique Design for High Efficency
Time and Costs are important for film crews. This becomes more obvious if there are frequent scene changes during production. The 4K280-9HSD-CO is based on how monitors are being used by film crews. Whether packing down or setting up a simplified design makes this monitor ready for use quickly. There are no complex setup processes to go through.
Collapsable Sunshade
Design for easier viewing in bright environments.
Specifications

Display Spec.
Model: 4K280-9HSD-CO
Screen Size: 28″
Color Depth: 1.073G (10 bits)
Resolution: 3840×2160 pixels
Pixel Pitch: 0.16 (H) × 0.16 (V) mm
Aspect Ratio: 16:9
Brightness: 300cd/m²
Contrast Ratio: 1000:1
Backlight: LED
Viewing Angle: 170°(H) / 160°(V)
Input
4 X HDMI HDMI (HDMI2.0x1 support 4K 60HZ; HDMI1.4×3 support 4K 30HZ)
1 X BNC SDI
1 X DVI DVI
1 X VGA VGA
2 X RCA Audio(L/R)
1 X Tally Tally
Output
1 X BNC SDI
Audio
Audio Out: Stereo Headphone, Speaker
SDI Support Format
480i/576i
720p(60/59.94/50/30/29/25/24/23.98)
1080i(60/59.94/50)
1080p(60/59.94/50/30/29.97/25/24/24sF/23.98/ 23.98sF)
HDMI Support Format
4K
480i/576i/480p/576p
1080i (60/59.94/50)
720p (60/59.94/50/30/29/25/24/23.98)
1080p (60/59.94/50/30/29.97/25/24/24sF/23.98/ 23.98sF)
General
Input Voltage: DC13?18V
Power Consumption: ?45W
Working Temperature: -10°C~50°C
Storage Temperature: -20°C~60°C
Unit Size: 731L×410H×39D (mm) (W/O Suitcase) / 840L×430H×270D (mm) (W/ Suitcase)
Unit Weight: 18.8kg (with Suitcase)
Advanced Features
* Quad Split Display (1P, 2P LR, 2P TB, 2P PIP, 4P)
* Peaking Focus Assist
* Overscan
* Display Rotate (0°, 90°, 180°, 270°)
* Check Field (Red, Green, Blue)
* Image Freeze
* Zoom
* Aspect Ratio (Full Screen, 16:9, 4:3, 1:1)
* Center Marker
* Screen Marker (80%, 85%, 90%, 93%, 96%)
* Line Color (Red, Green, Blue, White?
* Color Temperature Adjustment
* Built-in LED tally indicators (Red, Green, Yellow)