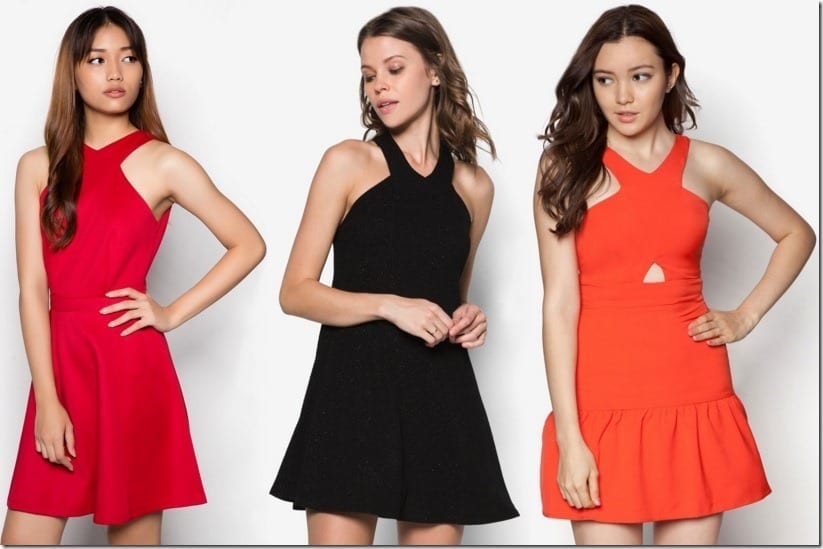 Find out why you ought to give the criss-cross, cross-over or X-neckline dress trend a try and why I am a brand agnostic.
Being brand agnostic is something I'm proud of as it keeps me grounded even as I strive to dress fashionably. In a time of economic uncertainties and a mighty lack of a fat wallet, I relish having the option to shop for cool trends I love no matter if they're in or out, according to the comfort of my budget.
I thank my ever fashionable mom for teaching me to love and appreciate clothes regardless of the label they come attach with. Whether they're a hand-me-down, fresh from the flea market or simply and entirely brandless and beautifully made with great value attached, it is up to the wearer's discernment to choose what she or he finds appealing to add to their wardrobe, and treasure the piece.
And always, to never spend more than I need. Or go mad over a particular label just because of its associated status symbol. And boy, don't we all know how subjective that can be as everyone has their own set of needs. While I do love clothing, I love food even more that the latter gets high priority.
Anyway, since this post is also about the X-neckline which I'll get to now before I ramble. The criss cross or cross neck feature is having quite a moment in fashion. If you're a fan of the high necklines as I do, this neckline in particular comes in a front X-shaped twist or a cross-over that offers you a high neck with an opportunity to flaunt your shoulders and arms.
When I first started to notice it last year, I saw it as the regular neckline that had this interesting cut-in design (that exposes the sides of the shoulder and a bit of the upper chest). I wasn't sure if it would translate well on me but I do love going sleeveless and as I kept seeing it getting more of a criss-cross halter-style look which then evolved to a distinct X-neckline, I honestly think I'm quite into it.
To see the various cross neck dress styles available out there and the advantages the neckline can offer to your figure, let's cast our attention below, shall we?
10 X-neckline dress styles you can wear this season
Black Cross Front Dress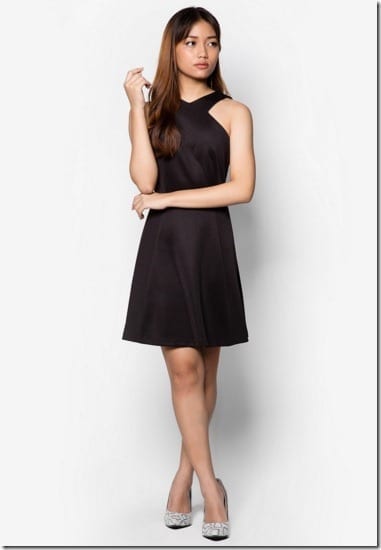 The X-neckline construction is slimming to the upper torso and draws the attention upward to the face area.
Black Cross Neck Dress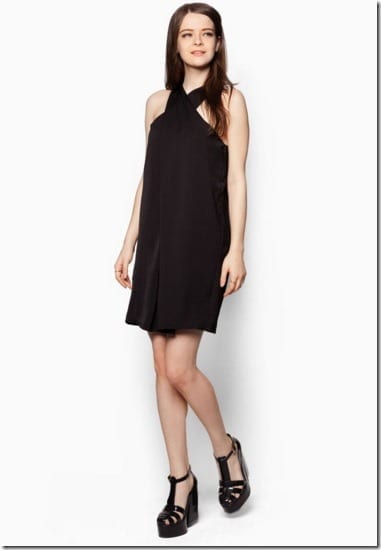 As it draws the attention upward due to the higher v-neck placement, it ultimately zooms in on the neck area, leaving the space at the sides of your shoulder open and exposed.
Cross V-Neck Mesh Dress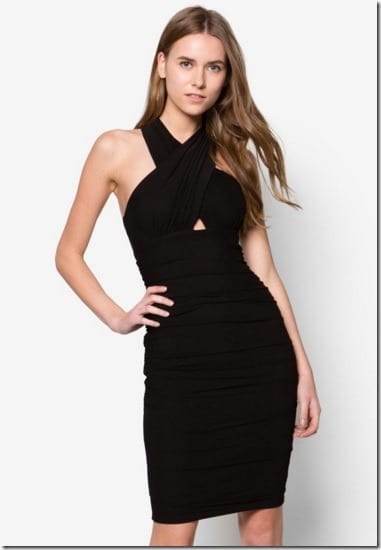 You can take advantage by the criss-cross neckline to flaunt your shoulders, arms and a bit more of the upper chest area especially if you're fond of this particular spot on your body. A bit of a cut-out in the center for a little sass.
Cut-In Halter Neck Dress ( Black )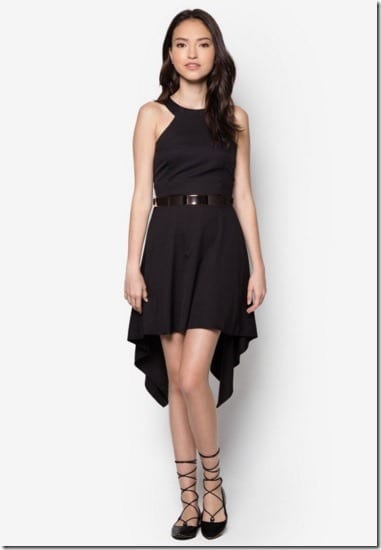 Here's a halter style neckline that has the signature cut-in on the sides. Instead of a V-neck, a rounder neckline is in place.
Cut-In Halter Neck Dress ( Navy )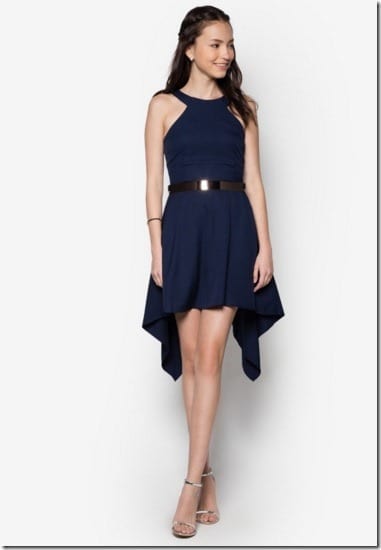 This softer variation of an X-neckline is balanced off with an asymmetrical handkerchief hemline that draws attention to the leg area.
Fiery Red Cross Neck Dress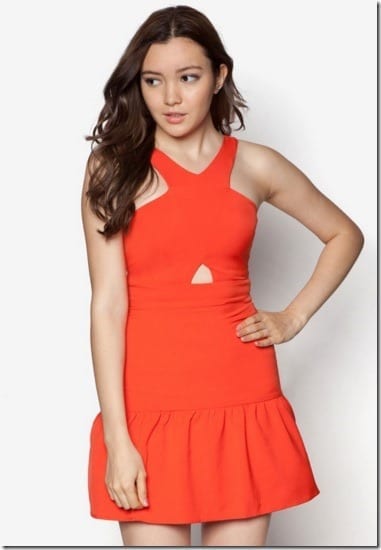 The cut-in on the sides is deeper and more spacious on this dress with the v-neck lower than usual. The midriff cut-out and soft gathers at the hemline pulls our attention downward.
Metal Ribbed Cross Neck Dress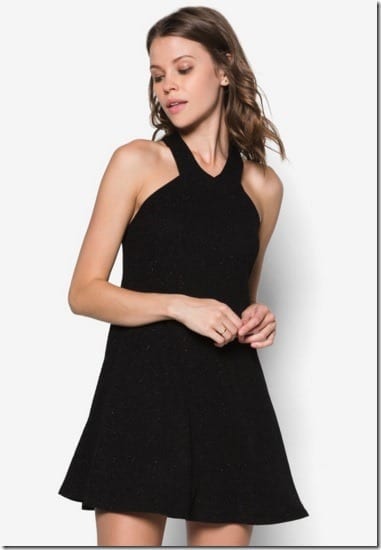 In black, there's an immediate upward and slimming effect that the X-neckline is often instantly associated with.
Red Cross Neck Front Dress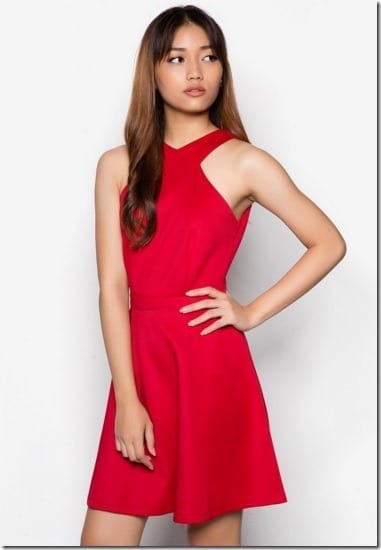 This dress has a side chest cut-in that angles upward and a V-neck almost hugging the neck pulling our visual attention to the upper half of the body.
Strappy Cross Front Dress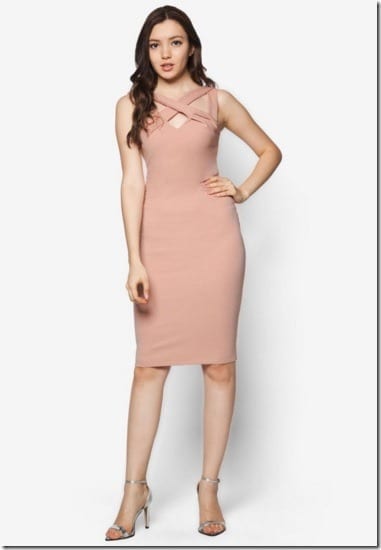 In a flesh tone dress, the slimming effect is muted as the criss-cross neckline isn't as distinct in color to stand in contrast and impact attention. Rather, the cross straps act as a soft design statement with the focus more on highlighting the feminine curves as the dress comes in a body-fitting shape.
White Cross Neck Dress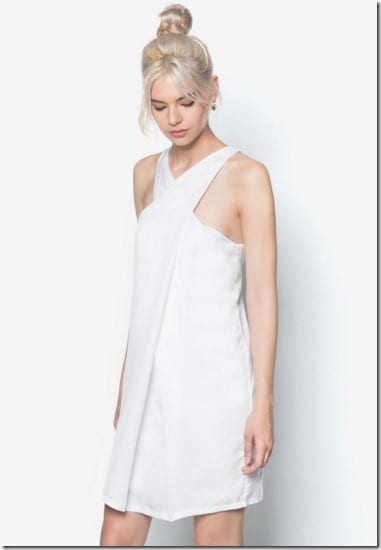 Depending on the size of your bust and dress, the cut-in may sit high or low but the V neckline stays put, giving your shoulder blades the spotlight.
What do you think of this particular dress trend? Would you wear it? Share your thoughts down below – I would love to know what you think of the cross neckline feature!
Fashion may not be a weapon of the woman but at least it gives her the ammunition. — Brigitte Bardot
Disclosure: This post contains affiliate links, which means that if you click on one of the product links, a small commission may be credited to this site.
Love this post? Share it with your friends! Follow us for more fashion inspiration:
♥ Twitter ♥ Facebook ♥ Google+ ♥ Bloglovin ♥ Pinterest ♥ Polyvore ♥
© All images are copyrighted by their respective authors.
Here on Fashionista NOW, our one and very own Miss Reverie showcases the latest in fashion trends and its various social implications in our everyday lives. You may read more of her at REVERIE SANCTUARY.