Raya outfits for the atypical whimsical girl with the comfiest touch possible.
You know how it is when it's crazy hot outside and it is the average day in Malaysia and there's feasting involved as friends and family gather during EID and you're sweating buckets under your so-called baju raya. Perhaps it is the combination of excitement and competition. The latter having to do with who could hoard all the good food perhaps and avoid lengthy convos with aunts and uncles you forgot existed. Okay, scratch that. Exaggerations toned down, you know the struggle to land a breathable Raya outfit is too real.
And if you're like me, prone to get creepily oily in the face and other regions remain mentionless, there's a fantastic new Eid 2018 collection from whimsigirl founded by one inspiring superwoman Syazana Sukiman in our very own Malaysian backyard that you can take a look at. I'm showing you ladies here the Hani set that features the use of the checkered prints in three options because I find them pretty chic and mod. The Raya two-piece sets are the picture of what a  minimalist with a penchant for squares or enlarged gingham would wear.
The blouse in particular is beautifully designed with gathers and a round high neck. There is a zip enclosure behind, a reversed pleat on back yoke and the long sleeves are kept regular in size so you can keep it real while stuffing your face comfortably. The long skirt is designed in a regular shape with a front overlap and back pleats. What's amazing about this long skirt is that, it has pockets! Yes, you read that right girls. It has FUNCTIONAL side pockets for you to smuggle some treats and stash some snacks! I think it's such a winning detail on a long skirt because you can also pose with one hand in your pocket (Alanis Morissette song playing in your mental background) for your Raya instagram snap and slay!
Anyway, I shall pipe down and let you eyeball and appreciate the Hani Set from whimsigirl made of 100 per cent cotton piece fit for any occasion, really! Enjoy.
Beige Charcoal Check Raya Set
Brown Green Check Raya Set
Red Blue Check Raya Set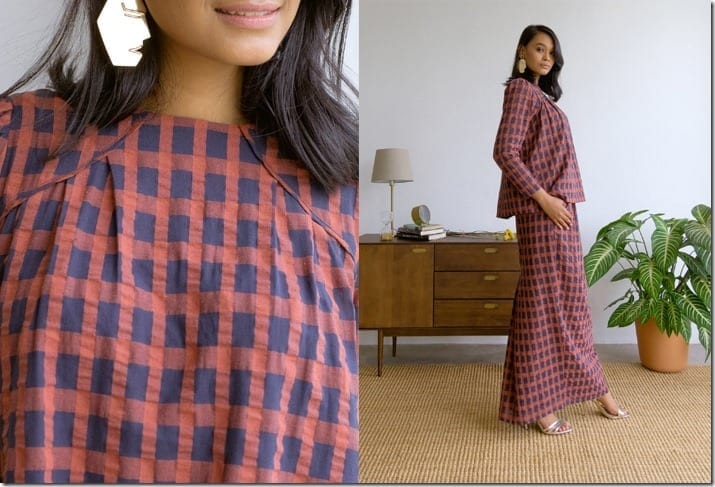 Which set would you love to wear this upcoming Eid? Share below – I'd love to know.
One must accept the fact that we have only one companion in this world, a companion who accompanies us from the cradle to the grave – our own self. Get on good terms with that companion – learn to live with yourself. — Agatha Christie
Love this post? Share it with your friends! Follow us for more fashion inspiration:
♥ Twitter ♥ Facebook ♥ Google+ ♥ Bloglovin ♥ Pinterest ♥ Polyvore ♥
© All images are copyrighted by their respective authors.
Here on Fashionista NOW, our one and very own Miss Reverie showcases the latest in fashion trends and its various social implications in our everyday lives. You may read more of her at REVERIE SANCTUARY.