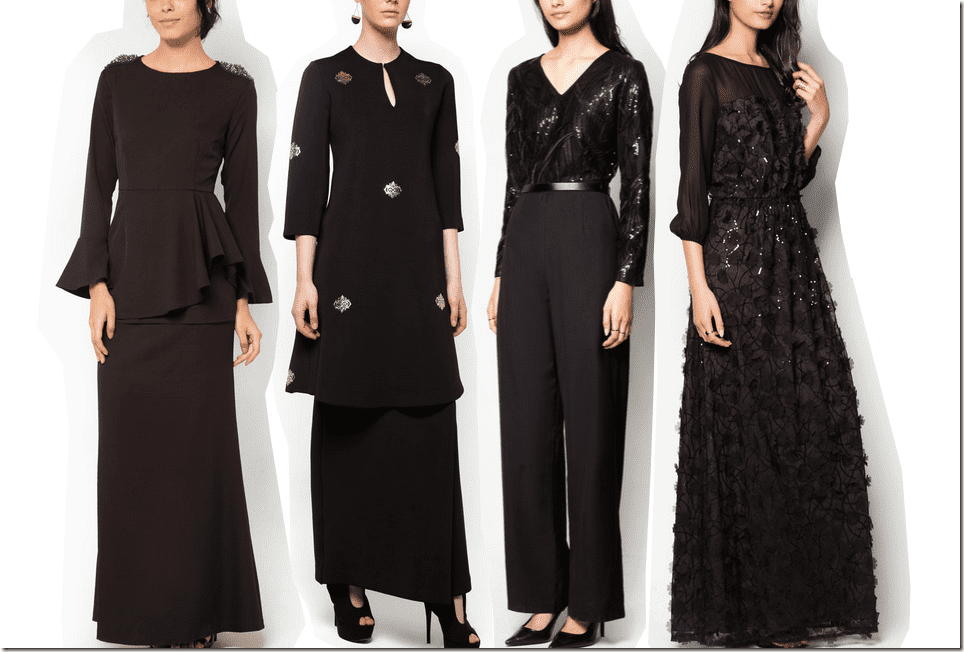 Make a fashion impact in black this upcoming Raya 2015. For the all-black party dressers, this one's for you.
If the little black dress is the fool-proof go-to frock for any occasion, then you can count on going black in your kind of party attire as you celebrate the upcoming Eid with your family and friends.
While some make sweet pastels as their baju raya, others opt for a monochrome palette that is modern, minimal and utterly easy to style. However,  if you're an all-black kind of party dresser, don't feel like you're missing out because we've got a black-themed party dress list created just for you.
Let's jump right in, shall we?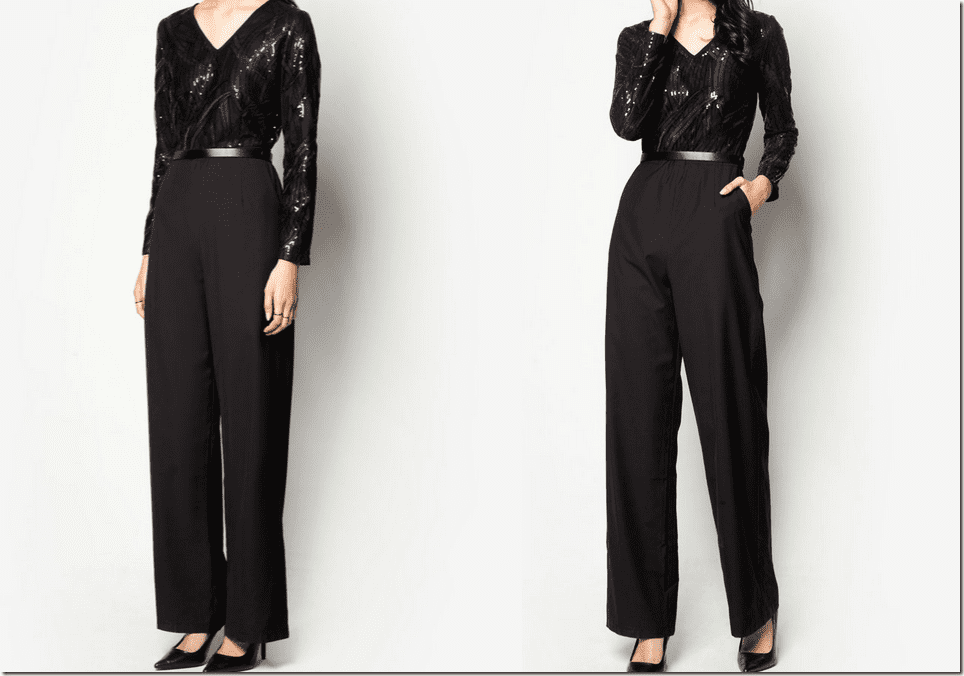 ♥ Zalia | black embellished lace jumpsuit
This jumpsuit is for those who would want to wear pants instead of a dress. Obviously, this isn't just any other pants as it's a one-piece classic statement maker; sparkly and fitted on top, loose and reserved down below.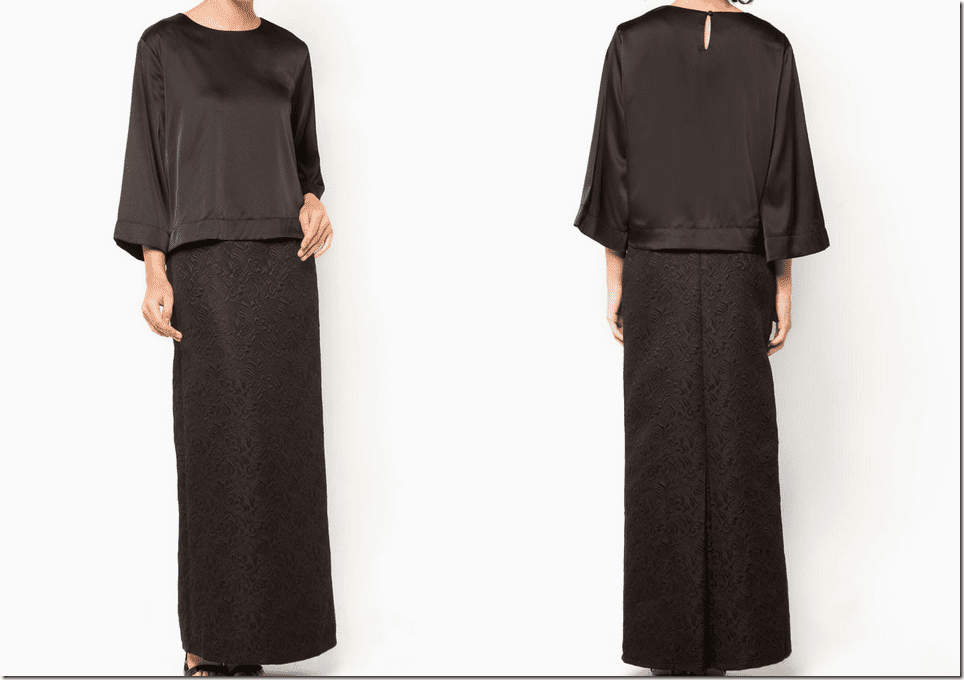 ♥ LUXE by Ethnic Chic | black jacquard baju kurung
This is a black variation of the jacquard baju kurung which I have previously featured because I can't get over the boxy top. The delicately textured skirt rendered in black is thoroughly modern and minimalist. I love it.
♥ LUXE by Ethnic Chic | black maxi dress with diamante sash
A long dress with a strategic diamante sash to mark the waist; you can count on the soft flowy gathers at the neck and down the skirt to turn simplicity into sheer understated elegance.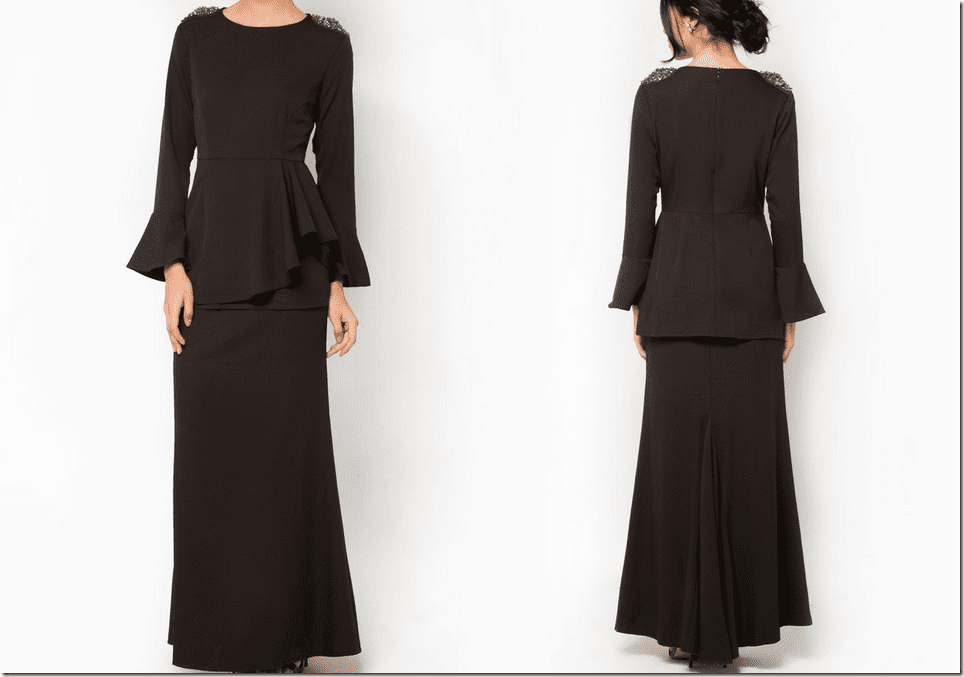 ♥ LUXE by Ethnic Chic | black peplum baju kurung
This is for the peplum-obsessed girls. The waist is where the party is at for this one and of course, the bell-sleeves; that charming poof at the cuff to make this an even sweeter baju raya. At the shoulder area, the diamante epaulets inject something a little unexpected while the mermaid style skirt ensures you feel even more in touch with your feminine.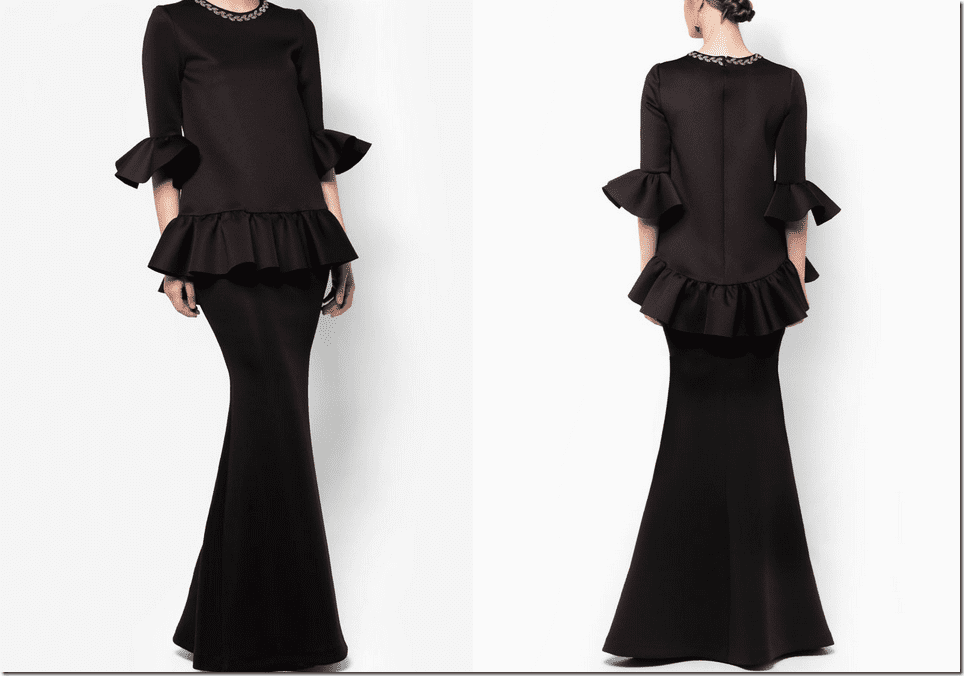 ♥ Rizalman | embellished neck structured black baju kurung
This baju kurung is a show-stopper, a masterpiece design by our Malaysian designer, Rizalman. The dramatic ruffles at the cuff and waist stand out against this all black number. There is no need to accessorize the décolletage when the top comes with its own statement crystals decorating the neckline. The mermaid skirt helps to elongate the silhouette.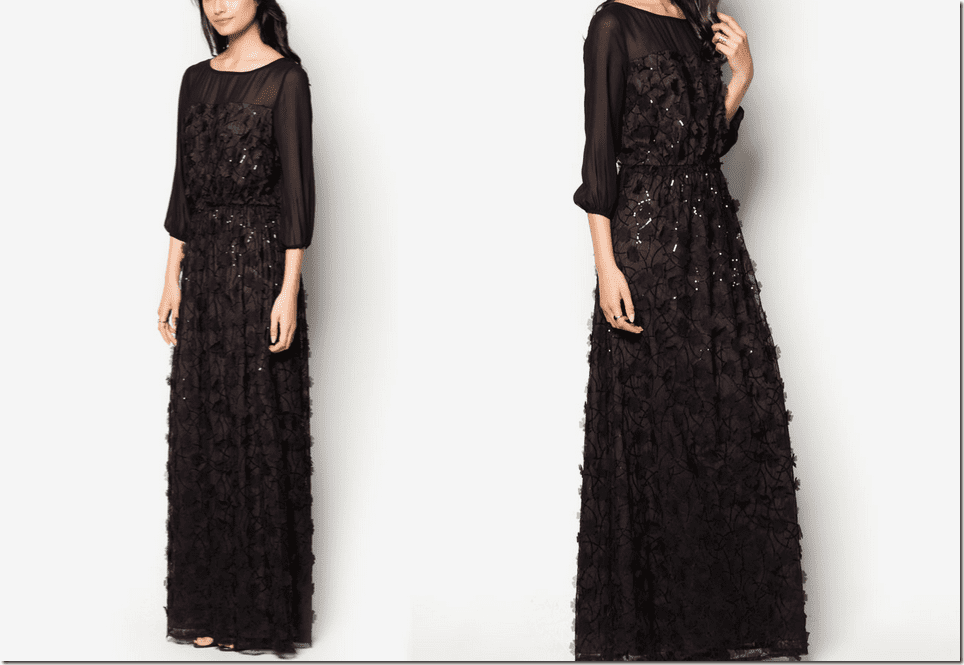 ♥ Zalia | floral applique embellished black maxi dress
This beautiful maxi dress has sheer bits on top with a generous dose of sparkle running throughout the floral appliqued fabric.
♥ Rizalman | neoprene black baju kurung
This could just be another baju kurung but Rizalman elevates it to another level by using neoprene fabric and minimally accent the long top with gold tone patterns. The neckline on this one is just gorgeous as are the three-quarter sleeves.
For other baju raya options, enter the the online boutique below:

So ladies, do you like what you see here? Will you go bold and go black amidst the sea of pastels and vibrant colorblockers this Hari Raya? Share your thoughts – I'd love to know!
"Masculinity & femininity are just styles. They are interpretations." — Rad Hourani
Disclosure: This post contains affiliate links, which means that if you click on one of the product links, a small commission may be credited to this site.
Love this post? Share it with your friends! Follow us for more fashion inspiration:
♥ Twitter ♥ Facebook ♥ Google+ ♥ Bloglovin ♥ Pinterest ♥ Polyvore ♥
© All images are copyrighted by their respective authors.
Here on Fashionista NOW, our one and very own Miss Reverie showcases the latest in fashion trends and its various social implications in our everyday lives. You may read more of her at REVERIE SANCTUARY.