Take your geometric bling game up into the next level with these mesmerizing architecture-inspired earrings.
The second I saw these while perusing for new takes on geometric earrings on Etsy, I had to stalk all of Koonyai Studio's sculptural geometric earrings and with my eyeballs glued to Beau's creations, I know they will be shared in this space. Beau is the genius creator of her modern jewelry collection that leans on the side of minimalistic geometric. Her work is architecture-inspired, an inspiration that spilled off from her years at the University of Minnesota where she trained as an architect and graduated in 2015.
To Beau, architecture in its shape, form or even a material like concrete can act as a fuel to her jewelry-making inspo.
I fell in love with these specific dangly geometric earrings that can make an instant statement as they peeking through strands of hair.
If you're into the geometric niche in earrings, then this earring style may just be right up your alley.
Enjoy!
Abstract Geometric Minimalist Earrings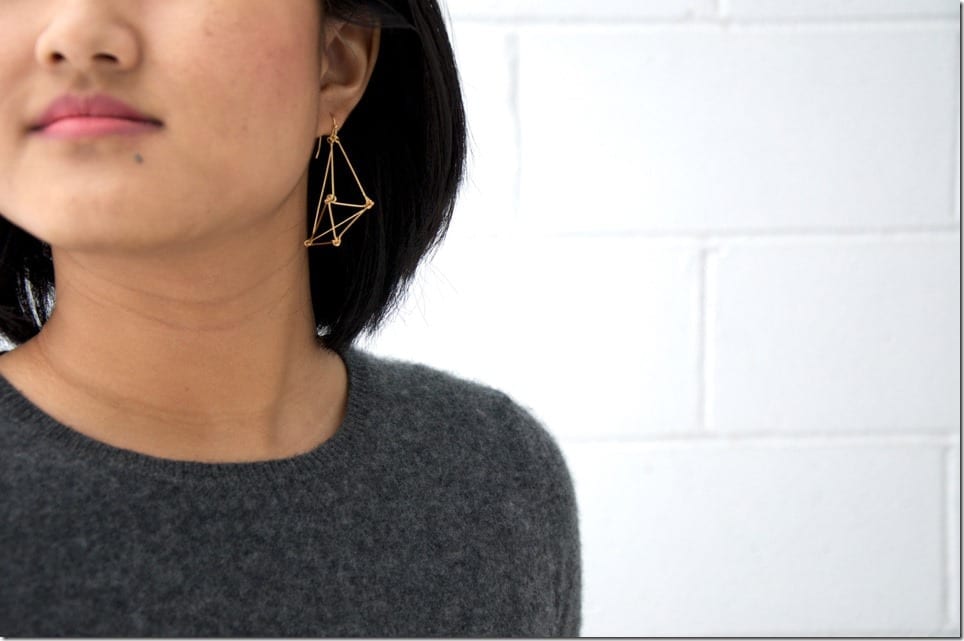 Architectural Geometric Wire Earrings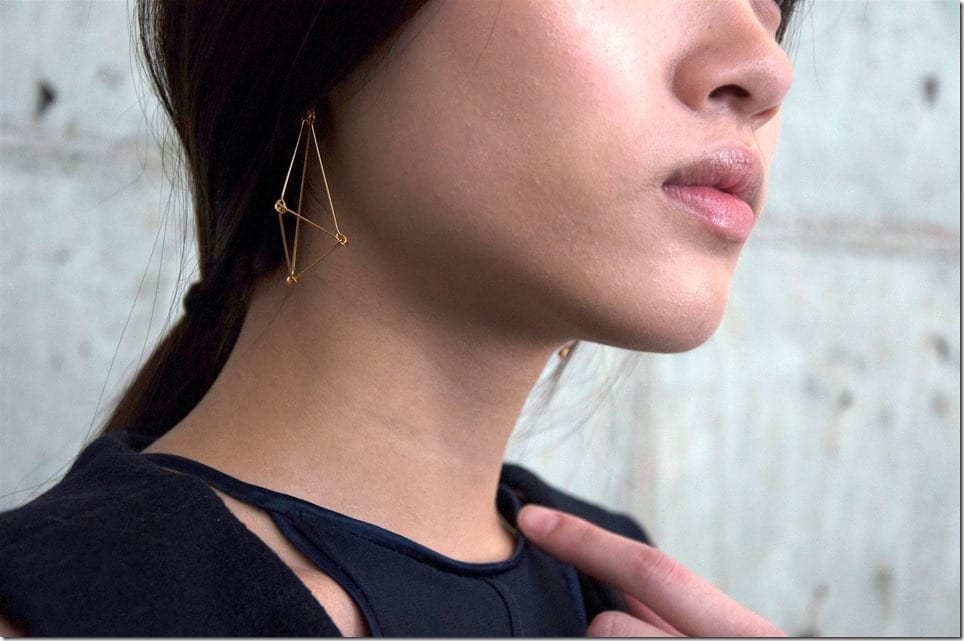 Architectural Pyramid Geometric Earrings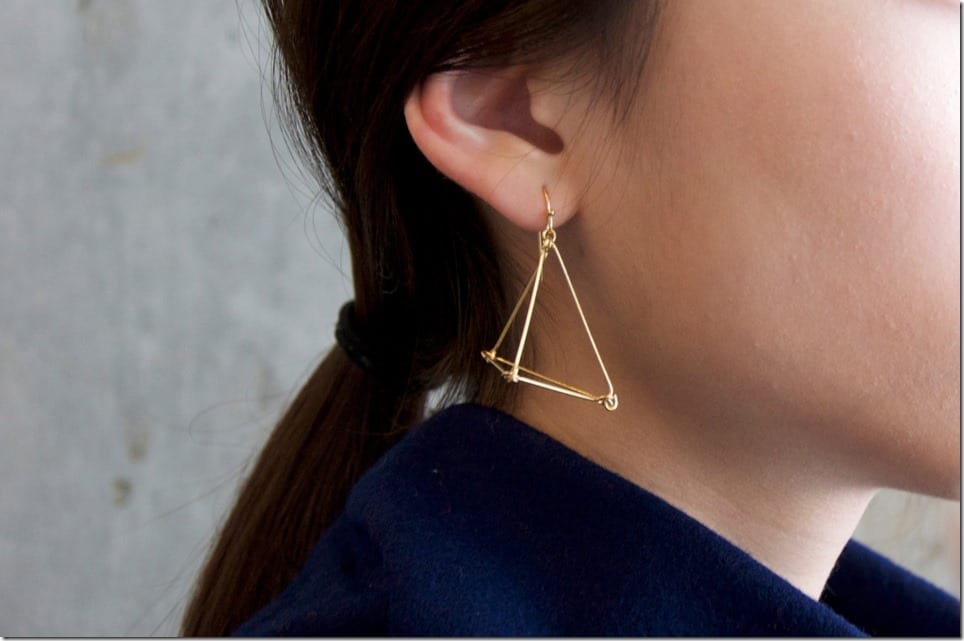 Mod Sculptural Geometric Earrings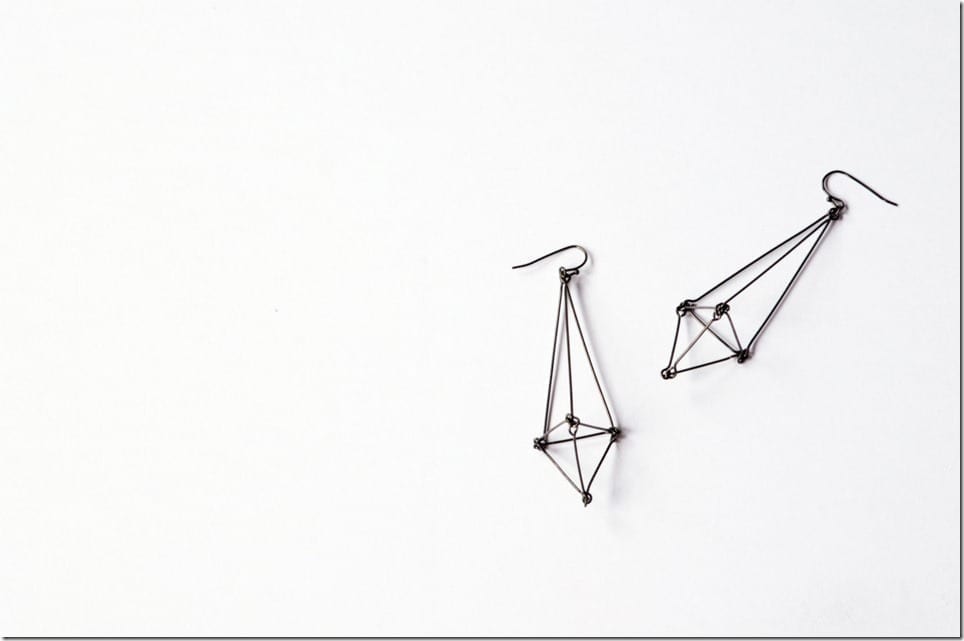 Sustainability and Social Impact:
All of Koonyai's products, jewelry parts, and packaging are made in the U.S.A to bring the jobs back to local community. When the work gets out of hand, women who experience homelessness and domestic abuse from local shelters are hired to assist with the needs. They gain back their confidence and self-worth while learning jewelry making skills. It's a win-win situation!
Packaging:
Koonyai's cotton bags are made with 100% unbleached cotton to ensure that the least amount of chemicals is involved in the making. Cardboard boxes and newsprint stuffing are made of recycled fibers and post-consumer material. The jewelry tags are kept tiny because these will be tossed away anyway.
Which architectural geometric wire earrings would you love to wear? Share below – I'd love to know!
"Being present is always infinitely more powerful than anything one could say or do, although sometimes being present can give rise to words or actions." — Eckhart Tolle
Like what you see? Show Koonyai Studio love and support by following them:
Facebook | Instagram | Official Website | Etsy
Love this post? Share it with your friends! Follow us for more fashion inspiration:
♥ Twitter ♥ Facebook ♥ Google+ ♥ Bloglovin ♥ Pinterest ♥ Polyvore ♥
© All images are copyrighted by their respective authors.
Here on Fashionista NOW, our one and very own Miss Reverie showcases the latest in fashion trends and its various social implications in our everyday lives. You may read more of her at REVERIE SANCTUARY.