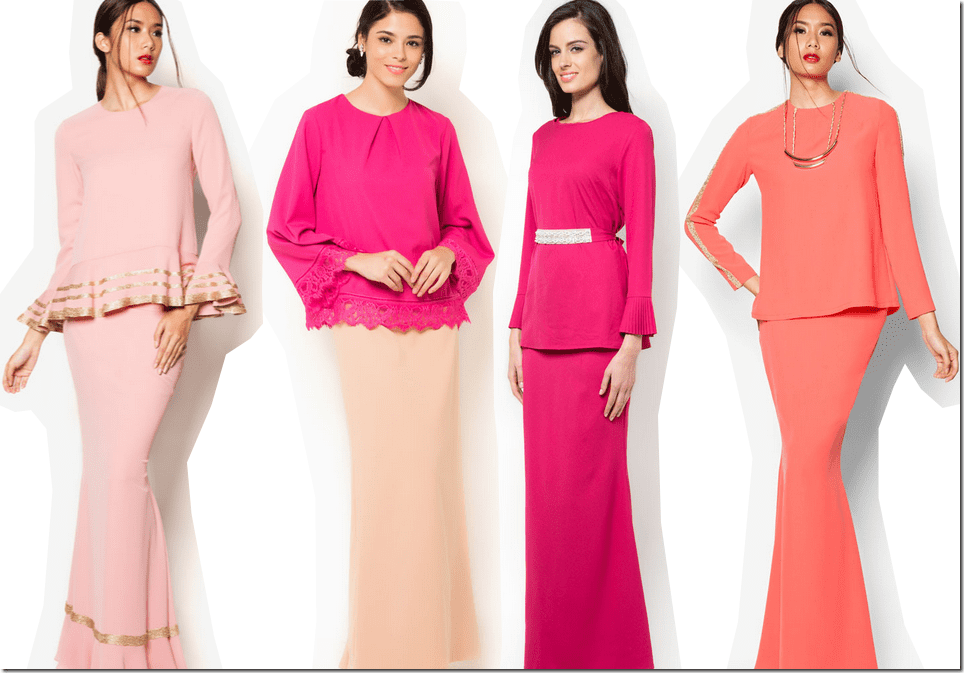 If you must be clad in a preferred shade of pink this upcoming Eid, then you must not miss our list of 10 modern baju kurung and maxi dresses guaranteed to have heads turning not once but plenty of times with long pauses of adoration as they marvel at your sharp sense of fashion.
Without further ado, let's jump right in!
10 Ways To Be That Girl In The PINK: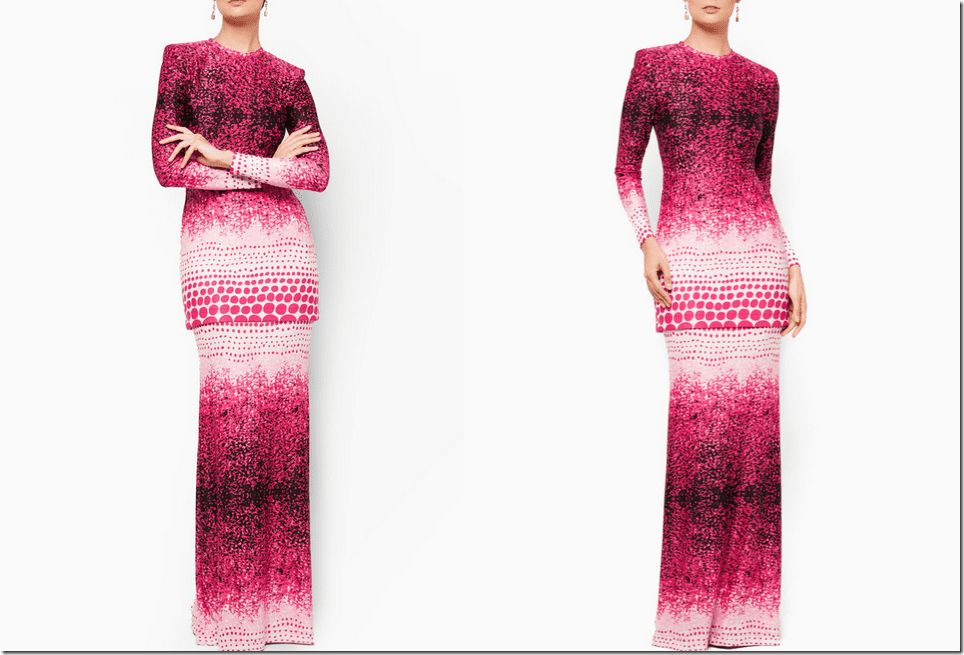 ♥ Rizalman | abstract print pink mod baju kurung
You might have seen the monochromatic version of this previously mentioned in my earlier post. This one's in pink because Rizalman knows you very well. Intermixed with abstract prints and polka dots, this pinky mod baju kurung silhouette has an elongating effect due to the ombre-esque gradation in color.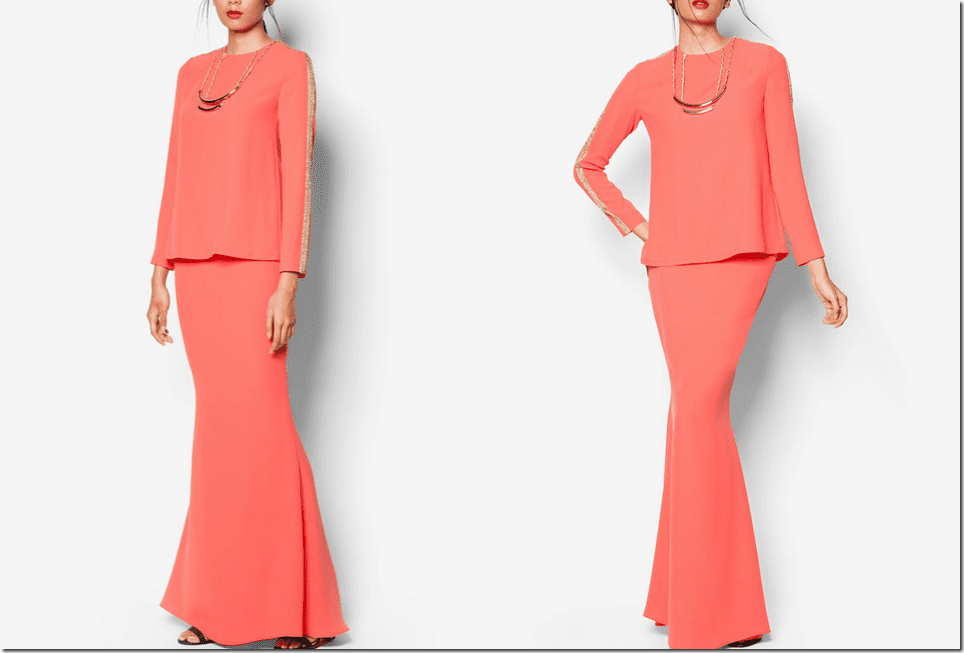 ♥ Jovian Mandagie | art deco coral pink baju kurung with attached necklace
This pink leans on the side of salmon orange and it's not just another art deco inspired baju kurung because Jovian Mandagie knows when and how much to apply his strategic embellishing. The metallic gold line at the length of the sleeve and a gorgeous gold tone necklace sits attached at the neckline to give the ensemble an understated sparkle.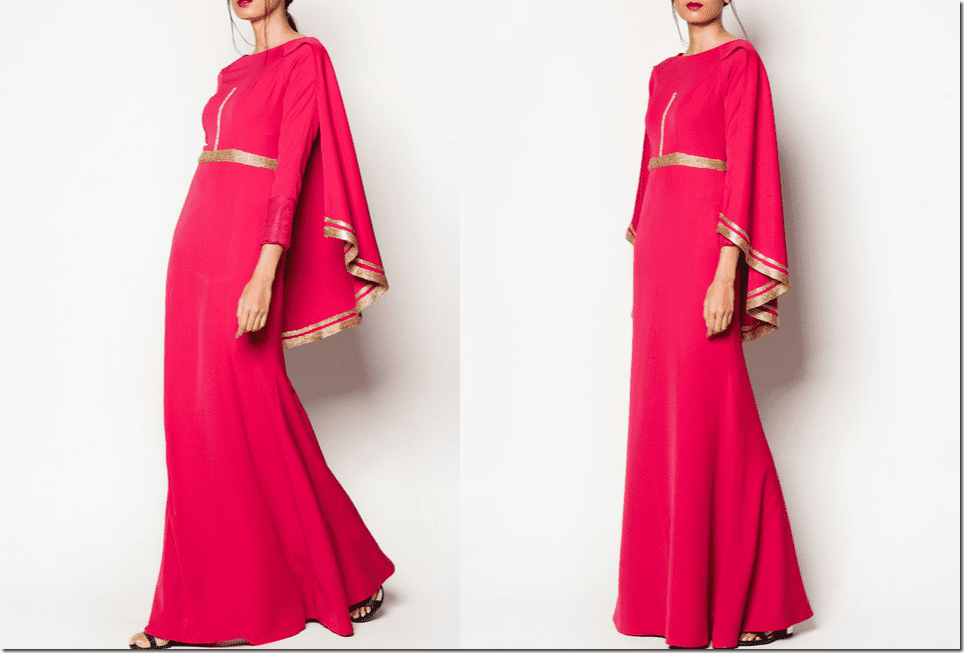 ♥ Jovian Mandagie | art deco fuchsia gold cape dress
Just by looking at the construction of this statement fuchsia cape dress, you'd know who is the designer behind it. Although the cape can add an extra volume easily as in the case of the neoprene cape blouse designed by Rizalman, this one is just flowy and nice. Again, metallic gold brings a sprinkle of sparkle onto this lovely creation by Mandagie.
♥ Jovian Mandagie | dreamy pink gold baju kurung with bell sleeves
Of course, aside from peplums, capes, our Malaysian fashion designers love to utilize the charming bell sleeves drawing in the lovely bohemian flair into the modern baju kurung. The mermaid skirt complements the gentle poof and gathers of the blouse. Metallic gold lines blend amazingly with the dreamy pink color scheme.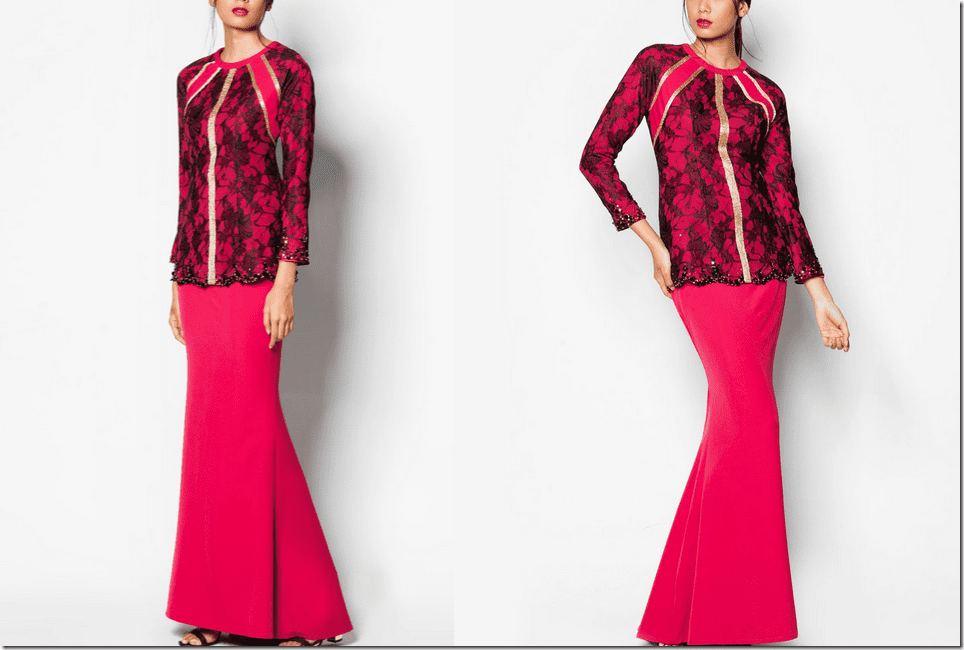 ♥ Jovian Mandagie | art deco fuchsia pink  lace baju kurung
This baju kurung is a little bit bolder than the rest with black lace overlay, sequins and gold metallic lines decorating the blouse. The skirt is left alone in solid magenta so that the dress isn't too visually-busy.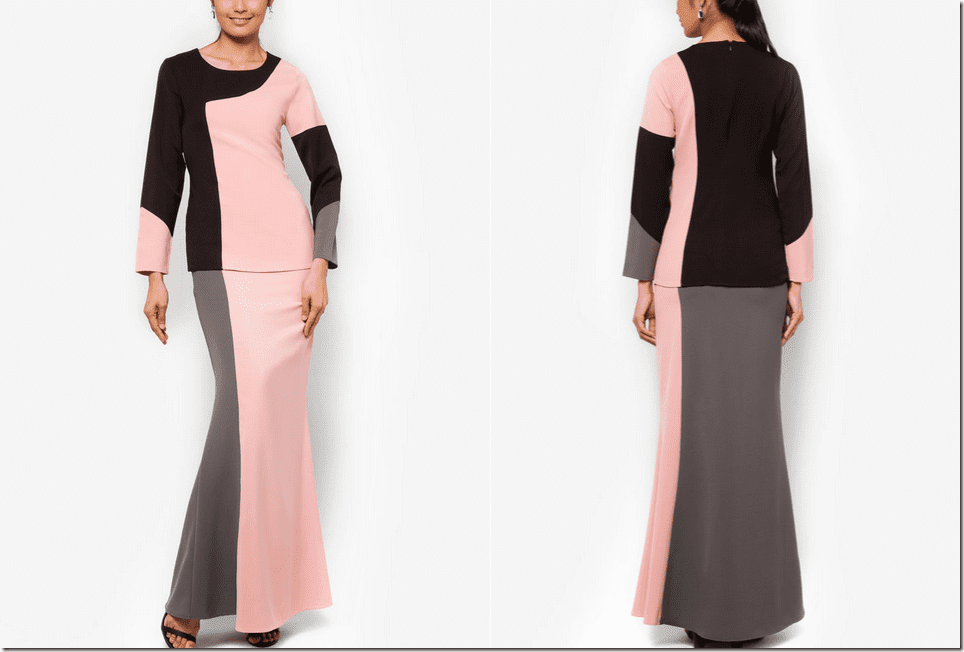 ♥ emel x Emma Maembong | pink colorblock baju kurung
This pink baju kurung from Melinda Looi has black and grey colors blended together in a colorblock design. If you're all about colorblocking, this baju kurung three color scheme will suit you well.
♥ Ethnic Chic | fuchsia pink baju kurung with pleated sleeves
Little details in a dress do make it stand out even more. Just like the pleats on the mildly flared sleeves and a waist-accentuating sash decorated in synthetic pearls, they just add that extra oomph into this solid magenta number.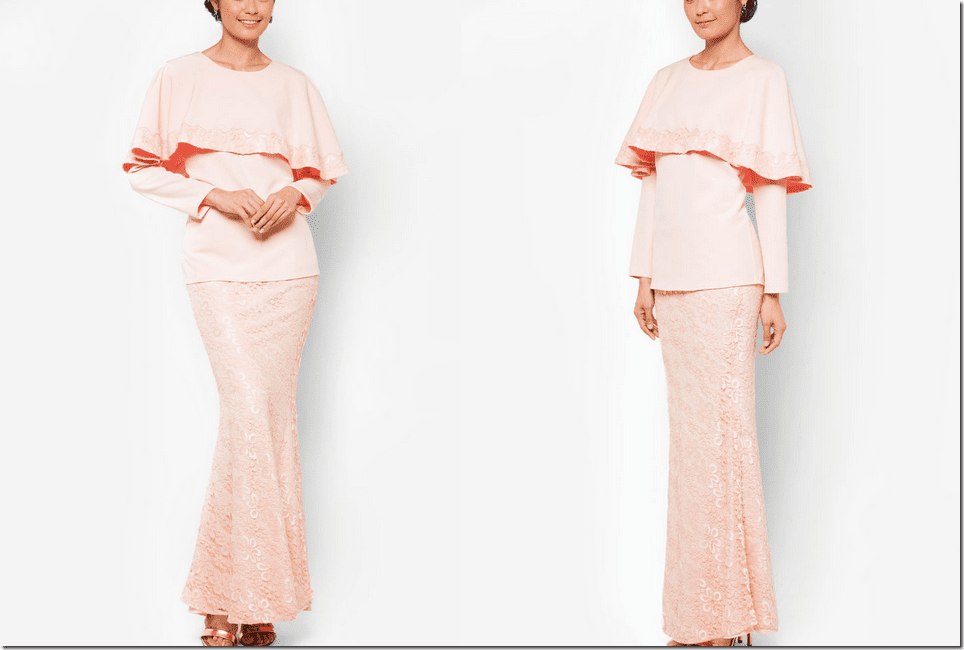 ♥ emel x Liyana Jasmay | pink modern kurung with lace cape
This pastel pink modern baju kurung carries a short cape layer over and all around the top half of the blouse. The flowy fabric gently drapes over the chest area adding a little drama into this exquisite number without adding too much unnecessary volume.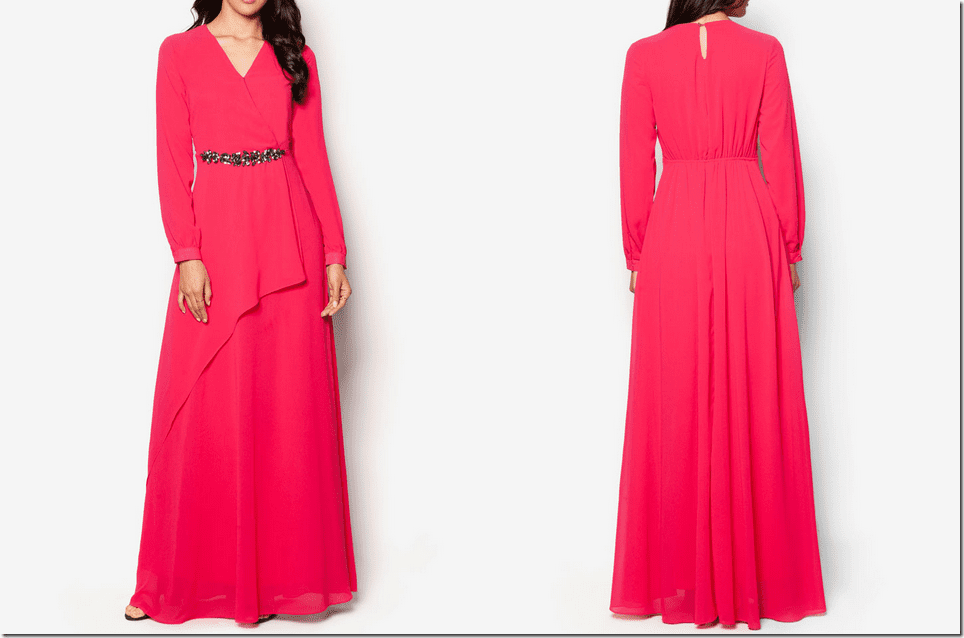 ♥ Zalia | fuchsia pink embellished chiffon dress
This v-neck fit and flare maxi has little in the way of sparkle (crystal embellishment at the waist) but the wrap neckline introduces a soft visual interest into this demure number.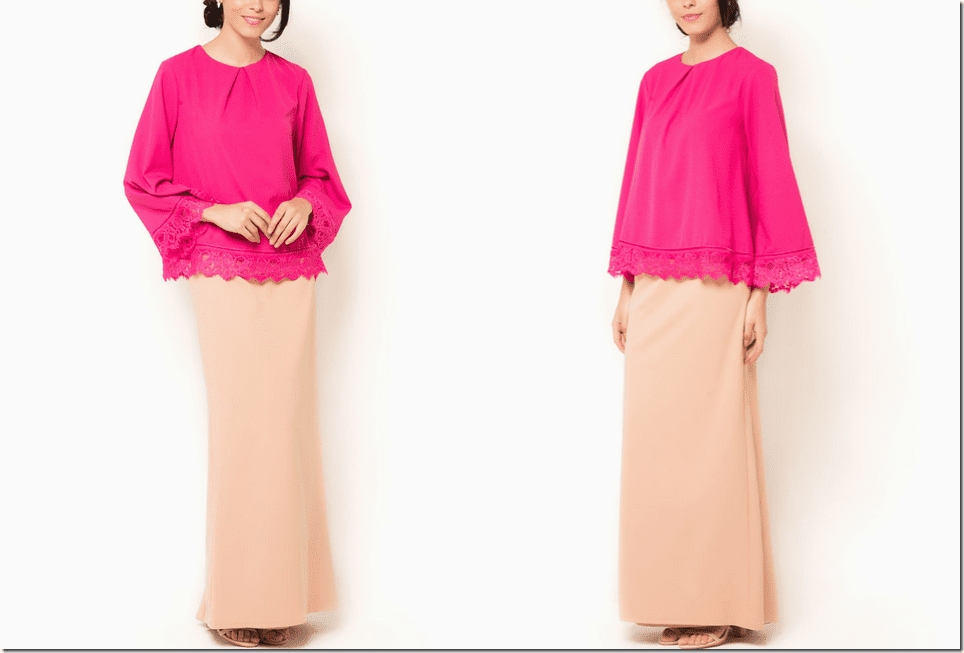 ♥ LUXE by Ethnic Chic | magenta pink modern baju kurung
And finally, my favorite. I just love this boxy crop magenta pink top with a charming front pleat at the neckline and delicate lace trims at the hem and sleeves. The long skirt stands in contrast against the boldness of the top, cleverly kept muted, rendered with gentle pleats at the back for both functional and aesthetic reasons.
Like our pink baju raya selection? Share your favorite below – I'd love to know!
"She had a womanly instinct that clothes possess an influence more powerful over many than the worth of character or the magic of manners." — Louisa May Alcott
Disclosure: This post contains affiliate links, which means that if you click on one of the product links, a small commission may be credited to this site.
Love this post? Share it with your friends! Follow us for more fashion inspiration:
♥ Twitter ♥ Facebook ♥ Google+ ♥ Bloglovin ♥ Pinterest ♥ Polyvore ♥
© All images are copyrighted by their respective authors.
Here on Fashionista NOW, our one and very own Miss Reverie showcases the latest in fashion trends and its various social implications in our everyday lives. You may read more of her at REVERIE SANCTUARY.