Love batik so much that you want to wear it in the form of a dress? These batik dresses will make you squeal in delight.
Batik-inspired clothing that leans on the modern edge appeals to those who appreciate the look of the ancient motif and want to wear them in a more current format. Batik has been part of the Malaysian landscape for so long that it is part of the traditional wear being worn every now and then.
But to garner the interest of the young and trendy whose love for ensembles that can be slipped into without going completely traditional is something of a challenge that fashion designers take upon themselves to figure out. What this particular fashion bracket likes to wear often compose of a mix and match of current celebrity trends and the element of the unexpected. I believe that batik can be utilized and reinterpreted in modern apparels which is something our own local fashion designers do strive to achieve.
To take a look at a key example of how this can be done, I have no choice but to highlight Batik Amarillis Shop's midi dresses that I'm sure fans of batik have already seen as with just a search on Google, you will find a scatter of batik-inspired dresses to go completely nuts over. By the way, that was how I stumbled upon this awesome batik galore that I've decided to showcase a specific 3 dress styles that celebrate the beauty of our Eastern batik in midi dresses with full skirts that will make your heart flutter.
The midi dresses are designed to reflect the spirit of modern-bohemia and the slimming silhouette evident in each dress celebrates the female form, making sure that your waist is cinched before the full skirt of the dress flares out so beautifully. The full skirt's volume and shape further enhance the curvature of the waist. The Romana dress from Batik Amarillis has striking sleeves with a bit of poof at the shoulder before it tapers down to greet your wrist. Something about this sleeve style whispers an old-world fuss-free charm. The Amarantha dress style, on the other hand, carries a much on trend tiered flared three-quarter sleeve style.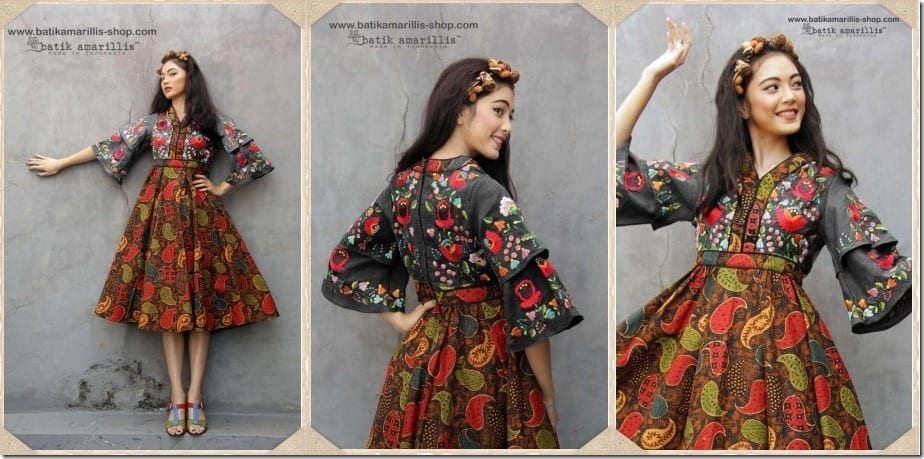 Upon eyeballing these batik dresses slowly, it's astounding to notice that even though the batik print by itself is so visually-engaging, the slimming shape of the dress holds you strongly captivated as well. So ladies, if you're excited to make batik current again, then I highly suggest giving Batik Amarillis Shop a visit. Not only will you be drooling over full midi dresses in eye-catching prints and embroidery, you will find blouses, outerwear, skirts, scarfs and even more.
Love what you're seeing? Be sure to support the creative Indonesian batik label that keeps pushing fashion boundaries on their social media:
"Everything has its wonders, even darkness and silence, and I learn, whatever state I may be in, therein to be content." — Helen Keller
Love this post? Share it with your friends! Follow us for more fashion inspiration:
♥ Twitter ♥ Facebook ♥ Google+ ♥ Bloglovin ♥ Pinterest ♥ Polyvore ♥
© All images are copyrighted by their respective authors.
Here on Fashionista NOW, our one and very own Miss Reverie showcases the latest in fashion trends and its various social implications in our everyday lives. You may read more of her at REVERIE SANCTUARY.