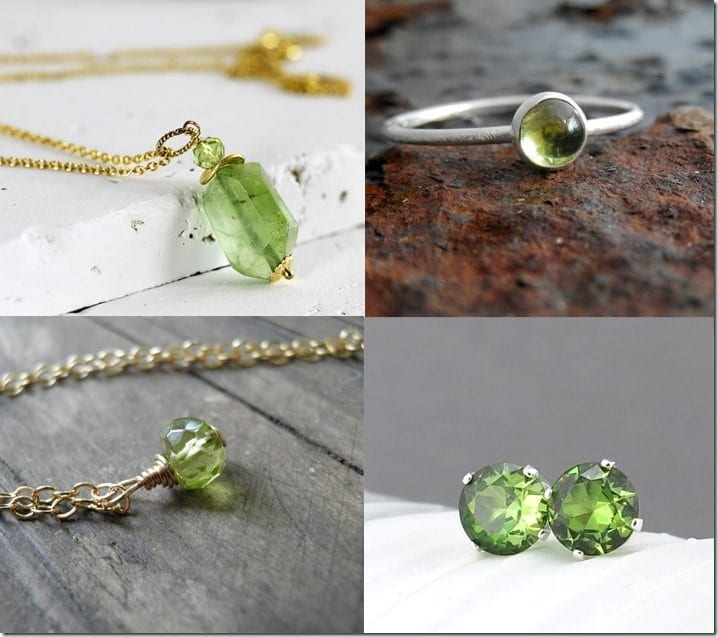 Peridot (also called Olivine) is a birthstone for the month of August and even though I'm an October baby, I'm so into this alluring olive-geen hued gem like no other, not even tourmaline or opal!

So, here's a post dedicated to show how divinely inspiring is the mix of peridot green when partnered up with various metals like silver, gold, rose gold and even copper.
If you're interested in the symbolic meanings associated with peridot and its uses, enjoy the read below:
Periodot is associated with the heart chakra, and can be used to balance and stimulate that chakra. It is a stone of compassion. It has a friendly energy and is excellent for healing. It assists in rebirth and renewal of all kinds. Peridot also bring abundance and prosperity. It enhances the healing and harmony of relationships of all kinds, but particularly marriage. Peridot is used in crystal healing to lessen stress, especially in relationships, anger and jealousy, slow aging, and heal ulcers and digestive problems. Please note that healing crystal meanings are spiritual supports to healing and are not prescriptions or healthcare information.  It also assists in finding what is lost, and strengthens ESP abilities. It has been said to make a shield of protection around the body of any wearer of peridot. – Crystal Meanings
For those looking to eyeball some gorgeous peridot jewelry, as per always, you can scroll on down and enjoy!
Boho Peridot Copper Ring

Dainty Gold Peridot Bracelet

Dainty Peridot Minimalist Necklace

Elegant Peridot Green Bracelet

Peridot Stud Earrings

Skinny Peridot Ring

Raw Peridot Pendant Necklace

Which peridot jewelry would you wear? Share below – I'd love to know!
The easiest thing to be in the world is you. The most difficult thing to be is what other people want you to be. Don't let them put you in that position. — Leo Buscaglia
Disclosure: This post contains affiliate links, which means that if you click on one of the product links, a small commission may be credited to this site.
Love this post? Share it with your friends! Follow us for more fashion inspiration:
♥ Twitter ♥ Facebook ♥ Google+ ♥ Bloglovin ♥ Pinterest ♥ Polyvore ♥
© All images are copyrighted by their respective authors.
Here on Fashionista NOW, our one and very own Miss Reverie showcases the latest in fashion trends and its various social implications in our everyday lives. You may read more of her at REVERIE SANCTUARY.