Need a cheongsam that has a modern appeal to wear this CNY 2018 party season? Awesome: This post is for you!
Affordable modern cheongsam interpretations are available in our own backyard? What? Read on to find out.
Upon finding out that there's an online boutique that sells unique cheongsam-inspired dresses, playsuits and jumpsuits, you know I have to spill everything here and this is quite exciting as I am partial to fusion outfits that give a twist on tradition. Each piece of garment you will see down below combines the Oriental cheongsam into a dress or jumpsuit that has a modern street style appeal.
If you're excited as I am, then let us eyeball each Lunar New Year party-worthy piece one by one together. The affordable Malaysian online boutique ships worldwide so everyone can calm down and shop from where you are presently located with FREE shipping! OMG, right? Anyway, let's scroll down.
Red Mesh Cheongsam Culotte Jumpsuit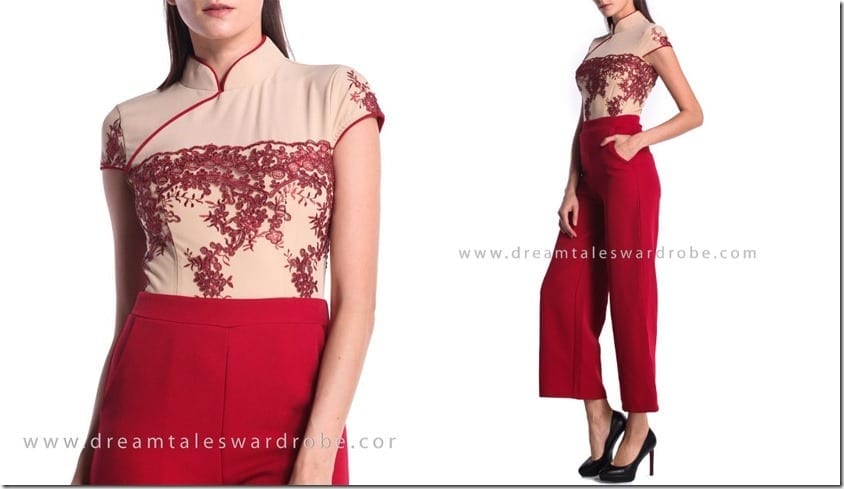 The way the waist of the jumpsuit is made high to sit at the smallest curve makes this an elongating statement party wear. The red bottom flares out beautifully in a palazzo-like construction. The top part is made of mesh lace and beautifully fitted for a sleek and elegant touch. The neckline? That's the unforgettable mandarin collar we can't get enough off. This has functional side pockets and a hidden back zip closure.
Red Ruffle Hem Cheongsam Dress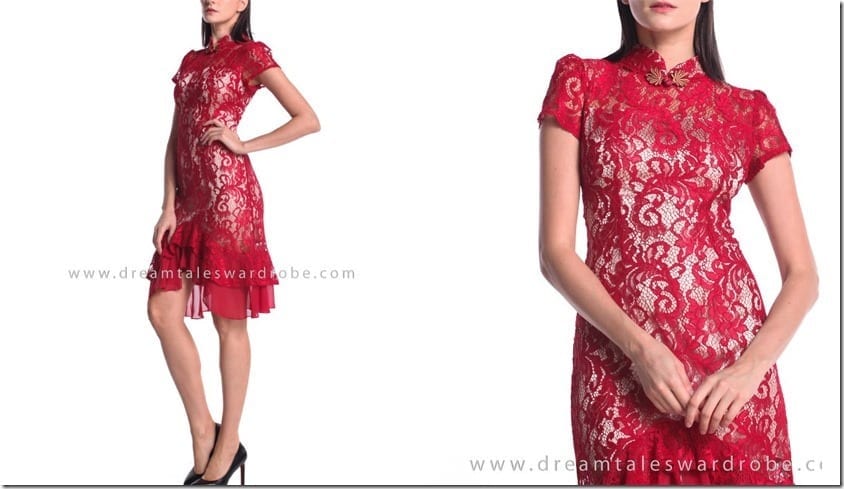 This beauty is a sultry piece of modern cheongsam. Rendered in a dress that has that asymmetric retro ruffle hem, the lacy red cheongsam dress comes with a fitted shape and is lined with satin. The dress has a hidden back zipper and a chiffon hem. I find this oh so pretty!
Red Overlap Cheongsam Dress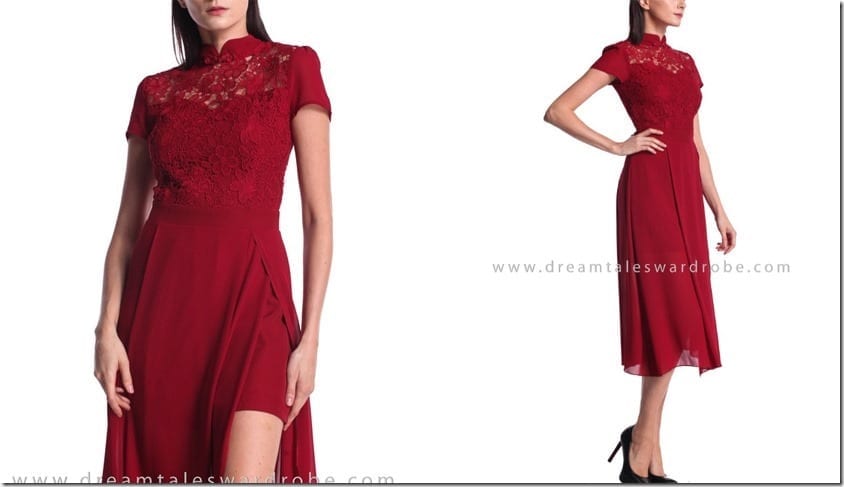 This bold red cheongsam dress may appear as though you've seen it before but it has a long skirt overlay that goes over a mini skort (skirt pants) that will show itself at certain angles via the side slit and when you feel like dancing. Fans of flowy and fluid movement will definitely gravitate to this unexpected design twist in this gorgeous Oriental red dress. How do you like this playful twist? I personally am going nuts over it!
Orange Lace Cheongsam Playsuit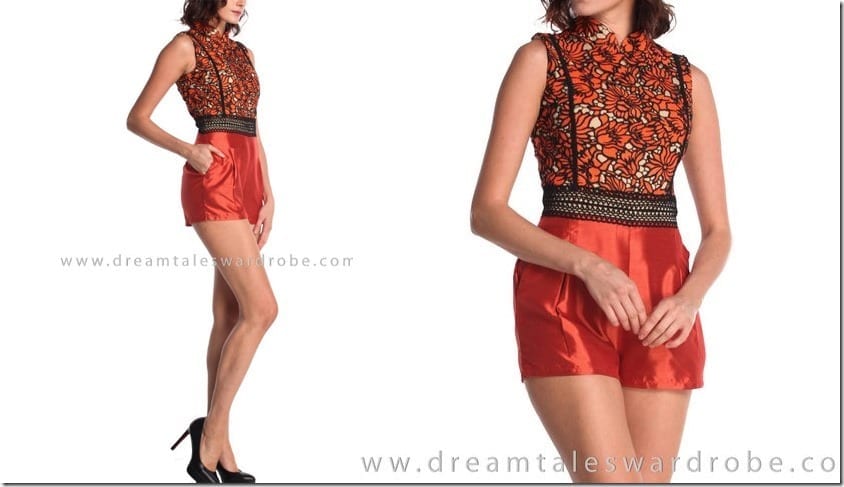 For gals who want to have their legs out, this playsuit makes for a highly-worthy party-approved consideration. The energetic splash of orange will make you shine like the sun. The floral sleeveless cheongsam bodice is form-fitting and the waist is cinched so you may look your ladylike best.
Red Crochet Elegant Cheongsam Jumpsuit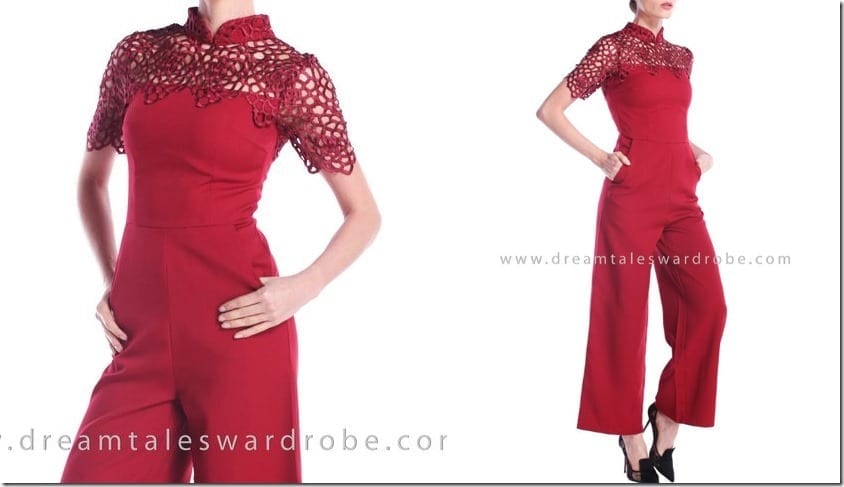 This sleek and elegant jumpsuit grabs your attention like no other and if you're looking to ooze classic sophistication, then this is a must-have. The stunning cheongsam lace bodice is fitted up to the small of your waist before the bottom flares out in that palazzo style silhouette. This has functional side pockets and a hidden back zipper.
Red Halter Style Lace Cheongsam Dress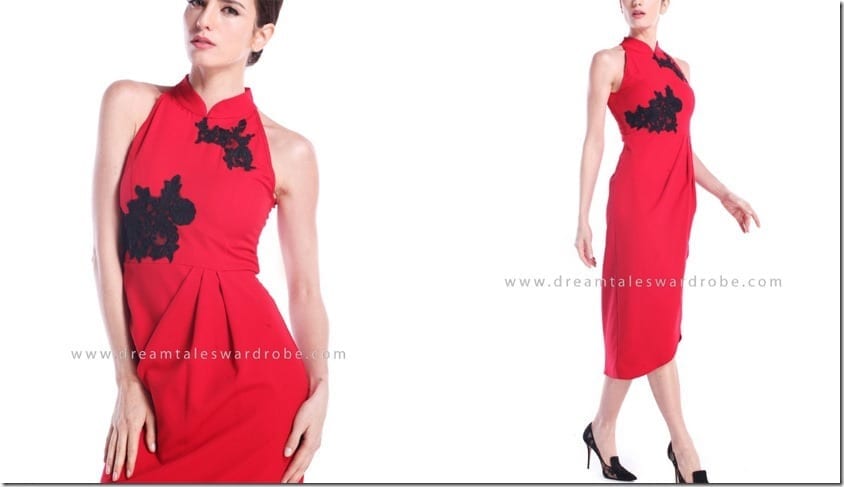 This beautiful modern cheongsam dress has a halter-style neckline along with the mandarin collar. The black lace details add a pop of interest over the hot red dress. At the waist, there is a strategic placement of gathers and the hem of the skirt is almost tulip-like and is in the demure midi length. This cheongsam dress has my heart and will not give it back.
So ladies, do you like any of the modern cheongsam dress and jumpsuit shown above? If so, which one? Don't forget to shop them at the DreamTales Wardrobe before they disappear. They ship WORLDWIDE.
Love all the mod cheongsam options? Be sure to show them some real love!
"Your relationship to yourself is and always will be directly reflected in all your relationships with others." — Vironika Tugaleva
Love this post? Share it with your friends! Follow us for more fashion inspiration:
♥ Twitter ♥ Facebook ♥ Google+ ♥ Bloglovin ♥ Pinterest ♥ Polyvore ♥
© All images are copyrighted by their respective authors.
Here on Fashionista NOW, our one and very own Miss Reverie showcases the latest in fashion trends and its various social implications in our everyday lives. You may read more of her at REVERIE SANCTUARY.