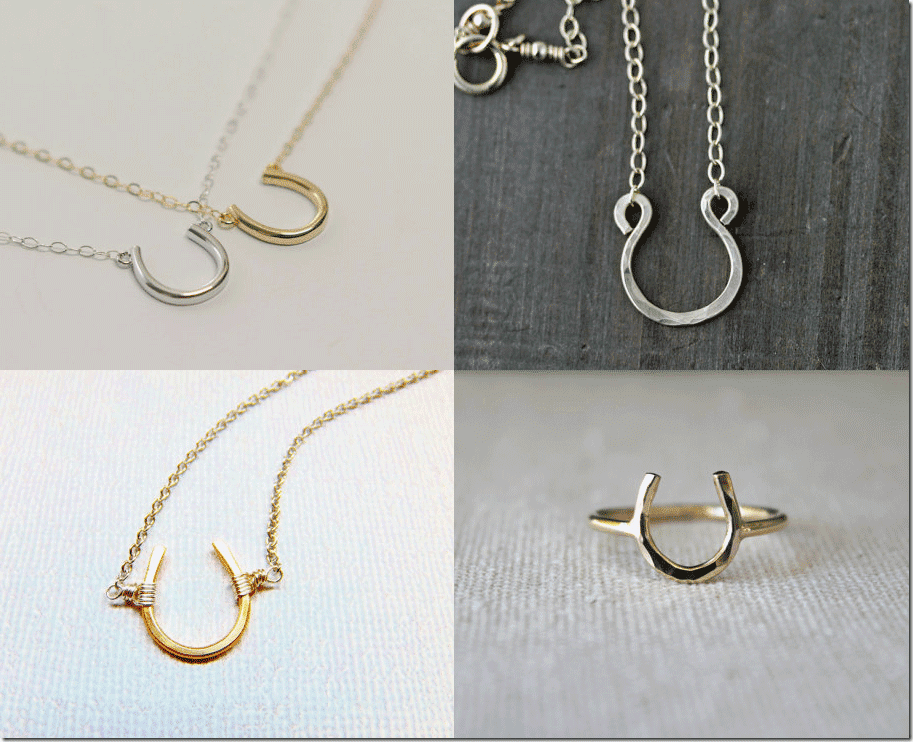 Horseshoe jewelry is quite minimalist that it deserves a feature as we unearth more hidden gems that can be worn layered, stacked or on their very own.
I don't think I've ever found the shape of a horseshoe as appealing as it is now especially as a streamlined simple charm held by chains on necklaces or rendered as an unexpected open shape on rings. These horseshoe necklaces, rings and even bracelets are sometimes referred to lucky horseshoe jewelry which makes me wonder where the 'luck' is actually derived from.
Is it a personal form of luck, or something larger than that? Apparently, in many cultures, it is the latter. Find out more about the symbolism behind the horseshoe below as you ogle these pretty handcrafted gems.
7 Minimalist Horseshoe Necklaces And Rings To Drool Over:
♥ OnlySimple | dainty minimal horseshoe necklace ← SHOP HERE
The most commonly found lucky charm in modern North America is the horseshoe. Besides being used in jewelry, horseshoe forms are seen in printed images and wall decorations.

♥ Brutebeauti | gold hammered horseshoe ring ← SHOP HERE
A horseshoe is another ancient emblem that is utilized to ward 'evil eye' in countries like Turkey and areas surrounding Greece. It is also used with an all-seeing eye emblem to make sure that evil is diverted.
♥ jamesmichellejewelry | gold horseshoe charm necklace ← SHOP HERE
The direction of the horseshoe with its open end facing up signifies 'luck not running out' in Ireland, Britain and North America. The facing down of the open end of the horseshoe symbolizes 'luck pouring out on you' in most countries in Europe, Middle East and Spanish-colonial Latin America.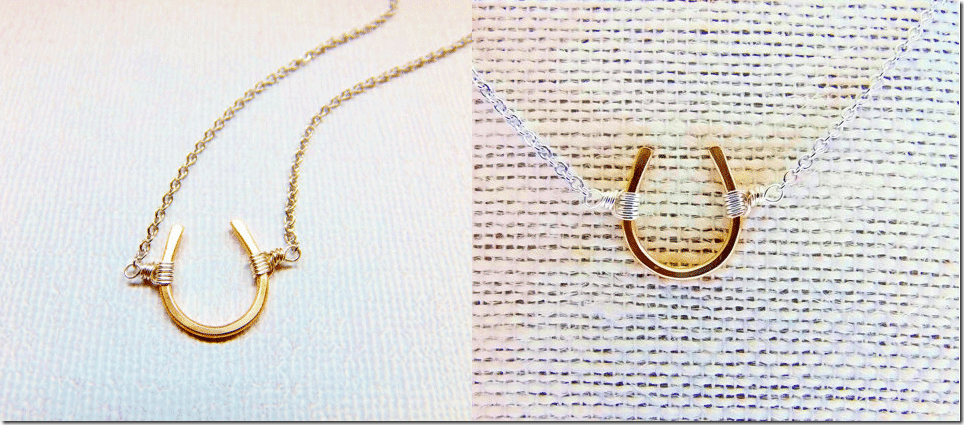 ♥ JenniferRexJewelry | mixed metal lucky horseshoe necklace ← SHOP HERE
In Italy, the direction of which the horseshoe is hung isn't of importance in particular when it's used as a protective amulet by the side of the door. What's most important is that the horseshoe was genuinely worn by a horse and discarded by it (not bought).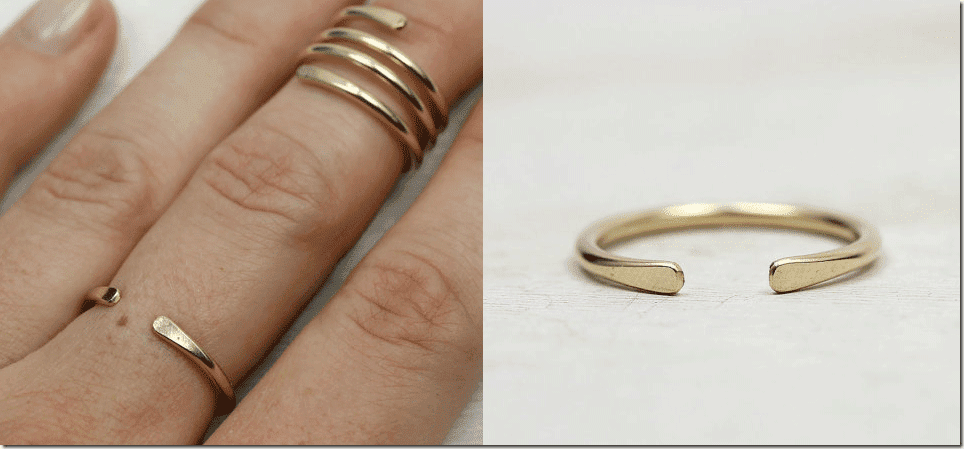 ♥ LotusStone | smooth hammered gold horseshoe ring ← SHOP HERE
Since the horseshoe is related to the shape of the crescent moon which is associated with the pagan moon goddesses, it is said to draw power from this link.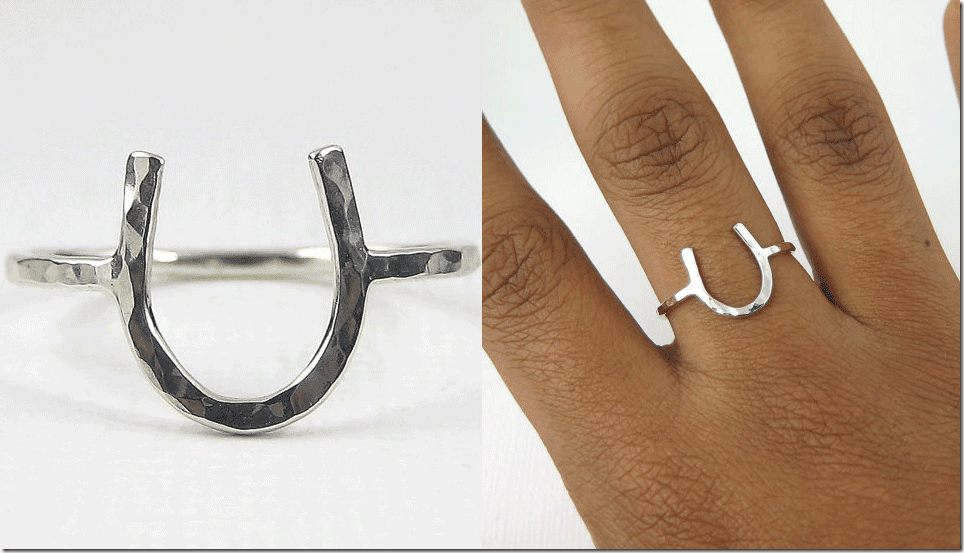 ♥ PuranaJewellery | sterling silver lucky horseshoe ring ← SHOP HERE
The use of the horseshoe jewelry and their significance to you, of course relies, heavily on your personal and cultural background.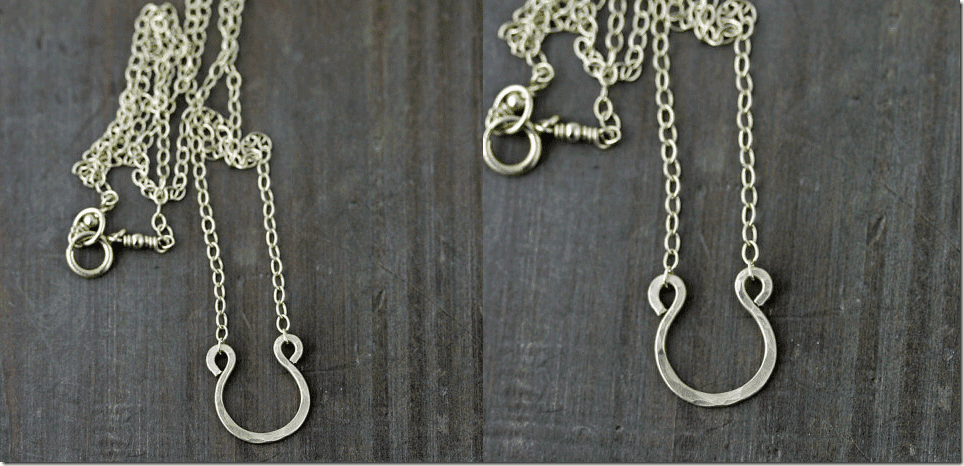 ♥ true2u | tiny silver horseshoe necklace ← SHOP HERE
The superstitions revolve around it may not mean anything of essence to you (and me) and it could very well be that we simply like the open design of the horseshoe just like the crescent moon, which are both lovely female-centric symbols!
What do you think of these minimalist horseshoe necklaces and rings? Do you see yourself wearing any of our picks? Share your thoughts – I'd love to hear from you!
"I don't hold that everybody has to love fashion. Some people like gardening." — Steven Cojocaru
Disclosure: This post contains affiliate links, which means that if you click on one of the product links, a small commission may be credited to this site.
Love this post? Share it with your friends! Follow us for more fashion inspiration:
♥ Twitter ♥ Facebook ♥ Google+ ♥ Bloglovin ♥ Pinterest ♥ Polyvore ♥
© All images are copyrighted by their respective authors.
Here on Fashionista NOW, our one and very own Miss Reverie showcases the latest in fashion trends and its various social implications in our everyday lives. You may read more of her at REVERIE SANCTUARY.