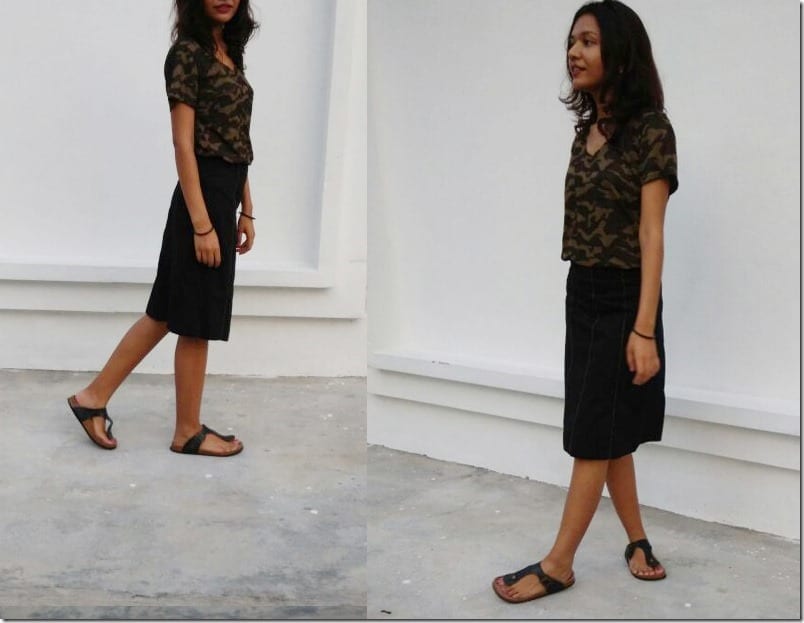 Got a camo print tee but don't know how to style it? Allow me to show you how I style mine for a quick style inspo.
If I were to describe the contents of my closet, I'd say they're a mix bag of things, collected from the various periods of my life. It's kind of like me. A mix bag of things. As much as I had been raving about the military fashion trend, I realized one fine day I had not a single piece of army-inspired clothing.
Until I got myself a camo print tee from Zaful that is.
The tee has been sent to me and here's what I think of it: I love the soft breathable fabric, how it's light and cool on my skin, perfect for the tropical weather here in Malaysia. I am so about V-necklines, so this tee gets a HUGE plus point.
The camo print is a YAY – it makes me feel soldier-like for some reason. Well duh, obviously. But more of a soldier of LOVE (ha ha ha, so very funny, I know). I also like the tiny chest pocket it has. Though it is functional I am not known to keep stuff in chest pockets. At first, I styled the tee with my favorite black jogger pants but for some reason, the look didn't translate the way I'd imagined it so then I chose an old pencil skirt I hadn't worn in ages to wear it with, for a mix of masculine and femme elements.
And then a unisex flat. Because I'm such a casual girl (plus, I ain't going anywhere fancy) I slipped into my birk-inspired flats. Birkenstocks. ( if you're wondering what in the world that was ). They're really old but I am loyal to this slip-on easy flats.
Anyway, if this camo print isn't your thing, rest assured as Zaful has other tee choices that may just tickle your fancy.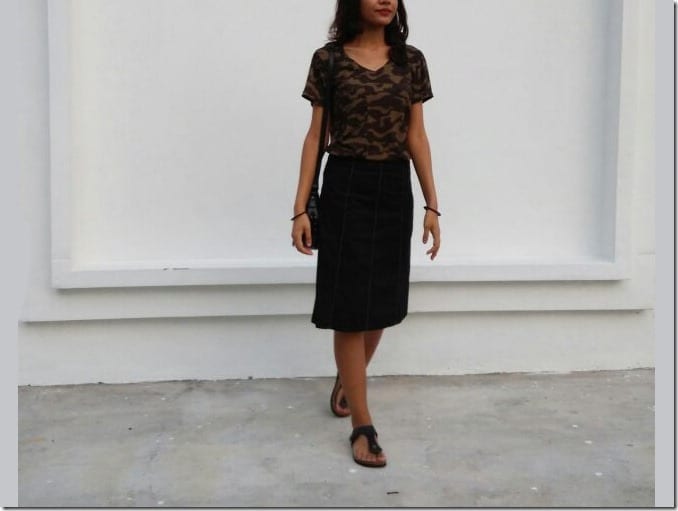 I like chopping the top bit of my photo. Real reason: My hair was atrocious. I had to.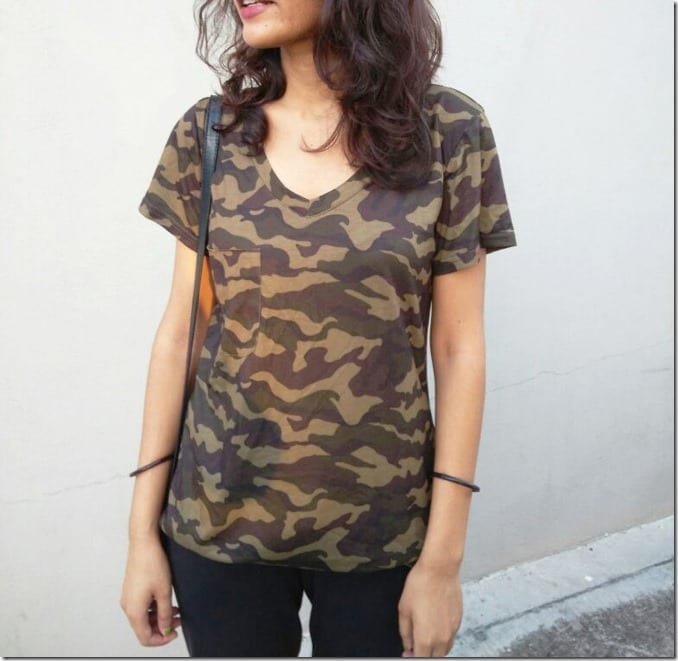 This was when I paired the tee with my jogger pants. It was a comfy partnership, I admit.
I wish I'd tucked in the tee but hey, look FREE wrinkles.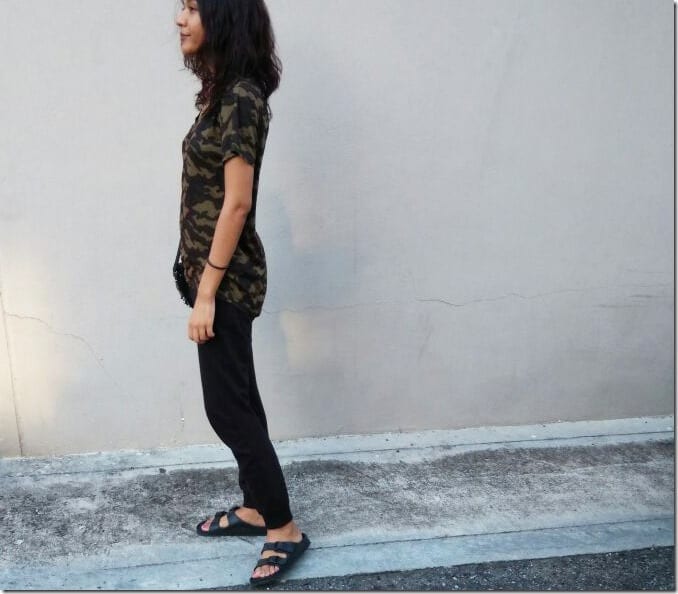 The tee is kind of long-ish so you can defo wear it with leggings too as it can nicely offer your posterior some coverage.
So, ladies: What do you think of my casual camo look? I'd love to know! Bee tee dubs, I did my first #ootd post on my personal blog and would appreciate it if you'd take a look and comment!
"Nothing is impossible to a determined woman." — Louisa May Alcott
Disclosure: This post contains affiliate links, which means that if you click on one of the product links, a small commission may be credited to this site.
Love this post? Share it with your friends! Follow us for more fashion inspiration:
♥ Twitter ♥ Facebook ♥ Google+ ♥ Bloglovin ♥ Pinterest ♥ Polyvore ♥
© All images are copyrighted by their respective authors.
Here on Fashionista NOW, our one and very own Miss Reverie showcases the latest in fashion trends and its various social implications in our everyday lives. You may read more of her at REVERIE SANCTUARY.