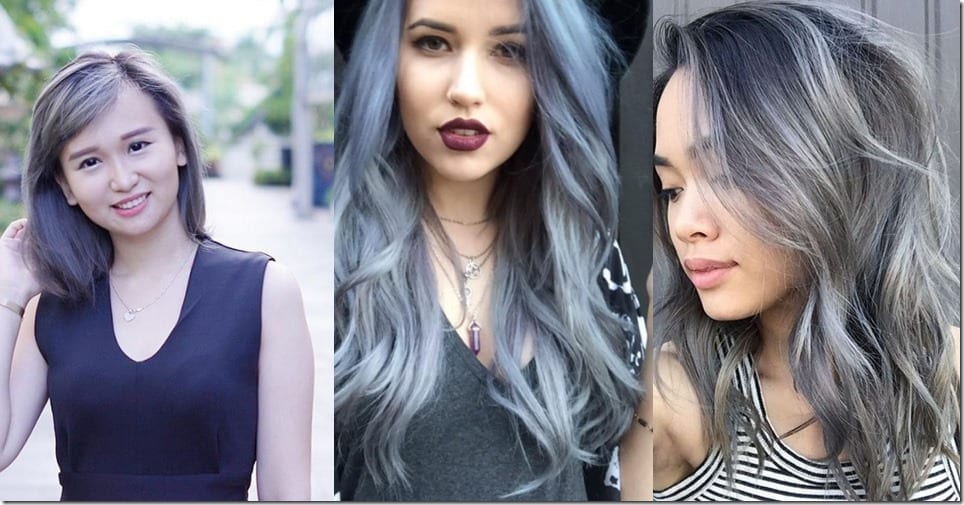 Credit | Maryan | Johanna | Brittany Le
If you've been alive these past few years, you'd have seen it: grey hair on young people. Find out why it is mindbogglingly so.
Since the faux grey hair trend took over, the ones with natural grey hair are either left to breathe a deep sigh of relief they're finally on the frontier of a hot trend or majorly annoyed that others think they would waste their precious time coloring their mane grey to be on trend when it was quite a different story way back when it wasn't.
The key to looking good in grey hair of is to have it manufactured expertly at the hair salon preferably with a hair stylist that doesn't secretly loathe you. You have to be invested in keeping the grey fresh and this is one of the reasons I personally cannot go grey as I'm too much of a bum when it comes to hair color upkeep.
I do however feel that the grey color trend in fashion is awesome and I'm so not over it yet. Grey hair comes with aging but the young lot gets it instantly with the help of some dough. In the age of social media and enthusiastic oversharing, we can all go grey no matter our age differences. A young-ish person with grey hair is considered hip by the fashion community but I would also add that it is also because the grey hair is unexpected on him/her. The novelty of the color itself lends to this idea of coolness.
Now, let's eyeball some of the awesome grey hairstyles I've plucked from Instagram for your quick inspo and visual therapy.
Cool Grey Hairstyles From Instagram
Do you plan to go fabulously grey anytime soon? Which grey hairstyle(s) do you fancy? Share below – I'd love to know!
For money you can have everything it is said. No, that is not true. You can buy food, but not appetite; medicine, but not health; soft beds, but not sleep; knowledge but not intelligence; glitter, but not comfort; fun, but not pleasure; acquaintances, but not friendship; servants, but not faithfulness; grey hair, but not honor; quiet days, but not peace. The shell of all things you can get for money. But not the kernel. That cannot be had for money. — Arne Garborg
Love this post? Share it with your friends! Follow us for more fashion inspiration:
♥ Twitter ♥ Facebook ♥ Google+ ♥ Bloglovin ♥ Pinterest ♥ Polyvore ♥
© All images are copyrighted by their respective authors.
Here on Fashionista NOW, our one and very own Miss Reverie showcases the latest in fashion trends and its various social implications in our everyday lives. You may read more of her at REVERIE SANCTUARY.