Welcome the sleeve silhouette loved by women in the 1820s to 1830s into your 2018 wardrobe.
Can you believe how much time has passed between the years the gigot sleeve was popular until now? Mindblowing!
It is confounding even though intellectually we understand that there were strong fashionable women so long before anyone alive now was born. I spotted this sleeve style and had to research a bit about it as I find it inexplicably attractive. Instead of it being voluminous as it nears the wrist like the popular bell sleeve shape, this one has volume up at the shoulder and upper arm area that gathers so charmingly before tapering close to the lower arm.
In the era it was popular, this was worn it such a way that the slope of the shoulders was revealed and the gigot sleeve definition started after the slope which was inspired by the Romantic Movement – a look to imply that a woman was pining for her lover.
On this Zalia blouse however, the high round neckline keeps the shoulders covered for a structured and equally feminine expression. This gorgeous sleeve style will appeal to those unafraid of bold volume happening up on the shoulder. It's not as harsh and hard as having shoulder pads as the gathers are pulled down somewhat via the design.
If you're wondering what kind of a shoulder frame type would this gigot sleeve top work with aesthetically speaking, I find that as long as you have worn and loved the look, you will be slaying in it regardless. But if you're always avoiding a voluminous upper torso through clothing, then simply give this a pass. Consider the size of your shoulders and arms and check with the sizing charts before purchasing.
How to style the gigot sleeve top? I personally would wear it casually with high-waisted skinny jeans, leaving the volume concentrated on top. You can wear it tucked in with a pair of culottes or midi-length pencil skirt. If you are an adventurous dresser, wear with an eye-popping patterned bodycon skirt or pants.
Navy Gigot Sleeve Blouse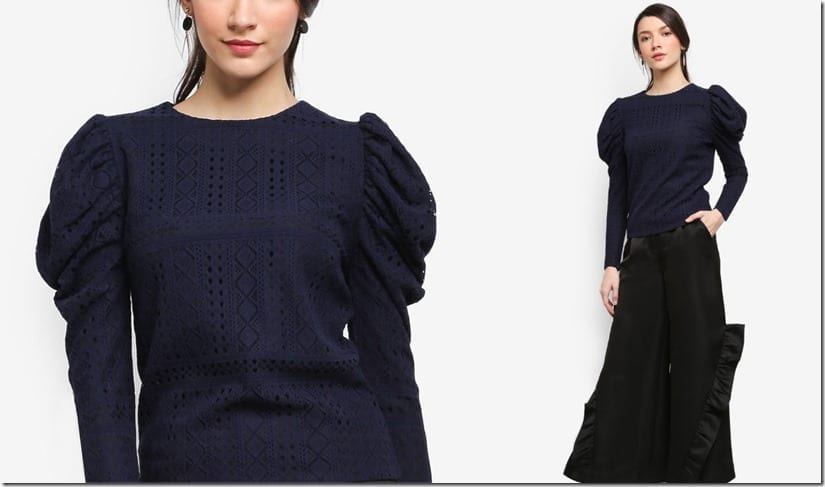 Yellow Gigot Sleeve Top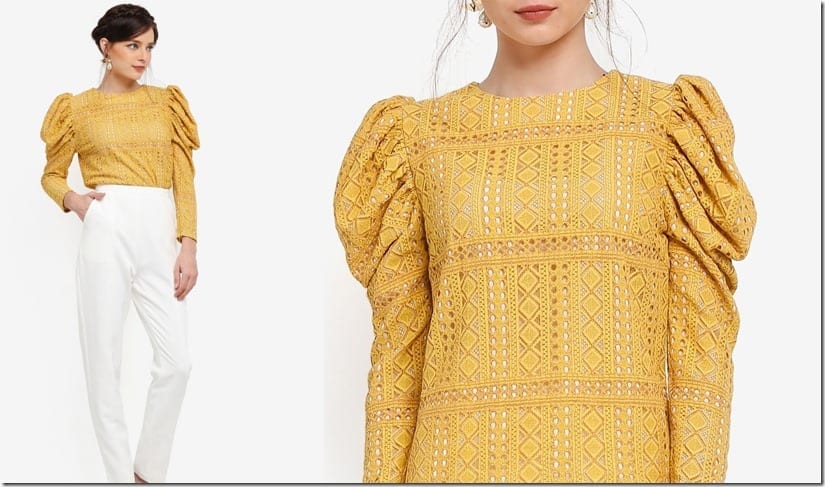 Which gigot sleeve top would you love to wear? I know there's only two but still, please share!
"People believe themselves to be dependent on what happens for their happiness, that is to say, dependent on form. They don't realize that what happens is the most unstable thing in the universe. It changes constantly." — Eckhart Tolle
Disclosure: This post contains affiliate links, which means that if you click on one of the product links, a small commission may be credited to this site.
Love this post? Share it with your friends! Follow us for more fashion inspiration:
♥ Twitter ♥ Facebook ♥ Google+ ♥ Bloglovin ♥ Pinterest ♥ Polyvore ♥
© All images are copyrighted by their respective authors.
Here on Fashionista NOW, our one and very own Miss Reverie showcases the latest in fashion trends and its various social implications in our everyday lives. You may read more of her at REVERIE SANCTUARY.