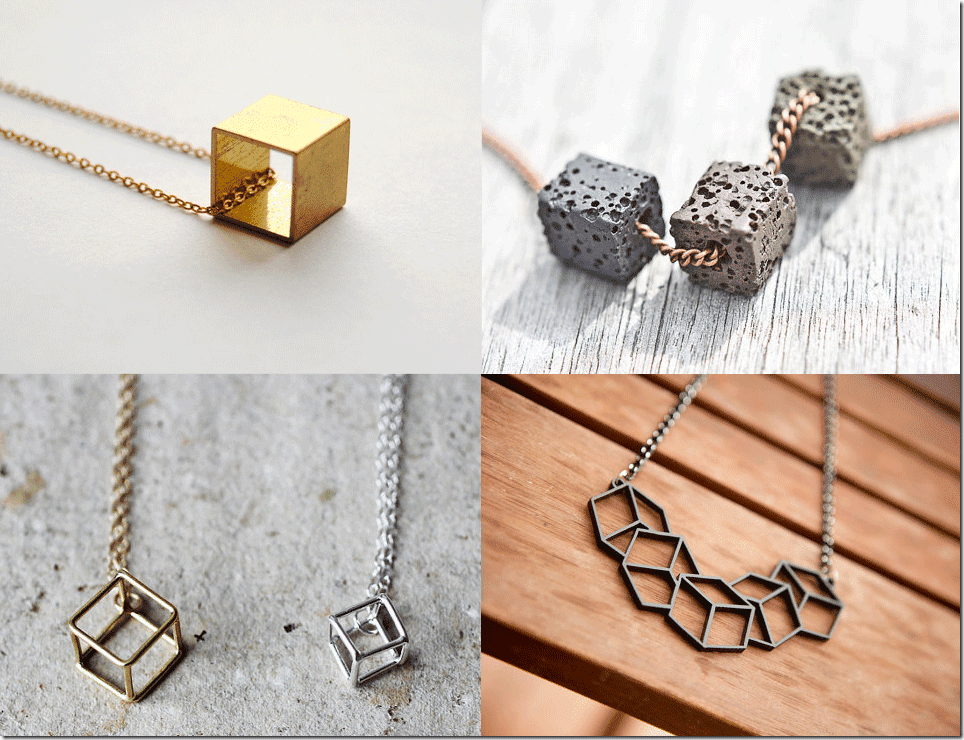 Squares are never this cool when you're sporting a four-sided polygon inspired bling bling. Draw inspiration from our favorite cube necklace finds!
Geometry threads into the spirit of minimalist jewelry that we all so love this year. For lovers of endless simple architectural shapes, the cube has drawn major inspiration from jewelry makers from across the globe. From simple 2D visual cube constructions to their full-bodied 3D counterparts, it's apparent that cubes are retaining a lasting impression amongst the creators and the consumers of geometric jewelry.
I personally find the cube stud earrings and open style rings with dainty cube embellishments very refreshingly appealing. Unlike the soft edges of the circle or spheres, cubic style jewelry pushes forward angular sculptures that we tend to shy away from and make them more friendly for wearing in delicate interpretations.
If you are looking for cube-inspired necklaces to wear on its own or used as layering pieces, scour our much loved list below.
Cubic Chic Neck Pieces You Need To Have Right NOW:
♥ mollisjewelry | cube charm gold necklace with cubic zirconia ← SHOP HERE

♥ noramore | laser cut cube geometric necklace ← SHOP HERE
♥ daimblond | lava stone cube geometric necklace ← SHOP HERE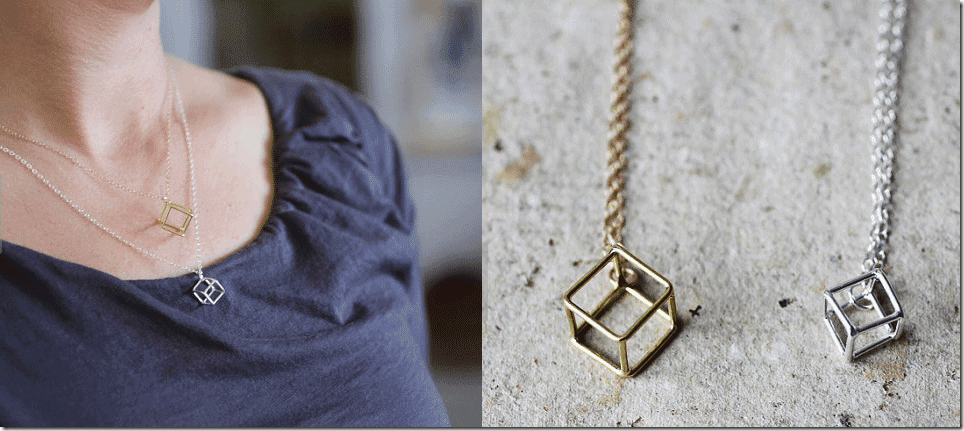 ♥ elainebjewelry | solitary 3D cube necklace ← SHOP HERE

♥ saffronandsaege | swarovski crystal cube necklace ← SHOP HERE
♥ roundabout | three tiny gold cubes geometric necklace ← SHOP HERE

♥ SPARKLEFARM | vintage cube necklace ← SHOP HERE
Which cube necklace(s) do you see yourself wearing? Share below – I'd love to know!
"I think the universe is pure geometry – basically, a beautiful shape twisting around and dancing over space-time." — Antony Garrett Lisi
Disclosure: This post contains affiliate links, which means that if you click on one of the product links, a small commission may be credited to this site.
Love this post? Share it with your friends! Follow us for more fashion inspiration:
♥ Twitter ♥ Facebook ♥ Google+ ♥ Bloglovin ♥ Pinterest ♥ Polyvore ♥
© All images are copyrighted by their respective authors.
Here on Fashionista NOW, our one and very own Miss Reverie showcases the latest in fashion trends and its various social implications in our everyday lives. You may read more of her at REVERIE SANCTUARY.