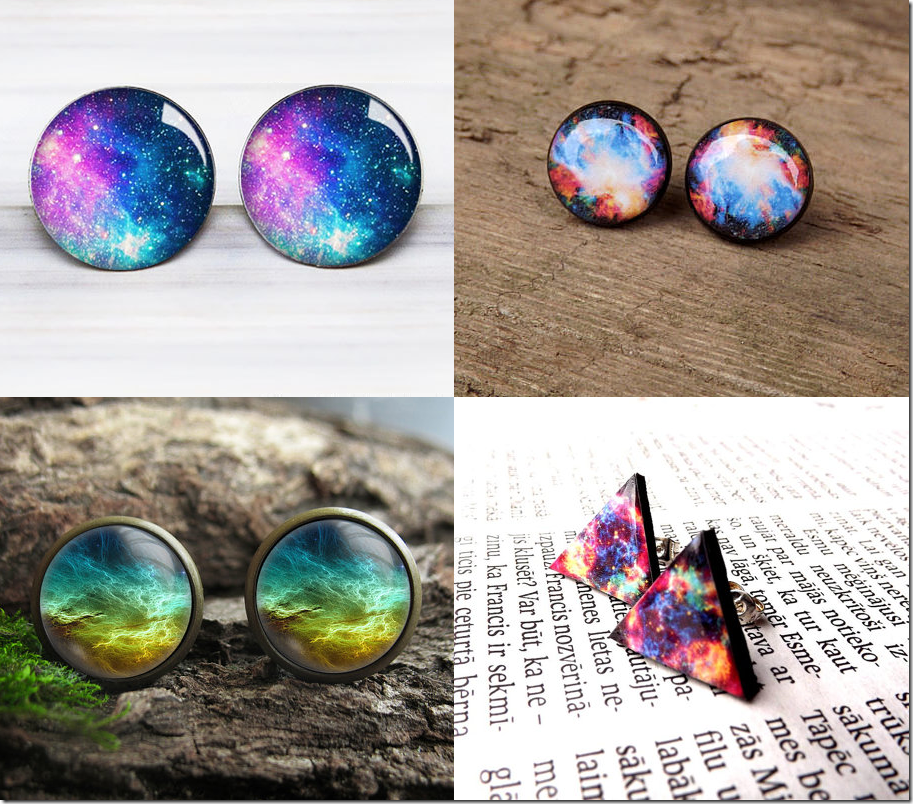 In the spirit of celebrating the newly-found farthest galaxy of 31.2 billion years, EGS8p7 – let us adorn our collective ear lobes with some sparkly space-inspired stud earrings!
Have you ever looked at the night's sky and think of galaxies beyond? I'm sure we've all done that at some point of our lives and doesn't it our existence into perspective; that we are but one scrawny dot in the grand scheme of things?
Whenever I immerse myself in the sweet yet smokey breeze of the night and feel the presence of Mother Nature all around me, I am energized, ready to start my evening with the work I have for the day. Okay, I admit, that is so not the whole of my thought process. I would prefer to sit and stare and the moon, write poems in my head, mumble sweet-nothings to my cats and maybe munch on some junk food but I'll eventually give my own tush a kick and head into the work sanctuary for some real hustle session.
As this is a jewelry edit type of post which is my favorite kind, I thought that wearing a galaxy-inspired earring would be such a dope thing to do after finding out that just last week, a team of Caltech scientists discovered the farthest, oldest unusually luminous galaxy of 13.2 billion year!
Did you know that the universe itself is 13.8 billion years old? EGS8p7 is only 500 million years younger than the universe itself and its discovery could alter existing theories on the evolution of the early universe.
For something a little more earth-bound and closer to your ear lobes, enjoy the list of gorgeous galaxy-inspired stud earrings I've curated for your viewing pleasure below.
♥ AHoleyMoleyLyfe | blue galaxy stud earrings
♥ JewelryByIeva | galaxy triangle stud earrings
♥ AChicFairytale | mars glitter stud earrings
♥ SpringKiss | nebula galaxy stud earrings
♥ PedantWorld | purple nebula stud earrings
♥ 8BitBoom | rainbow galaxy stud earrings
♥ bloomyjewelry | space galaxy stud earrings
Weird fact about me: I am not that sophisticated when it comes to jokes; either as a receiver or a teller of them. In fact, I'm often laughing at things that are not too funny or outwardly funny and this may make me appear mental but I'm so not, I promise.
Anyway, which of these galaxy-infused ear bling do you see yourself wearing? Share below – I'd love to know!
"Cosmos is a Greek word for the order of the universe. It is, in a way, the opposite of Chaos. It implies the deep interconnectedness of all things. It conveys awe for the intricate and subtle way in which the universe is put together."
— Carl Sagan
Disclosure: This post contains affiliate links, which means that if you click on one of the product links, a small commission may be credited to this site.
Love this post? Share it with your friends! Follow us for more fashion inspiration:
♥ Twitter ♥ Facebook ♥ Google+ ♥ Bloglovin ♥ Pinterest ♥ Polyvore ♥
© All images are copyrighted by their respective authors.
Here on Fashionista NOW, our one and very own Miss Reverie showcases the latest in fashion trends and its various social implications in our everyday lives. You may read more of her at REVERIE SANCTUARY.