The peplum trend is highlighted as one of the much loved designs for this year's Eid fashion collections here in Malaysia.
Chantilly by Jovian Mandagie, a ready-to-wear Raya 2014 collection reveals the utilization of the peplum waist in sophisticated interpretaions thereby reworking the modern baju kurung and baju kebaya with the modern-day's love interest with the flared waist adored by fashionable youth of this nation.
Along with the curve-accentuating shape — lace, beads, floral appliques and embroidery are used to add character into their very modern pieces.
Not to be missed, Melinda Looi's Raya 2014 collection in collaboration with Diana Danielle also showcases the evidence of peplum decorating waistlines of her vibrant and youthful baju kurung modern.
If buying designer baju raya cuts a hole in your budget and you would like to save up instead of splurge, know that you can recreate your favorite designer look using affordable separates already in your closet or purchased from your local boutiques or online.
The two distinguishing features of the modern kurung made by our Malaysian fashion designers that seem to stand out and steal hearts, center upon a peplum style blouse and a fishtail (or mermaid) skirt.
While soft pastel hues have been a trending color palette for the past few years, you are invited to welcome vibrant color blocks for a celebratory unforgettable Raya look or keep it chic and minimalist with a monochromatic color scheme in black and white or cream.
Keeping in mind of your favorite colors, you can style up a look that has a printed statement like a batik sarong. Alternatively, your baju raya can be kept free of patterns with solid colored picks.
A peplum blouse is a versatile piece that can elevate the most casual of attires. It can be paired casually with jeans or trousers and dressed up with the right choice of skirt. Midi and maxi fishtail skirts are made to accompany the peplum top as is the midi pencil skirt for a look that screams retro.
Without further ado, let's dive into the looks styled up with peplum tops that you can buy separately at a rate much kinder to your wallet:
♥ lace peplum top with long sleeves –
Amazon
♥ long sleeve peplum top – Alice And Olivia (similar HERE)
♥ crochet neck peplum top – AX Paris
♥ 2 pieces joint mix color peplum top – Ezytred Malaysia
Affordable fishtail skirt selection to partner up with the peplum top of your liking:
♥ fishtail maxi skirt – Nelly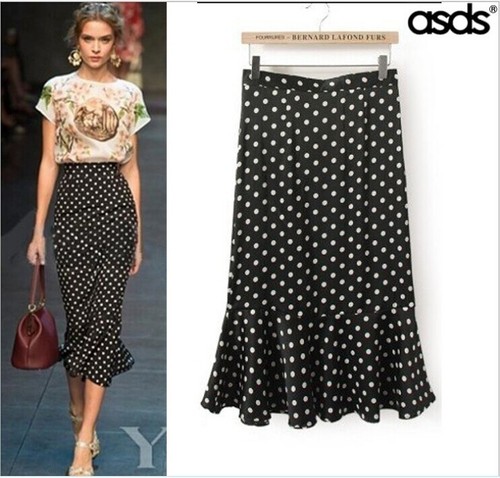 ♥ retro polka dot chiffon fishtail skirt (below the knee hemline) – eBay
♥ black fishtail skirt – Asos
For plus size ladies, check out the fishtail or mermaid skirt selection by Mis Claire by clicking on the link HERE. They have also just launched their super affordable Raya sets comprising of chiffon tops and lace skirts HERE.
So, have you already picked out outfit(s) for the upcoming Eid celebration. Are you splurging or saving up to party in style with budget-friendly outfits? Do you like the baju raya suggestions we have posted here? Let us know in the comments below!
"I have always believed that fashion was not only to make women more beautiful, but also to reassure them, give them confidence" — Yves Saint Laurent
© All images are copyrighted by their respective authors.
Here on Fashionista NOW, our one and very own Miss Reverie showcases the latest in fashion trends and its various social implications in our everyday lives. You may read more of her at REVERIE SANCTUARY.