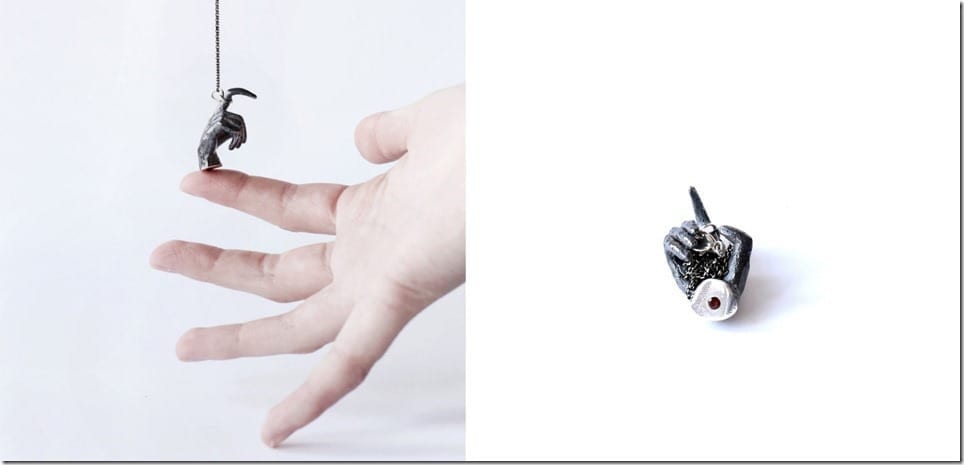 Credit | DovileBJewellery
These hands, they want you to wear them.
I don't know what it is about human hands, but I seem to enjoy the expressive movements they make and the positions they take on that can tell a bit about the person whose hands that are on the spotlight. That may sound a tad strange but it's not that I sit and stare down a person's hand like a zombie. The witnessing is subtle to avoid being construed as deranged and, more accurately, we kind of size a person up on an overall feel anyway, so the hands of a person act as an extension telling us their lifestyle and always, that interests me the most is their states of mind.
A pair of nervous hands would look and feel different compared to the hands of someone who is relaxed. Some hands look weighty, careless even and others – delicate and precise. Some hands apply more pressure to even the most basic activities like, writing, for instance. And some hands have a lighter approach even when holding something as heavy as a case of wine.
As my love for watching human hands has often triggered me to write something that relates to them, it's no surprise that I practically stopped everything to ogle hand-shaped pendants in the jewelry world. Stumbling upon Dovile B. Jewellery's collection of hand-shaped pendants, I am moved by its dark aesthetic, which is exactly the underlying theme of the collection ( called Phobia Of Darkness ). I admire the look of the hand pendants as they adorn a ring, bracelet, earrings and necklace. Something about the way they've been set and the appearance of the hands themselves make the collection riveting and unforgettable.
Do you love jewelry that is inspired by the language of the hand as I do? Then, I hope you will be thrilled looking at the compilation down below. Enjoy!
Miniature Hand Holding Red Garnet Silver Ring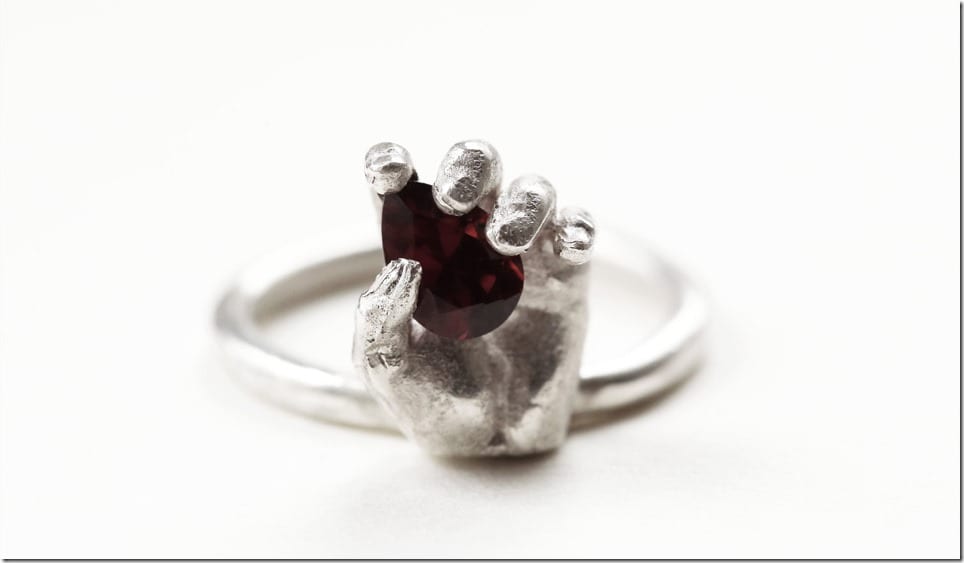 Oxidized Silver Hand Pendant Necklace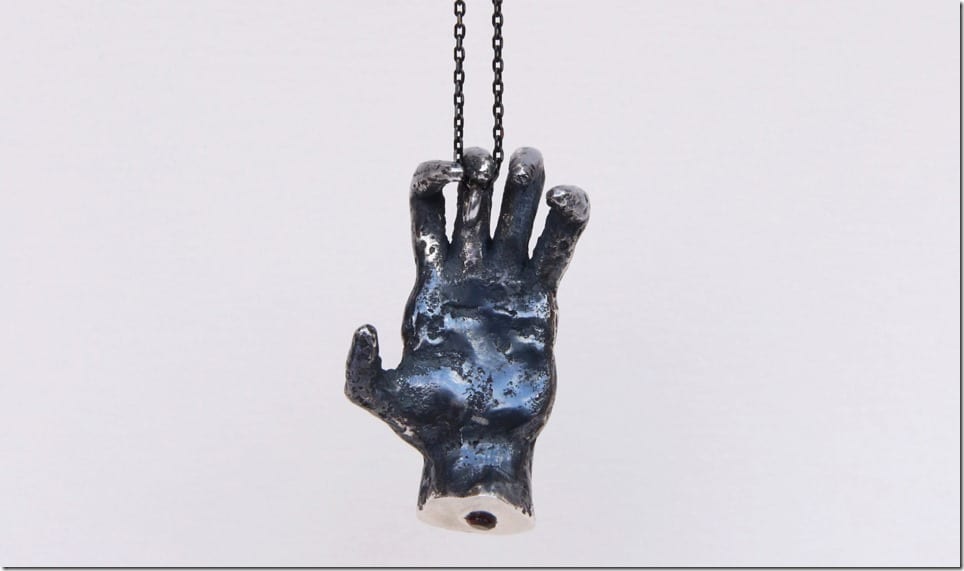 Oxidized Silver Macabre Double Hand Necklace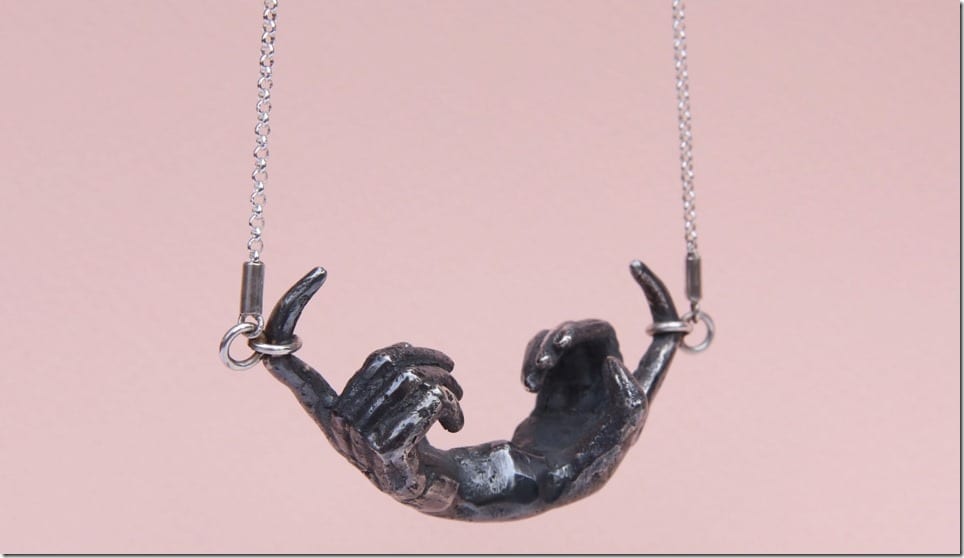 Oxidized Silver Finger Stud Earrings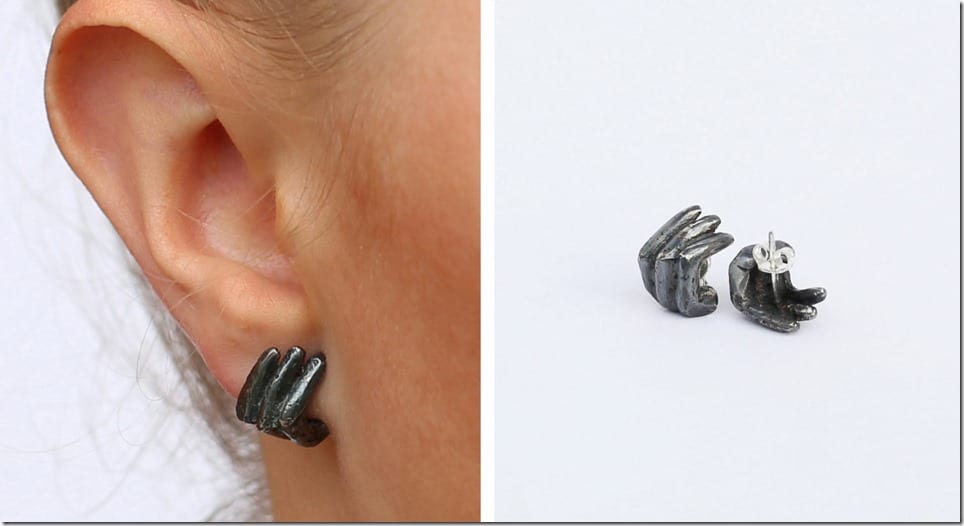 Sterling Silver Miniature Hand Pendant Necklace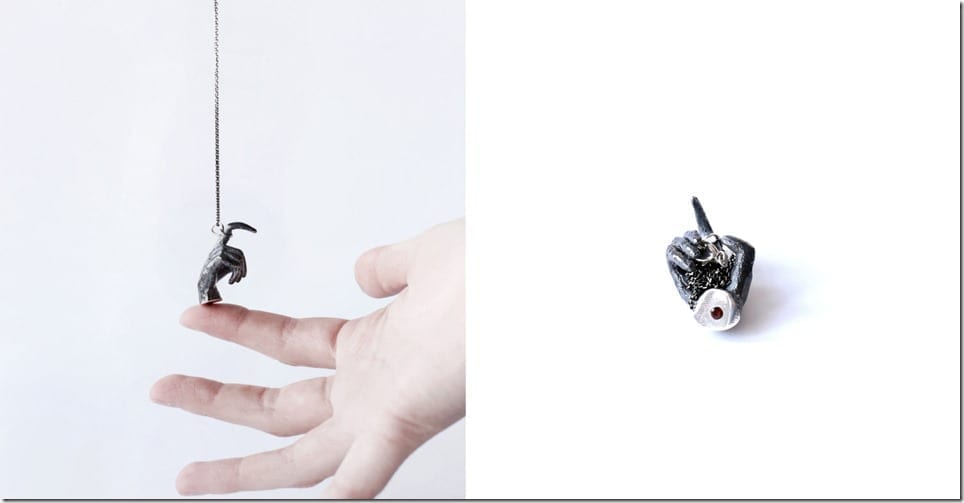 Unisex Silver Hand Leather Bracelet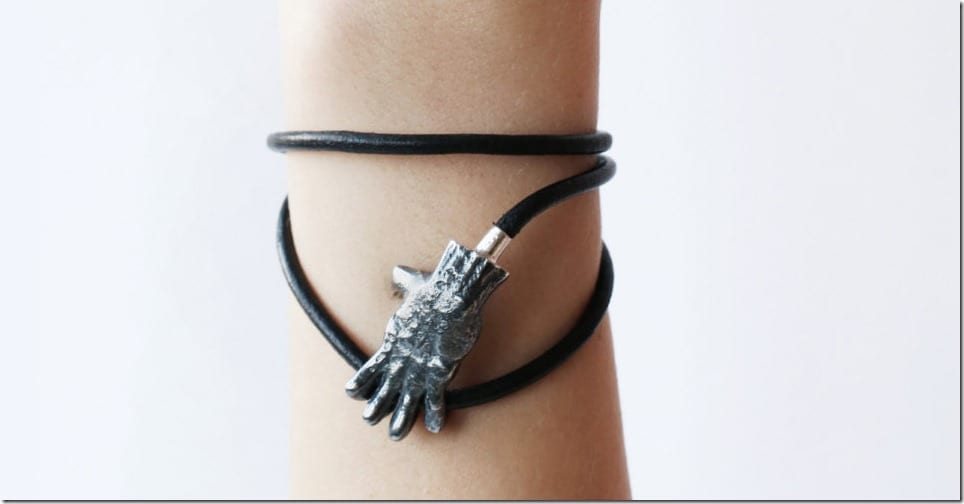 Oxidized Silver Finger Cuff Earring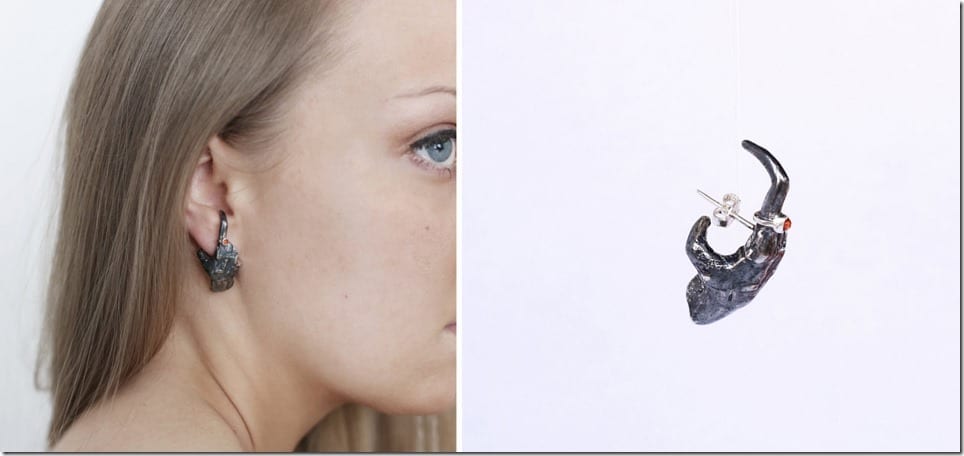 Utterly smitten with what you're looking at? Give the imaginative creator, London-based Dovile Bertulyte some love by following:
Which hand-inspired piece is your favorite? Share below – I'd love to know!
Through my conceptual and narrative contemporary jewellery I explore contrasting human emotions by analysing their fears and hopes, admiration and disgust, joy and sorrow. My signature style can be described as tactile and imaginative and always with a hidden meaning behind. I combine traditional silversmith techniques and self-developed silicone process to create unique, tactile, bold and abstract pieces of jewellery inspired by sea creatures, octopuses and underwater world.– Dovile Bertulyte
Disclosure: This post contains affiliate links, which means that if you click on one of the product links, a small commission may be credited to this site.
Love this post? Share it with your friends! Follow us for more fashion inspiration:
? Twitter ? Facebook ? Google+ ? Bloglovin ? Pinterest ? Polyvore ?
© All images are copyrighted by their respective authors.
Here on Fashionista NOW, our one and very own Miss Reverie showcases the latest in fashion trends and its various social implications in our everyday lives. You may read more of her at REVERIE SANCTUARY.