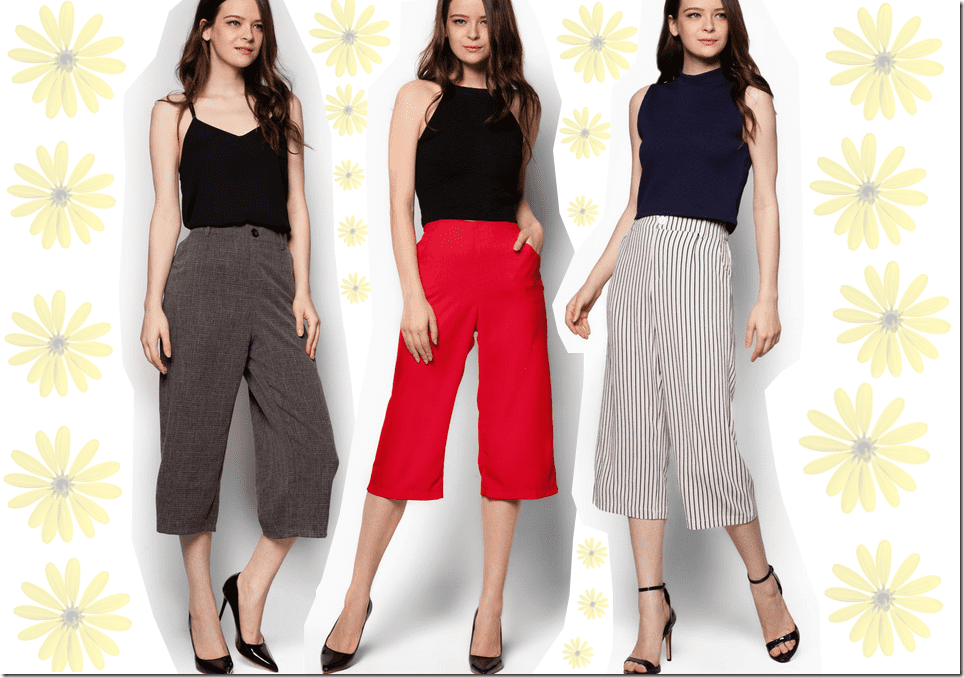 A reader emailed me asking where can she get her hands on a pair of culottes that is stylish AND most importantly, without breaking the bank and this post is for her and anyone else who are in the same boat.
As she is located here in humid Malaysia as I am, I quickly trawled my favorite online boutique which you already know the name of by now.
Apparently, Zalora has just restocked their virtual shelf with a fresh new addition of culottes and they are from Club Zen, a budget-friendly label that focuses on neutral staples. Think socks, leggings and tapered pants in wearable shades. And wow, their culottes selection is just delightfully versatile in a way that you can effortlessly take it from the office to the streets by employing little fashionista tweaks and you'll be right on the spot with being fabulous and fashionable.
I must admit that I'm experiencing a kind of drooling an online window shopper gets that's associated with wanting more than 2 pairs of these culottes. So, it's a little bit tough to want to share them in a post but oh well, I'll try not to be a hoarder of imaginary things. Since I'm on a shopping ban, why not, right? I'm of the mind that shopping must be done with serious thought and that one should try their hardest to not succumb to impulse buying, a habit that is often accompanied with after-purchase guilt.
Anyway, the price tag on these culottes is kept under RM60 (about USD16), with a few of them already up for grabs now at an amazing 20% price slash. For those who are new to wearing culottes and don't see the need to tear a hole in your pocket on these charming flared pants but still want them to be cool-looking, I assure you this selection is a great starter to dipping your toes into the trend.
Psst…They aren't just pretty for the sake of pretty, they're functionally equipped with side pockets and a silhouette that isn't too exaggerated, perfect for those who prefer a more toned down flare.
Scroll and ogle away now, will you?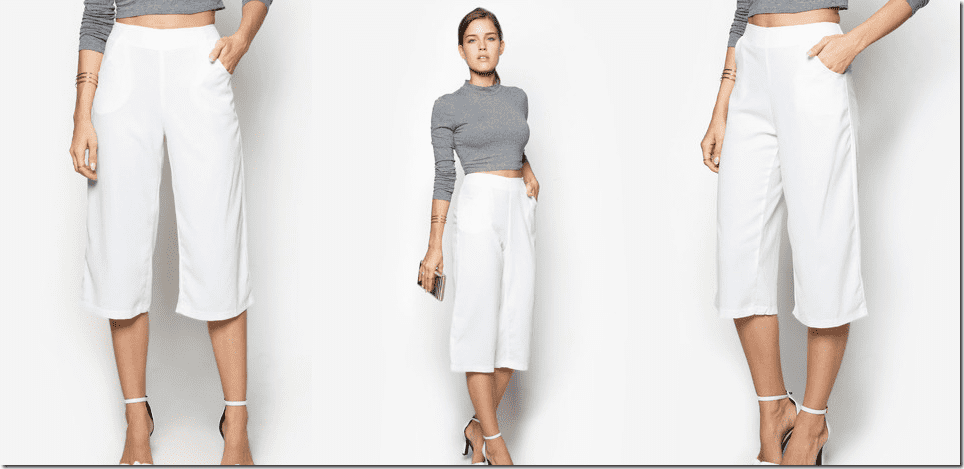 ♥ | grainy grey textured culottes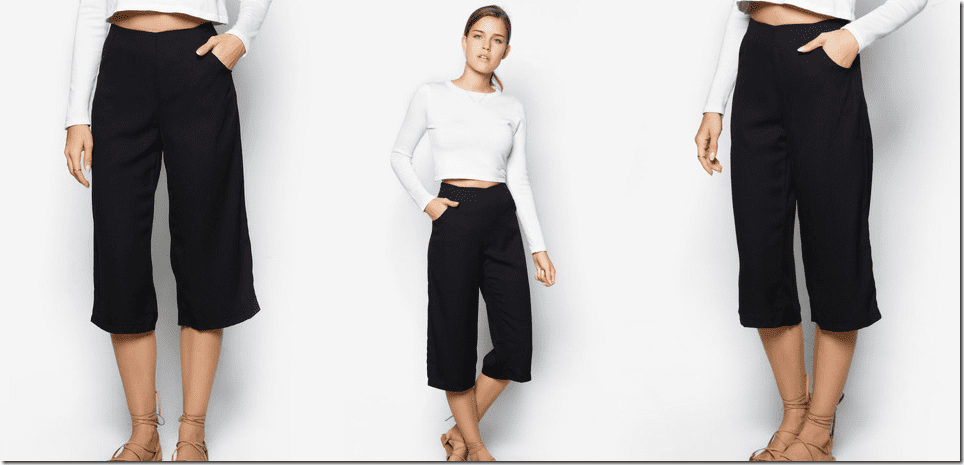 ♥ | solid black culottes with pockets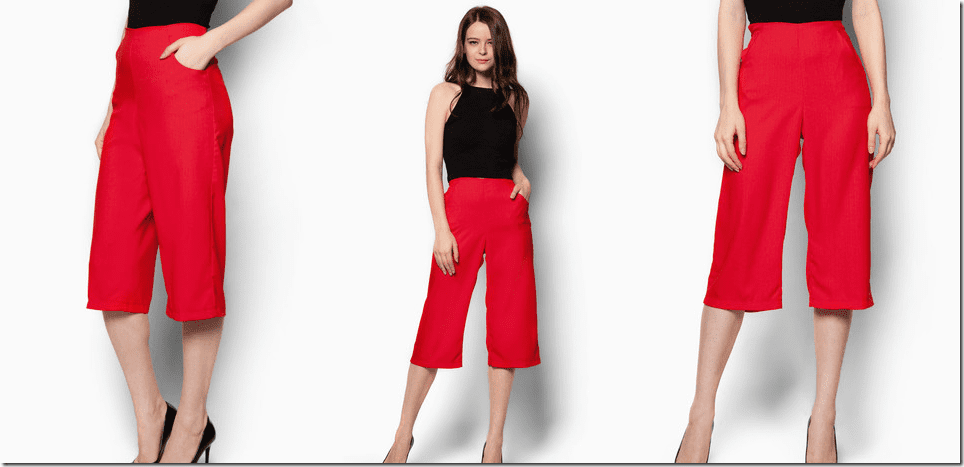 ♥ | striped drawstring culottes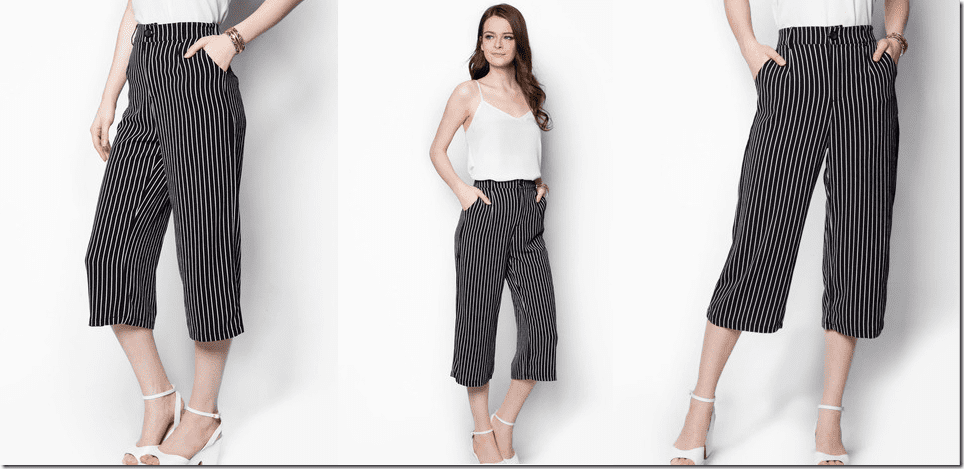 ♥ | striped printed culottes with pockets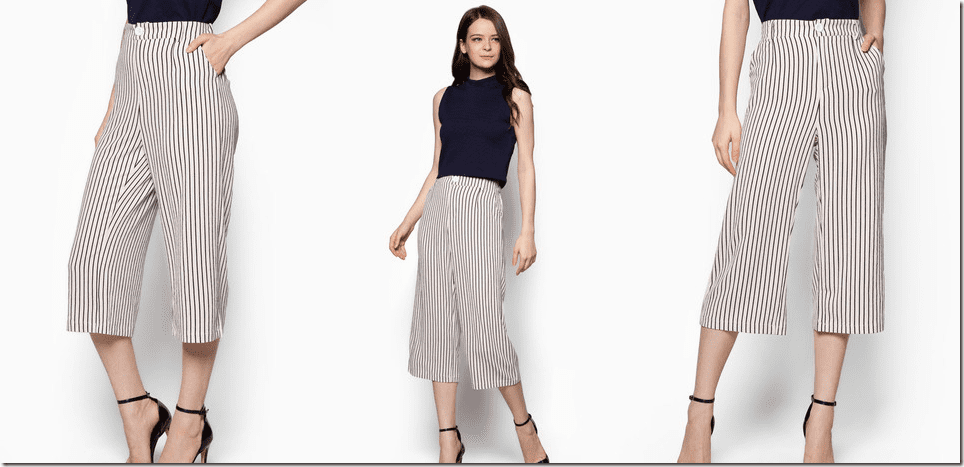 ♥ | white striped printed culottes
All of the culottes are under RM60. Minus the striped drawstring and the grainy grey culottes, the rest can be had at a brilliant 20% OFF by typing code POWER at checkout.
So, do you have your eyes aimed at any culottes in particular? How do you plan on styling the culottes? Share below – I'd love to know!
"Fashion isn't a necessity. It pulls at your heart. It's a whim. You don't need it. You want it." — Marc Jacobs
Disclosure: This post contains affiliate links, which means that if you click on one of the product links, a small commission may be credited to this site.
Love this post? Share it with your friends! Follow us for more fashion inspiration:
♥ Twitter ♥ Facebook ♥ Google+ ♥ Bloglovin ♥ Pinterest ♥ Polyvore ♥
© All images are copyrighted by their respective authors.
Here on Fashionista NOW, our one and very own Miss Reverie showcases the latest in fashion trends and its various social implications in our everyday lives. You may read more of her at REVERIE SANCTUARY.