Coachella season is in the air and let's be honest: some of you are busy hunting down for the right kinds of jewelry to perfect our accessory game, right? Allow us to help you locate a few gems of the boho vibe.
If your aim is to emulate the look of the boundless boho queen that speaks the language of love and dance to the rhythm of the music that is life, you're going to need to equip yourself with some RAD bohemian-inspired bling-bling!
Here's a list of TEN we've curated just for you and they're all super duper gorgeous and will make more than just an excellent jewelry option to don not only at Coachella but outside of the music festival as well.
From earrings to belly chains, there is not a body part to be left out when it comes to accessorizing when you're looking to look your fabulous best! Enjoy!
10 Boho Chic Coachella-Worthy Bling-Bling To Wear
Blue Brass Triangle Dangle Earrings

These geometric earrings are made of antiqued brass triangles and vintage light blue glass. Simple and minimal in style, you can get them in other color options: royal blue and black.
Bohemian Quartz Feather Necklace
A small-sized bohemian festival necklace that will complement your carefree music festival outfit. The necklace contains one wire wrapped titanium quartz, brass feathers, chain and a filigree evil eye pendant.
Cascading Hair Chain Coachella Jewelry

This gorgeous cascading necklace is made of high quality alloy and adorned with pearls. A perfect hair accessory for a boho Coachella affair!
Coachella Charm Choker Necklace

This choker necklace has the iconic 5-petal flowers, love beads and feathers; the trifecta of elements omnipresent in the 1960s, era of love and peace, hippies, the age of Aquarius, Haight Ashbury and Hair. It is an undeniably rad festival jewelry to add to your Coachella ensemble. Made of pewter and bronze, glass and crystal beads dangle from a narrow brown suede leather band.
Curved Arm Cuff Bracelet

♥ | PIYOYO
Sleek and adjustable, this arm cuff has a memorable curved look that will give your arm the proper highlight as you move to the sound of music at Coachella.
Dainty Gold Hand Chain Bracelet

Look and feel like a bohemian goddess when you adorn your hand with this gorgeous glass-crystal lined gold hand chain. The crystals add an extra sparkle that's hard to miss! This hand chain bracelet is handcrafted in New York City and made to order.
Dangle Feather Ear Cuff
This dangly double feather ear cuff is light, comfortable and easy to clip on. A great non-pierce alternative (or an addition) to earrings as it is a clip-on. Ears need some loving too this Coachella, so be sure to decorate them strategically.
Gold Belly Coin Chain Belt

This beautiful and delicate brass belt can easily be worn as a belly chain or bohemian sash. The belt is versatile, you can wear it with jeans, on skirts or over dresses. This waist accessory offers you the opportunity to add an eye-catching interest into your Coachella wardrobe!
Long Boho Dream Catcher Necklace

Love turquoise, anything dreamcatcher-related and silver southwest jewelry? This one is for you. Made from genuine cow hide leather cord, each with silver and natural beads to complete any boho-inspired Coachella look!
Floater Boho Hair Chain Jewelry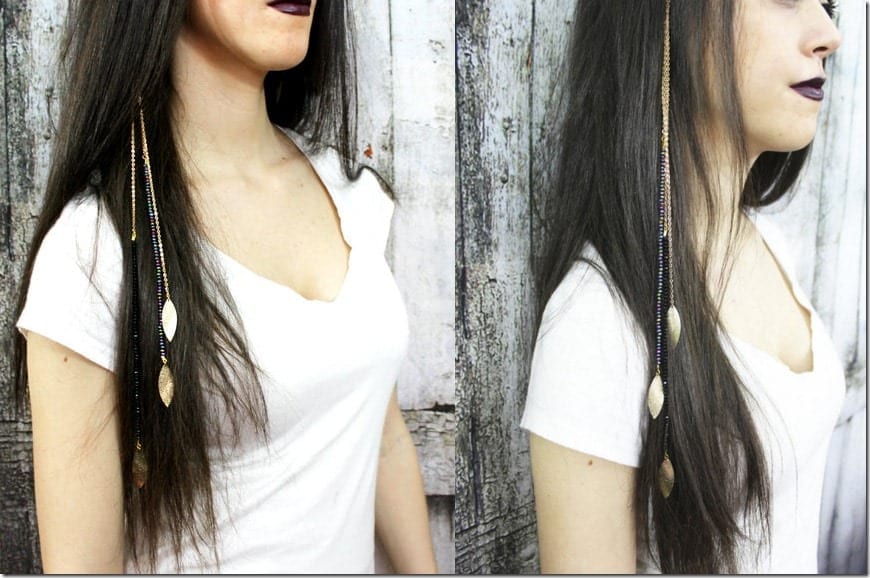 The Jungle Floater Hair Chain is made of two rows of crystal beads, black and multi color beads. This looks great in pin-straight hair or curly locks! Hand-crafted, the floater hair chain easily clips into the hair and gives the illusion of a hair extension jewelry. The hold of the clip is sturdy when clipped in correctly and is easily taken out when necessary.
Do you like any of the bohemian style jewelry listed here? Share your faves down below – I'd love to know!
You don't love someone for their looks, or their clothes, or for their fancy car, but because they sing a song only you can hear. — Oscar Wilde
Disclosure: This post contains affiliate links, which means that if you click on one of the product links, a small commission may be credited to this site.
Love this post? Share it with your friends! Follow us for more fashion inspiration:
♥ Twitter ♥ Facebook ♥ Google+ ♥ Bloglovin ♥ Pinterest ♥ Polyvore ♥
© All images are copyrighted by their respective authors.
Here on Fashionista NOW, our one and very own Miss Reverie showcases the latest in fashion trends and its various social implications in our everyday lives. You may read more of her at REVERIE SANCTUARY.