My personal take on the slip dress layering style.
I don't have too many dresses so when this pretty little black lace dress came in the mail, I got into an excited mood the kind that was pretty girly even for my taste. Firstly, I was concerned if the size would be all wrong but phew, the size M fitted me just nice – almost like a second skin at the waist.
However, I'll admit and that the dress came at the right time because I lost some weight or else it definitely would not fit. I feel that the size M for this dress in particular will not be suitable if you're well-endowed on top and also down below as you need to slip into it even though it has a side zipper. So, you may want to take these factors into consideration should you be interested in getting this dress or dresses like this.
What I like about this dress is the cute white front buttons, the waist / back lace panel for a peek-a-boo effect, the spaghetti / cami style strap and the asymmetrical hemline. This skirt part comes with an inner lining so that is practical. I chose to wear the dress in the layered style with a white tee that I've seen on countless fashion blogs partly because I personally find it cute (reminds me on the old school pinafore dress) and also because the white tee kind of complements with the white front buttons.
As for the footwear, you know how I do. Birkie-style flats all day, everyday cause it's hot when it's not pouring in this tropical jungle.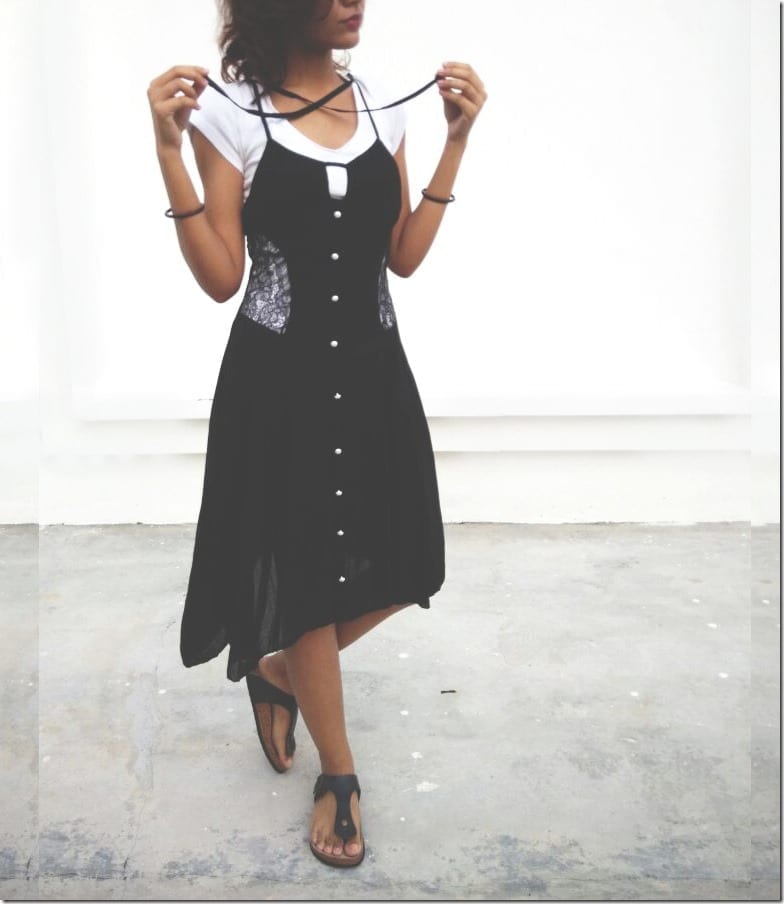 Oh and it also comes with an extra two straps that you can tie around your neck into a cute little ribbon. Or, you can make them go round your neck like you're wearing a choker.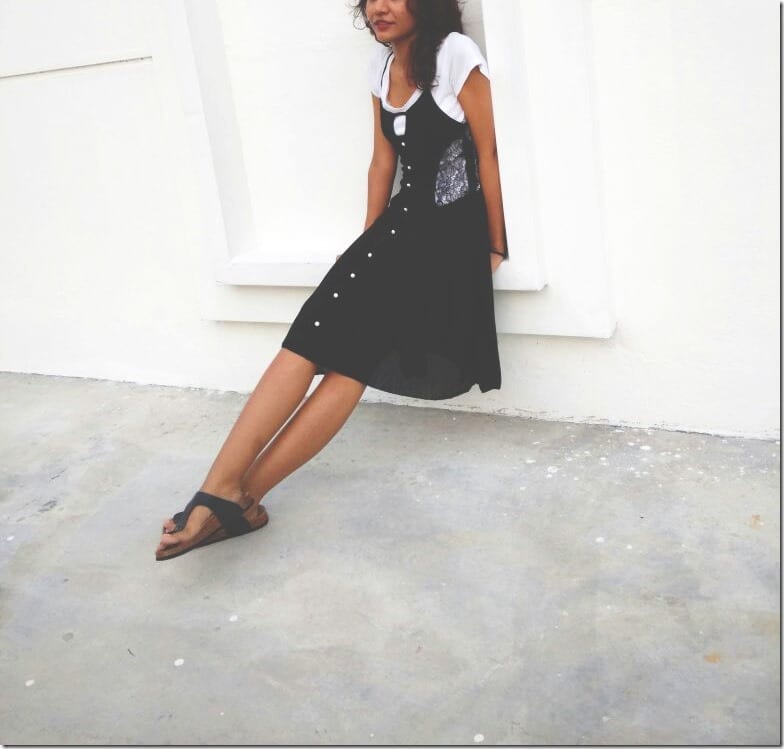 Just sitting on the edge of the wall like my posterior didn't hurt.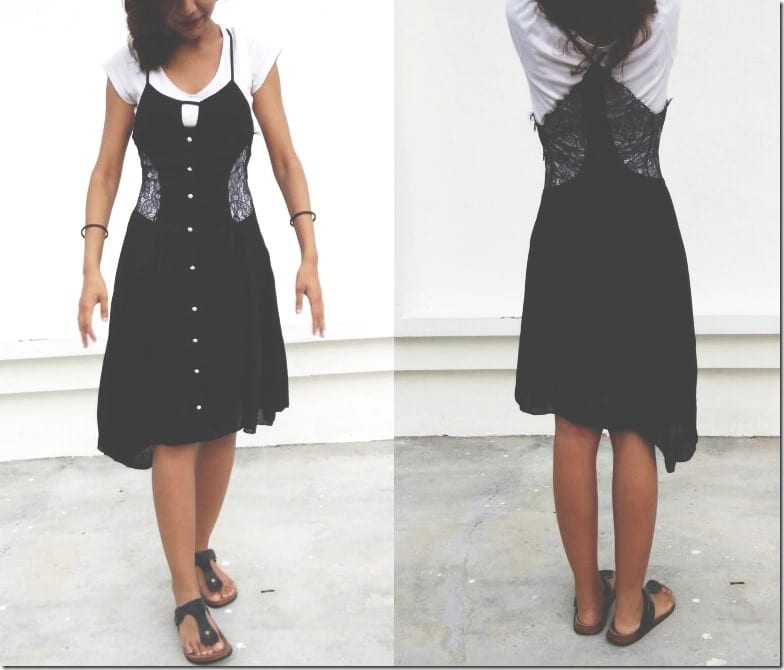 You can see the asymmetrical hemline. It's a lightweight dress and I love the back cross-strap design.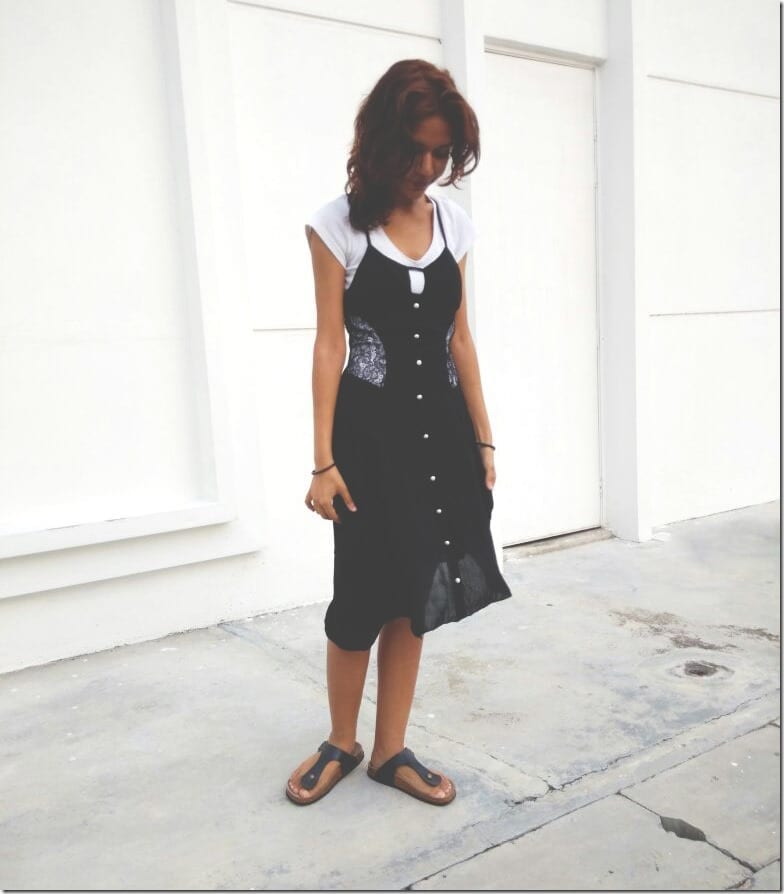 If you've eye for detail, you'd notice the vertical bands located at both sides of the waist aren't symmetrical. It would be better if they were!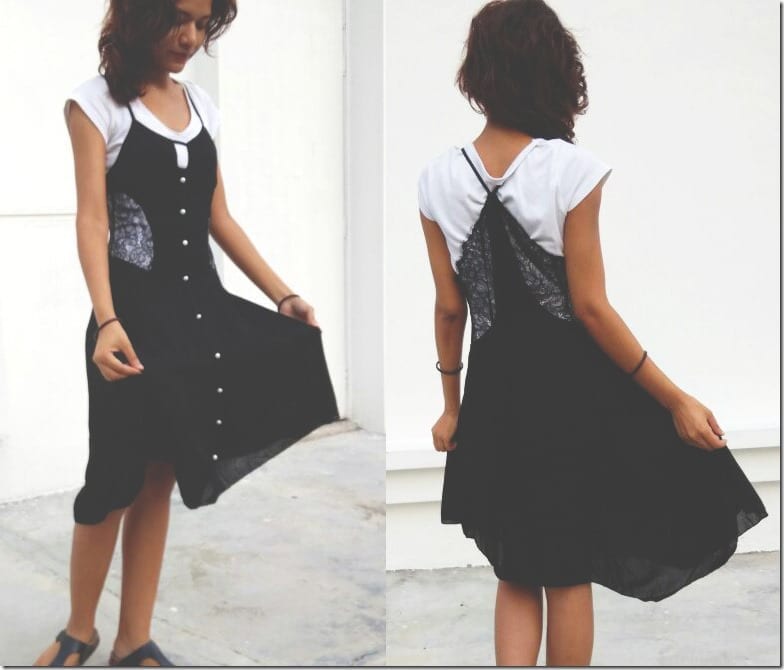 ♥ you can get the waist lace dress here | thrifted white tee
What do you think of my casual outfit? Do you like the look of a layered cami slip dress? Share below – I'd love to know!
It has been my philosophy of life that difficulties vanish when faced boldly. — Isaac Asimov
Disclosure: This post contains affiliate links, which means that if you click on one of the product links, a small commission may be credited to this site.
Love this post? Share it with your friends! Follow us for more fashion inspiration:
♥ Twitter ♥ Facebook ♥ Google+ ♥ Bloglovin ♥ Pinterest ♥ Polyvore ♥
© All images are copyrighted by their respective authors.
Here on Fashionista NOW, our one and very own Miss Reverie showcases the latest in fashion trends and its various social implications in our everyday lives. You may read more of her at REVERIE SANCTUARY.