Halloween-inspired bags to get you in the spooky zone. These 7 creepy chic bag styles can be worn with your regular outfit or a more theatrical one.
Halloween comes with a spooktacular brand of fun that only Halloweeners get. Besides creepy jewelry and gory décor to immerse yourself with, you might find yourself on a one fine gloomy evening prowling online for the perfect bag that expresses an eerie mood to carry around that says: this person right here is an utterly obsessed Halloweener, who is ready to breeze into haunted buildings and be a willing participant to all sorts of old and new scare strategies that just might make her/him scream both lungs out.
From juicy pumpkins to ghostly apparitions decorating the purse, pouch or handbag, there sure is a lot to choose from and so, we've narrowed it down to seven eye-catching Halloween bag styles for you to peek through to help you choose the right spooky one to add to your collection or as a gift to someone who is utterly mad about ghouls, zombies and all-round Halloweeny things.
♥ GraveEndeavours | ghost and pumpkins halloween bag
I really love the look of this bag! The cute ghosts look oh so kawaii. And the black, orange and white color combo is completely fool-proof for Halloween.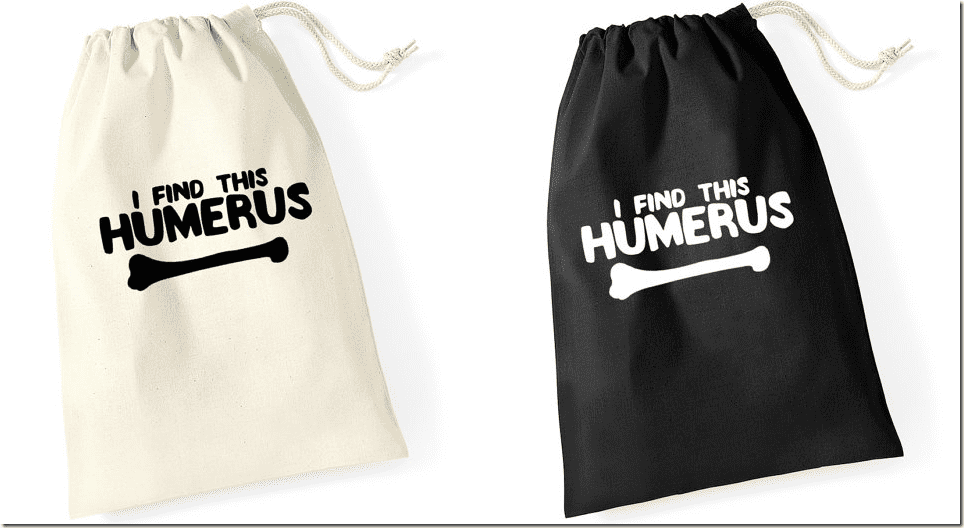 ♥ JustAnotherTeeUK | funny bone cotton bag
I literally found this bag utterly humorous because of the bone reference. It's simple enough in black and white to blend in with your everyday ensembles. This bag is available is a variety of sizes and can be customized!
♥ MarfDaze | green zombie pouch bag
As a fan of The Walking Dead, this pouch makes me so happy! Decaying zombies and their signature gait are awesome, don't you agree?
♥ LunaontheMoon | glitter ghost halloween clutch handbag
A creepy-but-cute version of Casper, here's a glittery ghost you don't mind tagging along with you everywhere. The kawaii overload is too real! Can be worn as a handbag, clutch or wristlet.
♥ TheDutchLoft | halloween skeleton zipper pouch
Skeletons that look like they're having a party, with bats joining in the background – this creepy cute zipper pouch makes carrying pens and pencils or makeup stuff a really fun affair.
♥ MinnieandCamilla | metallic skulls faux leather zippered clutch
Smiley skulls stamped on a metallic bag? I say YES because this bag is all kinds of EDGY and FAB. Available in two sizes.
♥ MadnessUnited | scissors and skulls mint coin purse
Lovely mint – check. Skulls and scissors – check. Charming polka dots – check! The quirky vibe of this purse had me at hello!
Spooky fact about me: I've never in my life seen a ghost but when I was about 13, I woke up in the dead of a morning while everyone was asleep and thought I heard a soft low-tone whisper (twice!) so close to my ear. This made my skin crawl and in a panic, I climbed up to sleep next to my lil' brother (it was double-decker type of bed, thank goodness!). He was spooked by my presence, proceeded to ignore me and continue sleeping.
Which one of these bags do you like best? What other Halloween trends do you want to see? Delight or spook me with your thoughts!
"All you have is your fire,
And the place you need to reach,
Don't you ever tame your demons,
But always keep them on a leash."
— Hozier
Disclosure: This post contains affiliate links, which means that if you click on one of the product links, a small commission may be credited to this site.
Love this post? Share it with your friends! Follow us for more fashion inspiration:
♥ Twitter ♥ Facebook ♥ Google+ ♥ Bloglovin ♥ Pinterest ♥ Polyvore ♥
© All images are copyrighted by their respective authors.
Here on Fashionista NOW, our one and very own Miss Reverie showcases the latest in fashion trends and its various social implications in our everyday lives. You may read more of her at REVERIE SANCTUARY.