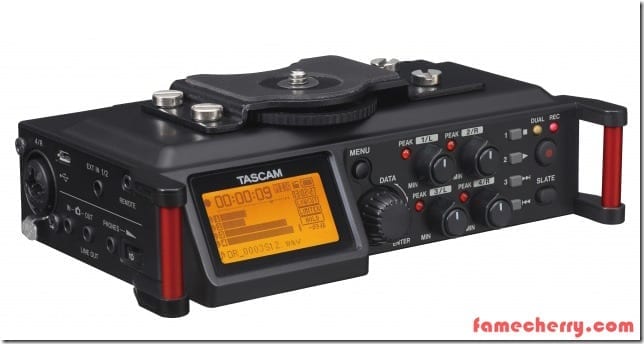 Price : RM 1321
Description : The DR-70D from TASCAM is the ultimate audio recording solution for filmmakers. Four balanced XLR mic inputs meet the requirements of production sound, from professional users to indie DSLR shooters. The compact format can be mounted either above or below a camera, and a pair of built-in microphones can capture sound on-set. The interface is designed for quick adjustment, with additional features to keep recording levels under control.
Four XLR mic inputs with phantom power are included on the DR-70D, enough to cover busy scenes. The High-Quality HDDA (High Definition Discrete Architecture) Mic Preamps include 64dB of gain for quiet performances, and all four inputs have individual gain controls. Each input has a limiter and low cut filter available for controlling volume. Also included is Dual Recording mode, which records a safety copy of your audio at a lower level to prevent distorted takes. Quality components like 5532 op amps are used throughout for the clearest audio possible.
Tracks on the DR-70D are captured to SD card, SDHC or SDXC media – up to 128GB cards are supported. The recorder has tripod mounts on the top and bottom of the unit, allowing it to be mounted on a camera, a follow-focus cage, or used standalone. Other production friendly features include a slate tone, low-noise buttons, a powerful headphone output, and standard AA battery power.
Uniquely designed for the needs of filmmakers, television producers, advertisers, and documentarians, the DR-70D packs multitrack recording into a package compact enough to use with any camera.
( We also accept payments in SGD ) ( Kindly Contact Us For Unbelievable Best Price )
Purchase Options : Shipping Available To All Parts of Malaysia, Self Pick Up Is Available at our branch in Cheras
Community
Join The Zenit Worldwide Community : https://www.facebook.com/groups/zenit-world 
Orders & Enquiries

Please email us at shops.famecherry@gmail.com or call us at 012-3375629

( We are also available on Whatsapp but if urgent please make phone call ya )



Video Inspiration
Features
1.Main Features
Two built-in omnidirectional mics
Two omnidirectional microphones allow easy recording of natural stereo sound without using external mics. Used in combination with one or two other mics, the DR-70D becomes a compact setup for recording interviews and ambient sound at the same time.
4 XLR/TRS combo jacks allow a variety of setups
(4) XLR/TRS inputs are built-into the DR-70D. The four-channel design enables combinations of shotgun microphones, lavaliere mics, and the built-in stereo mic to be recorded individually. Channels 1 and 2 can be set to stereo input and channels 3 and 4 can be set to the built-in mics, making a variety of mic configurations possible.
MONO/DUAL MONO : Best for recording the audio of a single performer.
STEREO/DUAL STEREO : Best for recording with the built-in microphones or a stereo mic.
2MIX/DUAL 2MIX : Creates stereo files of two or more mixed inputs.
Dual Recording mode can be used to create a backup file that is simultaneously recorded at a different level to prevent clipping when levels exceed the maximum input. The second track is recorded up to 12dB lower as a safety track to prevent distortion – if your input signal overloads, you have a backup that isn't distorted.
Built-in 4-in/2-out Mixer Enables 4-channel and Stereo Recording
Each fo the four inputs is sent to a stereo mixer. This allows each input to be recorded individually for post production while a stereo mix is sent to headphones and the camera guide track.
In addition to being able to adjust pan parameter, each input includes a limiter, a low-cut filter, and a delay to adjust for distances between mics. In addition, a mid-side decoding function enables the use of a MS stereo mics.
HDDA (High Definition Discrete Architecture) mic preamps
Microphone preamps do a lot of work to convert your mic-level signals to recordable levels, so they have a big impact on the quality of the audio that is recorded. The DR-70D uses TASCAM HDDA microphone preamps – created through careful selection of parts. An NE5532 op-amp was selected for its outstanding effect on audio quality. Through a mix of discrete architecture and hand-picked components, TASCAM has achieved an equivalent input noise level of ?120 dBu.
The A/D converter is made by CIRRUS LOGIC, similar to those used in the TASCAM DR series of linear PCM recorders. This high-quality converter – miles better than those included in DSLR cameras – ensures quiet, clean audio recording. Audio resolutions up to 96kHz/24-bit are supported.
Compact, Rugged Design Can Be Attached Above or Below the Camera
The DR-70Ds design is as compact as possible to stay out of the way while filming. The bottom of the unit has tripod screw threads for mounting under your camera or on a follow-focus cage. A removable camera attachment screw and hot shoe for the top of the unit are also included. The DR-70D can be attached in the way most convenient for the user by placing it between a tripod and the camera, or on top of the camera with a hot shoe mount.
2.Custom-designed for Video Recording on DSLR cameras
Camera Out Jack for Audio Recording on Both The DR-70D and Camera
A stereo mix of your audio is sent to the camera output for later synchronization in your editing software. Simply drop your audio and video into the multi-camera feature of most editing software and audio will be automatically synced. Alternatively, software such as Red Giant Pluraleyes can be used to automatically sync audio and video.
The camera output jack can be attenuated down to mic level to prevent overloading the audio input of DSLR cameras.
Slate tone generator makes alignment with video files easy
The built-in generator can produce slate tones that can be used as references when aligning audio and video. Line up the waveforms when you need perfect sync between audio and video. In addition to being able to produce slate tones when recording starts or when it starts and stops, the SLATE button can be used to add slate tones at any desired point.
Automatic insertion : OFF/HEAD (start of recording only)/HEAD+TAIL (start and end of recording)
Manual insertion : Press and hold the SLATE button to produce a slate tone.
3.5mm Stereo Mini Jack Input Accepts Video Camera Mics
The 3.5mm stereo 1-2 input mini jack allows the connection of consumer video camera mics. For example, connect a video camera mic for ambiance to jack 1-2, and shotgun mics to the XLR 3-4 jacks. This unit can supply plug-in power to the microphone and has a maximum input level of +10 dBV.
Camera In Jack for Monitoring and Playback
The Camera In jack allows playback from your camera to evaluate a take. Either the camer signal or DR-70D can be monitored through the headphones.
3.Summary of Features
– Supports SD/SDHC/SDXC cards
– Maximum number of tracks recorded simultaneously: (4)
– Recording modes: MONO, STEREO, 2MIX, DUAL MONO, DUAL ST, DUAL 2MIX
– Recording formats: 16/24-bit, 44.1k/48k/96k Hz (WAV/BWF)
– TASCAM HDDA microphone preamps provide legendary audio performance
– Input levels can be adjusted independently
– XLR/TRS inputs support +4dBu line level and phantom power (24V/48V)
– Supports mics requiring plug-in power, and mics with high output (1-2)
– CAMERA OUT jack enables audio mixed on the DR-70D to be output to the camera
– CAMERA IN jack allows the DSLR camera audio to be monitored through the DR-70D
– High-quality audio output through the line output jack that is independent of the headphones jack
– Headphone jack with 20mW+20mW maximum output
– Tripod mounting threads (bottom), camera screw attachment and a shoe mount that can be attached and removed with a coin (top)
– Handles on the front left and right sides protect the screen and can be used to attach a shoulder strap
– Transport and SLATE buttons are made of rubber to prevent handling noise during use
– HOLD switch prevents accidental operation
– 128×64-pixel graphic LCD with backlight
– High-speed transfer of files to a computer using USB 2.0
– Micro-B USB cable included
– Operates on (4) AA batteries, with an optional AC adapter (TASCAM PS-P515U) or USB cable provided with the unit (USB bus power).
– BP-6AA external battery pack (sold separately) makes operation for even longer times possible
– RC-3F footswitch or RC-10 wired remote control (both sold separately) for remote control
– Built-in mixer can be used to adjust Pan and Level to mix output of (4) channels
– Low-cut filter with five settings (40/80/120/180/220 Hz) to be used to reduce unwanted air-conditioning noise and other low-frequency sounds
– Limiter function can automatically adjust excessive input levels (stereo-linking possible for 1/L and 2/R)
– Delay function to adjust for distances between mics (+/?150 ms)
– Mid-side decoding function enables the use of mid-side stereo mics
– Slate tone functions (automatic/manual)
– Selectable slate tone insertion points (recording start or recording start and finish when using the automatic slate function)
– Playback can be skipped to the slate tone insert position using the DATA dial
– File name format can be set to use a user-defined word or date
– Dual recording function allows two files to be recorded simultaneously at different levels (second file at between ?1 dB and ?12 dB)
– Can start a new file automatically when a maximum file size is reached to continue recording
– Track incrementing function allows a file to be split by creating a new file during recording when desired
– Resume function remembers the playback position when the unit is turned off