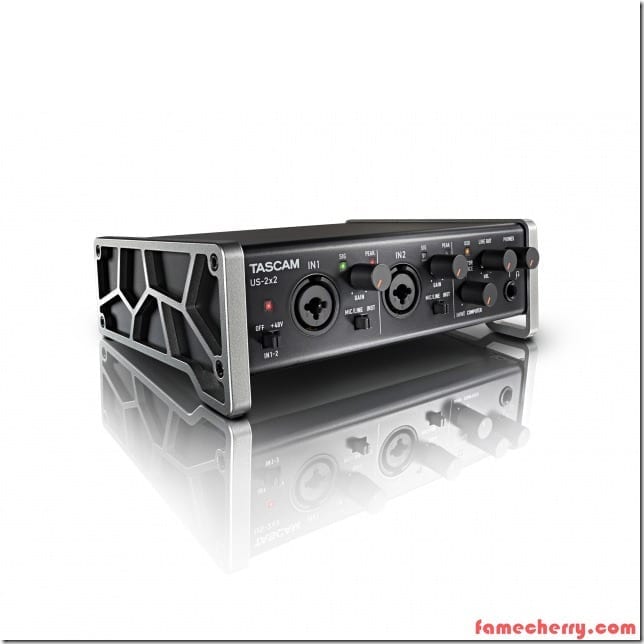 Price :  RM 649
Description : The TASCAM Audio Interface US-2×2 combines great audio quality and ergonomic design for a powerful 2-in/2-out USB 2 Audio interface. Two of TASCAM's Ultra-HDDA mic/line preamps provide up to 57dB of gain with nearly inaudible noise and distortion specs. The audio design features high-performance, musical components like NE5532 op amps for rich sound quality without coloring the source.
The US-2×2 includes class-compliant drivers for plug-and-play operation on Mac OSX and iOS devices like the iPad, and a simple driver adds ASIO compatibility for Windows. MIDI in and out are also included for connecting synths, drum machines, and controllers. The interface includes two DAW applications to choose from – both Cakewalk SONAR X3 LE and Abelton Live Lite 9.
With solid audio specs, iOS compatibility, and an easy-to-read angled design, the US-2×2 is the ultimate 2-channel interface for home, project, and mobile studios.
( We also accept payments in SGD ) ( Kindly Contact Us For Unbelievable Best Price )
Purchase Options : Shipping Available To All Parts of Malaysia, Self Pick Up Is Available at our branch in Cheras
Community
Join The Zenit Worldwide Community : https://www.facebook.com/groups/zenit-world 
Orders & Enquiries

Please email us at shops.famecherry@gmail.com


Video Inspiration

   

Features

1.Ultra-HDDA Mic Preamps for Clear Audio Quality from All of Your Mics

TASCAM's own Ultra-HDDA mic preamps are the cleanest, quietest, and best-sounding from any interface in their range. A gain range of 57dB makes them ideal for any type of mic – dynamic, condenser, or ribbon. With preamp performance well beyond any interfaces in their price range, the Ultra-HDDA preamps on the US-2×2 makes your tracks sound like a record.

Discrete Ultra-HDDA Mic Preamps Deliver Low Noise and Low Distortion

TASCAM's Ultra-HDDA (High Definition Discrete Architecture) mic preamp design is based on discrete components, just like classic professional gear. They achieve an incredible EIN rating of -125 dBu, meaning their noise level is practically below the range of hearing. Other impressive specs include a signal-to-noise ratio of 101 dB, out-speccing anything in its price range. But instead of judging the design merely by test measurments, key components were selected following extensive listening tests.

Musical Components like NE5532 Op-amps Used for Input and Output Stages

TASCAM uses proven, great-sounding components throughout the US-2×2. One example are NE5532 op-amps, famously used throughout classic recording consoles and signal processors due to their sweet, musical sound.

XLR and TRS Accept Balanced Mic and Line Level Signals

The mic input features a professional XLR connector, which supplies +48V phantom power for condenser microphones. The US-2×2 is built from heavy duty metal throughout, so it stays on your desk even when moving mics around.

The combo input jack includes TRS inputs for balanced line-level signals from professional processors and synthesizers. Finally, the two inputs can be switched to high-impedance for direct recording of electric guitar and bass. (Only the XLR or 1/4″ input can be used, not both at the same time.)

Wide Gain Range Supports Dynamic and Ribbon Microphones

Non-powered mics like dynamic and ribbon designs can sound great, but they also have a lower output level than condenser microphones. The US-2×2's Ultra HDDA mic preamps not only feature 57dB of gain, but also a low-noise design so you don't crank up the noise at the same time. Plug in modern or classic mics and still get plenty of level on your tracks.

Rock Out with Amp Simulator Software using the Guitar Inputs

The two inputs can be switched to direct guitar inputs, ideal for direct recording of electric and acoustic guitar and bass without the need for a preamp. Use them with amp modeling software, like the TH2 effect included with SONAR X3.

* Guitar effect plug-ins sold separately. The TH2 amp simulator is not included with the bundled SONAR X3 LE. An upgrade fee may be required.

2.Simple Operation and an All-New USB Driver

TASCAM makes installing the US-2×2 a snap, whether usnig the built-in class-complient driver or the high-performance ASIO or Core Audio drivers. TASCAM started from scratch on the software, developing them in-house through extensive testing, resulting in our most robust drivers ever.

Also included with the driver software is a simple-to-use on-screen control panel, which monitors and adjusts critical interface settings.

High Resolution Recording up to 96kHz/24-bit

The US-2×2 records at up to 96kHz/24-bit resolution. Even if your target is CD or MP3, recording at higher resolutions gives you more to work with in the mix and can result in a smoother sound. The mic preamps and A/D converters work together to capture the clearest signal path, whether you work at 96k or at lower sampling rates.

USB 2.0 Computer Connection

USB 2.0, found on nearly any computer, is used as the interface for the US-2×2. Simply connect the interface to any available USB port to supply plenty of bandwidth, even for multichannel 96k work. (The US-2×2 and US-4×4 are also compatible with USB 3.0 ports.)

Zero-latency Direct Monitoring Function

Even the most efficient computers and DAW software can produce a slight delay before reaching the outputs, which can distract some vocalists and instrumentalists. A Direct Monitoring path is included to monitor the input signal before it is sent to the computer. This allows musicians to concentrate on their performance instead of adjusting for latency delay.

Driver Software Can Be Pre-Installed Without The Interface

The US-2×2 Windows driver software can be installed without connecting the interface. Simple on-screen instructions walk you through the installation.

These interfaces can be used on a Mac without installing a driver, but we recommend installing the software to use the control panel.

3.Sleek industrial design that inspires creativity with a practical interface

We have applied the engineering expertise from years of making audio interfaces to create products that are both pioneering and practical. With their distinctive styles, these interfaces will fit perfectly on the desktops of musicians and will stimulate creativity.

Bio-Cell Side Panels Add Style and Ergonomic Design

Both the US-2×2 and US-4×4 include Bio-Cell Side Panels. These removable aluminum panels, developed by renowned industrial designers The Box, add a unique look to the interfaces as well as angling them on the desktop for increased usability.

Angled Orientation is Ideal for Desktop Use

The angled design desktop viewing and operation much more comfortable for tabletop use. All other interfaces have their controls on the front or the top of the device, causing you to crane your neck to read the knobs and switches. The US-2×2 and 4×4 are at a natural angle, making operation easier to keep you creative.

Separate Volume Controls for Headphones and Line Outputs

The US-2×2 and US-4×4 include both headphone and line output volume controls. Even when both powered monitors and headphones are connected, the user can set an optimum level for each during operation. And when you want to work on headphones, you don't need to reach around to switch off your monitors.

4.Class-Compliant Drivers for use with iPad and Other Tablets

The US-2×2 and US-4×4 are built with class-compliant drivers built into the units. Not only does this mean that they can be used with many computers without first installing a driver, they also open the possibilities of with tablets such as Apple's iPad.

Connect to iPad, iPhone, or other iOS devices

Use Apple's Camera Connection Kit to connect the US-2×2 or US-4×4 to an iPad or other iOS device. Utilitze the multichannel audio and MIDI functions with any of the thousands of iOS audio apps, like Garage Band or TASCAM's Portastudio app. Class Compliant drivers also allow the interfaces to be used with Android and Windows-based tablets. Playback form the iPad, such as synthesizer apps, sound bigger and smoother through the interface than going through the headphone output alone.

* A TASCAM PS-P520 AC adapter (sold separately) is necessary to power the US-2×2.
* Apple's Camera Connection Kit is not included with this product.
* When connected, the US-2×2/US-4×4 will not provide power to the iOS device.

Tested with Sonar, Pro Tools, Cubase, Live, Studio One, and Garage Band

TASCAM has tested the interface operation with all leading DAW software, such as SONAR, Pro Tools, Cubase, Live, Studio One and Garage Band. Use the interfaces with your favorite Mac or Windows recording applications, not just the bundled apps.

MIDI Input and Output Included

Standard MIDI input and output connectors allow connection with the thousands of keyboards, drum machines, controllers, and other sources that employ MIDI connectors. The interfaces can also be used for synchronized operation of multitrack recorders and other external recording equipment.

5.Bundled DAW Software Starts The Music Right Out of the Box

TASCAM has the only interfaces with your choice of two DAW applications included. Both Cakewalk SONAR X3 LE and Ableton Live 9 Lite are bundled with the interfaces. And either of these applications can be upgraded to more advanced versions when you're ready for more power.

SONAR X3 LE—An Advanced DAW for Windows

SONAR X3 LE is designed to take advantage of the unique features of Windows operating system. From the fast, customizable Silverlight interface to Windows 8 touchscreen compatibilty, SONAR X3 LE utilizes all of the latest Microsoft technology for creative music making. The included LE version can handle up to 32 audio tracks, includes a host of audio plug-ins, and supports VST3 – the most advanced plug-in effect format. SONAR includes a variety of methods to share and collaborate, like direct uploading to YouTube and Gobbler file sharing.

Live 9 Lite – The Unique Choice for Any Type of Music

Included for both Mac and Windows OS, Live Lite 9 has a unique music production workflow. Ideal for live performance sets and dance music production, the software is also popular for songwriters to quickly assemble a song idea. Up to 8 audio tracks can be played back, and Live supports both VST and AU plug-ins. About 600 MB of loops and audio effects are included, making it a great option for people just getting started with music creation.

7.Summary of Features

Functions common to both the US-2×2 and US-4×4

– Ultra-HDDA (High Definition Discrete Architecture) mic preamps with ?125dBu EIN
– NE5532 op-amps used at the audio input and output stages
– Up to 96kHz/24-bit recording
– Support for Windows and Mac OS X operating systems
– USB 2.0 computer connection
– Connect with iPads and other iOS devices
– +48V phantom power for all inputs
– Two switchable high-impedance inputs
– Microphone preamp gain range of 57 dB
– Direct monitoring function for zero-latency monitoring
– Tough all-metal casing for durability
– Angled design provides excellent usability on a desktop
– Balanced analog TRS output jacks suitable for connection to powered monitors
– Standard TRS headphones output jack
– Separate controls for line and headphones output volumes
– MIDI input and output
– Output sources can be selected in the setting panel
– Input sound monitoring can be set to stereo or mono
– Input muting function eliminates noise from unused inputs
– USB class compliant 2.0 support
– License cards included for SONAR X3 LE/Ableton Live Lite 9
– Confirmed operation with major DAW software (SONAR, ProTools, Cubase, Live, Studio One, Garage Band?

Unique features for the US-2×2

– Two Ultra-HDDA mic preamplifiers
– Two XLR/TRS (MIC/LINE) inputs with full +48V phantom power
– Two TRS analog balanced outputs
– 18mW/ch headphone output
– USB bus-powered for mobile recording
– Optional AC adaptor available for use with iOS devices