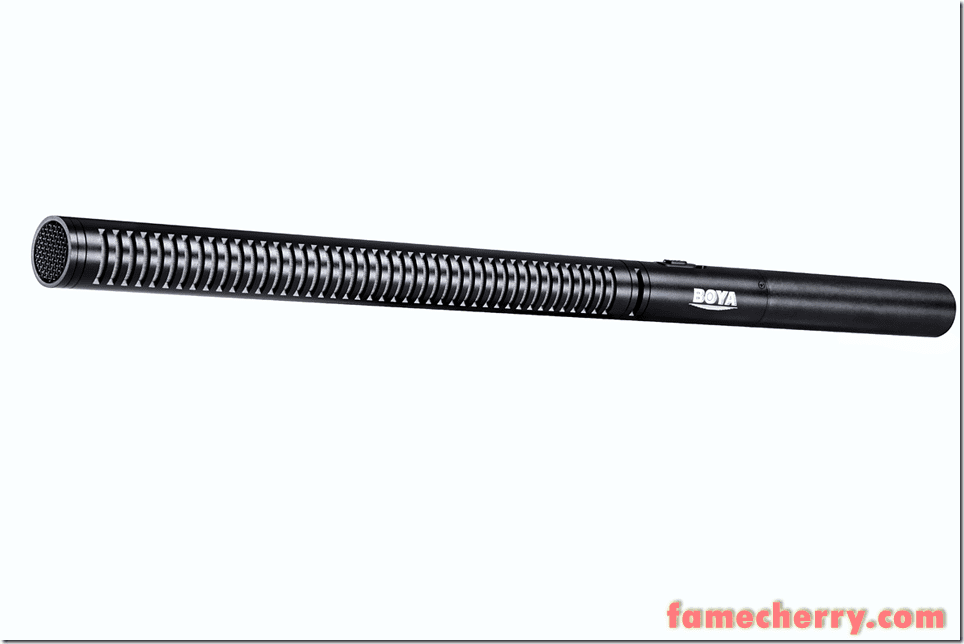 Promotional Price : RM 769 RM 299 ( We also accept payments in SGD ) ( Kindly Contact Us For Unbelievable Best Price )
Purchase Options : Shipping Available To All Parts of Malaysia, Self Pick Up Is Available at our branch in Cheras
BOYA BY-PVM1000L Reviews
http://www.amazon.com/BY-PVM1000L-Professional-Condenser-Microphone-windscreen/dp/B00VNDUTCM
http://uae.souq.com/ae-en/boya-professional-shotgun-microphone-by-pvm1000-7576060/i/
Orders & Enquiries

Please email us at shops.famecherry@gmail.com or call us at 012-3375629

( We are also available on Whatsapp but if urgent please make phone call ya )



Description
The BOYA BY-PVM1000L Shotgun Microphone features an extended length of 38CM that maximizes directivity and narrows the pick up area. The result is focused on audio capturing and minimal noise and artifacts from sources outside the pick up area. The BY-PVM1000L is a popular choice among broadcast and film recording professionals, and also be used in ENG (News Gathering), sound design applications etc.
– Overall length of 38cm with an extremely narrow, highly directional pickup pattern
– Ideal for use in broadcasting, film/TV production, and theater sound reinforcement
– Direct-coupled, balanced output ensures a clean signal even in high-output conditions
– Transformerless design for improved pickup of transients
– Rugged housing made of lightweight structural-grade aluminum alloy
– Interference tube design for narrow acceptance angle
– Switchable 80Hz high-pass filter
Features
– Broadcast-Quality Condenser Microphone
– Designed especially for use with camcorder or video DSLR
– Excellent off-axis audio rejection
– Switchable low-cut filter
– Minimizes wind and handling noise
– Lightweight durable aluminum alloy construction.
– Integrated foam windshield and shock mount
– Included Professional Wind Muff , 1.5m cable, 1/4″ (6.35 mm) adapter
– Phantom or battery powering
Specifications
Type
Type: condenser microphone (unidirectional)
Polar pattern: Super-Cardioid
Frequency Response: 30-20,000Hz
Sensitivity: -33dB +/- 1dB / 0dB=1V/Pa, 1kHz
Signal to Noise Ratio: 80dB or more
Output Impedance: 300 Ohm or more—–phantom
600 Ohm or more —-battery
Power: 1.5V battery or 48V phantom
Plug: mini-pin plug (3-Pin XLR)
Filter: Controlled by low-cut filter switch
Length: 38cm
Net Weight: 146g
About Boya
BOYA — a high-quality condenser microphones brand, is a well-known manufacturer of electro-acoustic products. The company has a central laboratory, electro-acoustic research and development institutions, covering all kinds of microphones in every area. They use a collection of scientific research, development, production, sales, service and other comprehensive development ability in the integration of modern science and technology enterprise.
Their brand promises to create the true nature of sensory experience for customers. They are in pursuit of the perfect attitude to make each product. The company has strict quality assurance system, production, supply chain management and control capabilities to ensure timely delivery of cost-effective quality products.
The company was initiated in 2007, located in Guanlan Silicon Valley, Shenzhen City, near to HK, which covers more than 6000 square meters.
BOYA is a leading company in China, specializing in microphones for DSLR Cameras, Camcorders, Audio recorders etc.
They put utmost attention to the quality and R&D, and have many advanced equipment and several international standard laboratories.
The company has more than 200 well-trained staff, no less than 20 engineers. Our annual output is 500,000 pcs.
ABOUT PRODUCT
The BOYA is engaged in two major categories of business: the photographic audio peripherals and the digital peripherals. BOYA has dozens of Microphones, mainly forGoPro, Nikon, Canon, Sony, Olympus, Pentax, Panasonic, Samsung, Lycra and other international brands of digital SLR cameras and Camcorders, and also for Iphone, Ipad, and Ipod touch. Each of the products contains true passion and know-how for an excellent sound experience is the first choice for studio, interview, advertising, ENG, photography enthusiasts and the reporter.