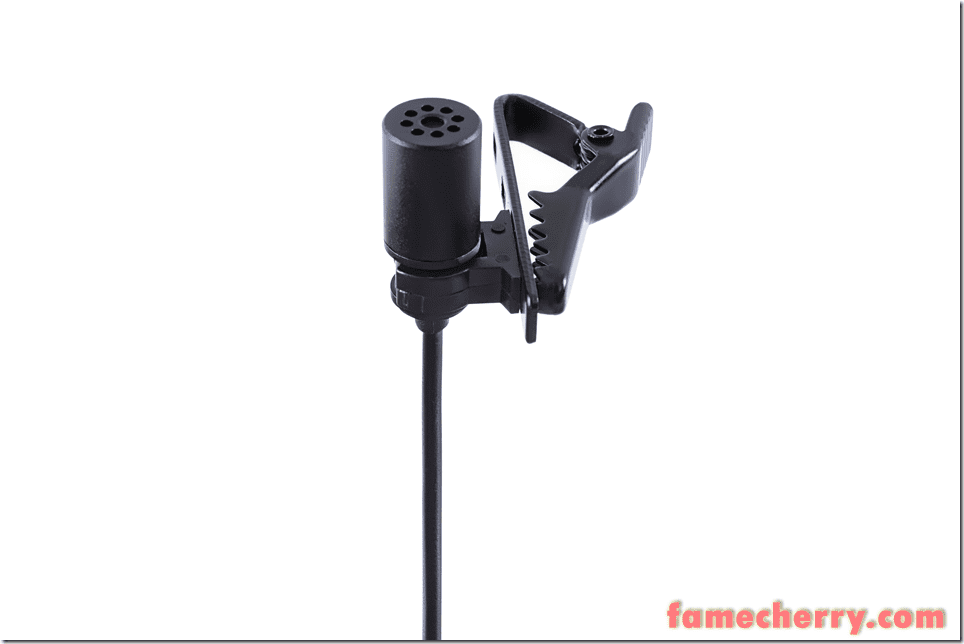 Promotional Price : RM 379 RM 43.79 ( We also accept payments in SGD ) ( Kindly Contact Us For Unbelievable Best Price )
Spare Battery : RM 0.40
Purchase Options : Shipping Available To All Parts of Malaysia, Self Pick Up Is Available at our branch in Cheras
BY-M1 Reviews
http://www.amazon.co.uk/Lavalier-Microphone-Smartphones-Camcorders-Recorder/dp/B00MT5K838
Orders & Enquiries

Please email us at shops.famecherry@gmail.com or call us at 012-3375629

( We are also available on Whatsapp but if urgent please make phone call ya )



We Shot This with BY-M1 Lav Mic on 0:15 and 2:05 ( Click Here to Check Out the Audio Field Recorder Used – Tascam DR-22WL )
Other Videos From Youtube
Description
BOYA BY-M1 is an omnidirectional lavalier microphone, perfect for video use, designed for Smartphones, DSLR, Camcorders ,Audio recorders, PC etc. The lavalier microphone features an Omni pickup pattern, for full, 360-degree coverage. An integrated 6-meter (20") cable with 3.5mm 4-pole gold plug, can connect directly to Smartphones, most of cameras.
Use the microphone:
• For Smartphone
Switch off the microphone. Slide the ON/OFF up to OFF/Smartphone.
The power is shut down.
• For DSLR, Camcorders, Audio recorders, PC ect
Switch on the microphone. Slide the ON/OFF up to ON.
Features:
• Clip-On Mic for Smartphones, DSLR, Camcorders, Audio recorders, PC etc.
• Omni directional condenser microphone
• High-quality condenser is ideal for video use
• Low handling noise
• Includes lapel clip, LR44 battery, foam windscreen, 1/4" adapter
Specifications
Transducer: Electret Condenser
Polar pattern: Omni-directional
Frequency Range: 65Hz ~ 18KHz
Signal/Noise: 74dB SPL
Sensitivity: -30dB +/- 3dB / 0dB=1V/Pa, 1kHz
Output Impedance: 1000 Ohm or less
Connector: 3.5mm (1/8") 4-pole gold plug
ACCESSORIES FURNISHED: lapel clip, LR44 battery, foam windscreen, 1/4" adapter
Battery Type: LR44
Dimensions? Microphone: 18.00mmH x 8.30mmW x 8.30mmD Cable:6.0m
Weight: Microphone: 2.5g Power Module: 18g
About Boya
BOYA — a high-quality condenser microphones brand, is a well-known manufacturer of electro-acoustic products. The company has a central laboratory, electro-acoustic research and development institutions, covering all kinds of microphones in every area. They use a collection of scientific research, development, production, sales, service and other comprehensive development ability in the integration of modern science and technology enterprise.
Their brand promises to create the true nature of sensory experience for customers. They are in pursuit of the perfect attitude to make each product. The company has strict quality assurance system, production, supply chain management and control capabilities to ensure timely delivery of cost-effective quality products.
The company was initiated in 2007, located in Guanlan Silicon Valley, Shenzhen City, near to HK, which covers more than 6000 square meters.
BOYA is a leading company in China, specializing in microphones for DSLR Cameras, Camcorders, Audio recorders etc.
They put utmost attention to the quality and R&D, and have many advanced equipment and several international standard laboratories.
The company has more than 200 well-trained staff, no less than 20 engineers. Our annual output is 500,000 pcs.
ABOUT PRODUCT
The BOYA is engaged in two major categories of business: the photographic audio peripherals and the digital peripherals. BOYA has dozens of Microphones, mainly forGoPro, Nikon, Canon, Sony, Olympus, Pentax, Panasonic, Samsung, Lycra and other international brands of digital SLR cameras and Camcorders, and also for Iphone, Ipad, and Ipod touch. Each of the products contains true passion and know-how for an excellent sound experience is the first choice for studio, interview, advertising, ENG, photography enthusiasts and the reporter.