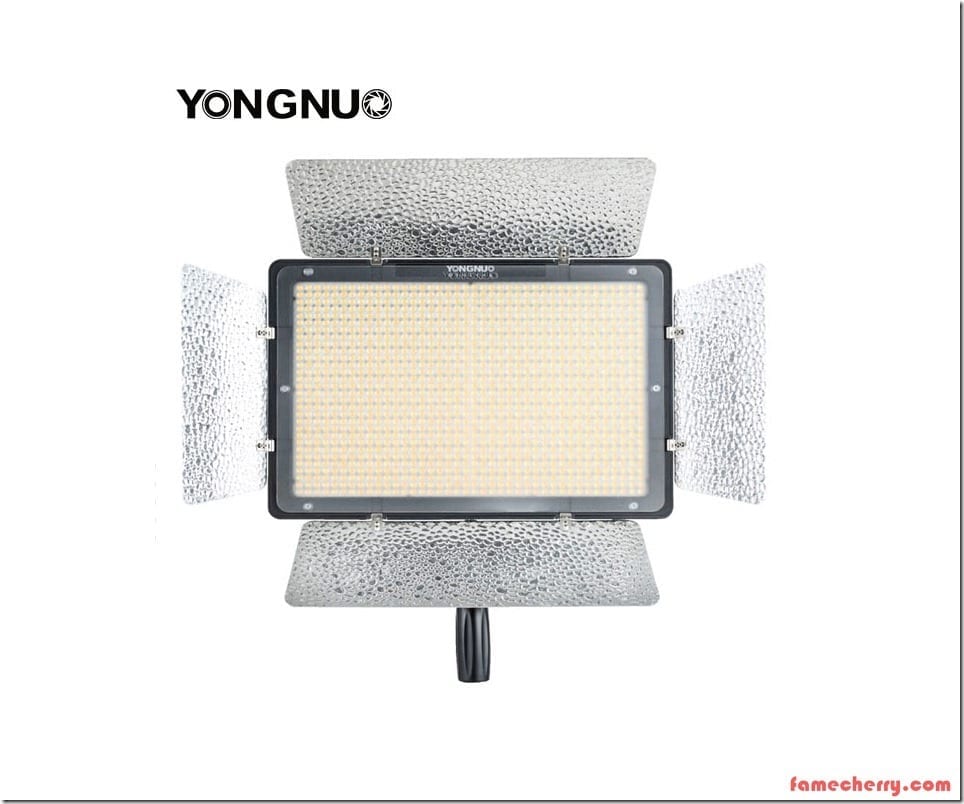 Price : Less than RM 749
( Actual Price In Cost Sheet )
Description : The Yongnuo YN1200 LED light is the new-designed portable intelligentized LED video light of high brightness.
( We also accept payments in SGD ) ( Kindly Contact Us For Unbelievable Best Price )
Purchase Options : Shipping Available To All Parts of Malaysia, Self Pick Up Is Available at our branch in Cheras
Community
Join The Zenit Worldwide Community : https://www.facebook.com/groups/zenit-world
Orders & Enquiries
Please email us at shops.famecherry@gmail.com or call us at 012-3375629
( We are also available on Whatsapp but if urgent please make phone call ya )



Video Inspiration

Description :

The YONGNUO YN1200 is now in Malaysia!
YN1200 is the new-designed portable intelligentized LED video light of high brightness. To get rid of the regulation mode of switching color temperature, this LED video light YN1200 adopts 3200K~5500K freestanding control mode. The concentratedly arranged LEDs makes the supplementary lighting much finer and gives you a brand new experience of photography. For YN1200 adopts ultra-thin design and ultra-large-area lighting panel, you can easily control the light effect without the site constraints. It's much more convenient to use and set the light when you use the mobile APP and controller. With YN1200, the area of supplementary lighting is larger and the light effect is remarkable.
*Appearance
YN1200 adopts ultrathin appearance design. Duple encoder, more convenient to adjust light intensity; soft light panel of this YN1200 adopts magnetic drawing, more efficient; dual LED display creen, more intuitional to check the output; one-button switch, meets different needs.
*Freestanding Control
3200K color temperature mode and 5500K color temperature mode adopts individual modular circuit separately. The light output is more stable and the efficiency is higher. 3300K~5500K can be lighted up at the same time, or separately cotrolled.
*Wireless Remote Control System
YN1200 can be wireless remote controlled by mobile APP and remote controller. Mobile APP supports multi-channel control, at most controlling light intensity from 8 LED video lights in different channels. Using romote controller to adjust light intensity is much simpler and easier that you can set the light in the site easily.
*Ultra-large Panel Area
YN1200 is designed with panel of ultra-large area. With panel of concentratedly arranged LEDs, SMD LED of high-intensity and ultra-wide angle, YN1200 is more suitable for supplementary lighting in the big occasion.
*Light Source
YN1200 adoptes 1200pcs of SMD LEDs; its RA average value is greater than 95, which makes it close to natural light. With ultra-large-area panel, the supplementary lighting effect is finer and the supplementary lighting area is greater. YN1200 can meets the higher demand from the users.
*Duple encoder is more convenient to adjust the light intensity. YN1200 is divided into coarese tune and fine tune. The adjustable luminosity is accurate and reliable.
*Power Supply Mode
1.YN1200 supports batteries of NP-F series. When YN1200 is used outdoors, it's recommended to use it with NP-F750 lithium batteries to get better camera
2.YN1200 supports long-hour use with external DC main by connecting it to air plug. Adaptable voltage: 19V 5A (Please DO NOT use laptop power supply.) It meets your photography need that using YN1200 any time any where.
*On the LED digital display screen of YN1200, the display effect is more steroscopic and the parameter of the power output is more intuitional.
*YN1200 adopts YONGNUO proprietary LED constant current driving technology which does great help to effectively avoid corrugation and stroboscopic flash.
*YN600 Air is equipped with YONGNUO LED light special handle and portable storage bag.
*YN1200 provide two types for your selection. White-color: 1200pcs of 5500K SMD LEDs; Bi-color: 600pcs of 3200K SMD LEDs and 600pcs of 5500K SMD LEDs.
Product Specification
Light Source : 1200pcs of SMD LEDs
Color Temperature : 3200K-5500K
Luminance Angle : 55
Lumen : 9300LM
Output Power : 72W
Average Service Life : 50000h
Weight : 1680g
Dimension : 345*230*64mm
Compatible Batteries : 4pcs of NP-F series lithium batteries
Color Rendering Index : 95
External Power Source : 8V 5A air-plug DC main (Optional)