Price : Discontinued, please refer to the new YN-468 II at

YN-467 Highlights
TTL mode, Manual mode, 2 optic slave modes
Auto Zoom Reflector
AF LED
Superfast Recycle Time : <2s (full power)
YN-467 has 7 different flash power levels ( 1/1, 1/2, 1/4, 1/8, 1/16, 1/32, 1/64) in manual mode
Guide number
33
Flash mode
TTL, M
Circuit design
Insulated gate bipolar transistor (IGBT)
Vertical rotation angle
0 to 90 degrees
Horizontal rotation angle
0 to 270 degrees
Power
4 x AA size batteries (Alkaline or Ni-MH are usable)
Recycle time
Approximately 2 seconds (AA alkaline batteries used)
Color temperature
5,600K
Flash time
1/800 to 1/20,000s
Flash control
TTL auto flash or manual Level 7 light quantity output control
Dimensions
72 x 135 x 85mm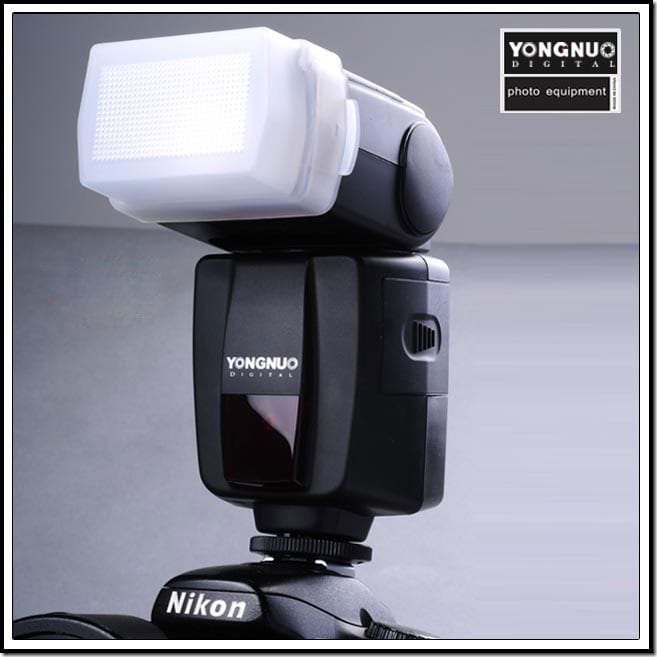 Introduction : Flash Modes and Wireless Flash
The Yongnuo YN 467 comes with digital TTL mode and manual mode "M". It's also a useful wireless flash together with radio triggers or using the 2 optical slave modes
TTL Exposure Control
The main differentiator of the YN 467 from its Yongnuo peers is the digital TTL mode support. It's only with a TTL speedlight that you can automatically take flash photos with correct exposure, whereas a manual-only flash forces you to dial in a predetermined flash output level, e.g. "1/4″ or "1/32″ by hand, and for every single shot you take.
While TTL exposure works well with the YN-467 there are some special TTL flash features which are not supported by this speedlite flash: it has no modeling light support, no high speed sync (HSS / FP sync), and no sensor size detection mode. None of these features are really necessary for everyday flash photography though.
Manual Flash
The YN467 can also be used in manual mode "M" e.g. for "strobist" photography. But manual mode is also useful as a fallback for TTL users in cases where the auto flash mode doesn't give you the desired result.
Manual mode is set with the "Mode" button on the flash. Once the LED lights up simply dial in one of the 7 possible manual output levels with the command wheel. Full power has a metric GN of 33 on paper. Here are the manual steps:
1/1 – 1/2 – 1/4 – 1/8 – 1/16 – 1/32 – 1/64
If you have the Nikon version of the flash and want to set a manual zoom reflector step, push on the "Mode" button again but keep it pressed down for a couple of seconds, and it will toggle through all available zoom steps from 24 to 85mm, indicated by the output level LEDs.
Wireless Flash
For remote flash the following options exist: triggering via flash foot (e.g. Yongnuo RF-602 or RF-603 ), or using one of the 2 optical slave modes S1 / S2.
Supplied Accessories
The box contents include:
The YN-467 unit itself
Instruction manual
Flash stand
Soft pouch
Leaflet with overview of 460 series units
The instruction manual describes the flash controls and operation on 11 pages and contains tech specs plus a little Q&A at the end.
The flash stand is made of solid plastic and has a nice metal tripod thread. It also has a hole for the flash's locking pin that helps prevent accidents.
The soft pouch is not a bad quality item in itself: the seams are good, the cord is thick and it has a good size.