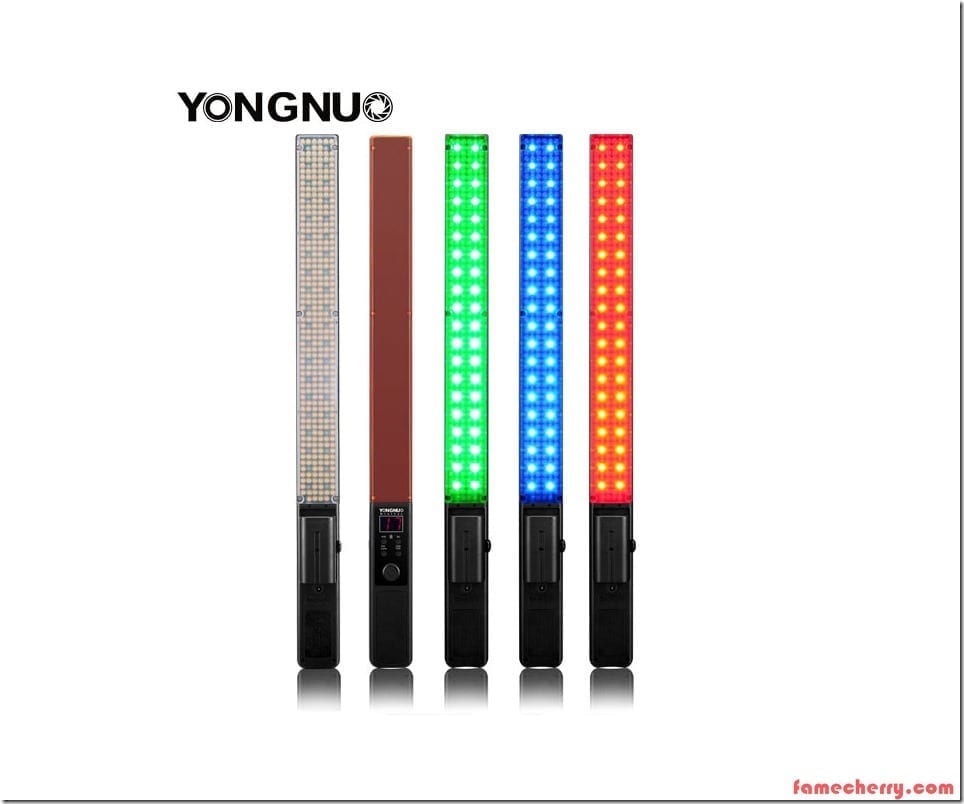 Price : Less than RM 349
( Actual Price In Cost Sheet )
Description : The Yongnuo YN360 Led Light Bar is an excellent LED ring light bar for photo and video shooting.
( We also accept payments in SGD ) ( Kindly Contact Us For Unbelievable Best Price )
Purchase Options : Shipping Available To All Parts of Malaysia, Self Pick Up Is Available at our branch in Cheras
Community
Join The Zenit Worldwide Community : https://www.facebook.com/groups/zenit-world 
Orders & Enquiries
Please email us at shops.famecherry@gmail.com or call us at 012-3375629
( We are also available on Whatsapp but if urgent please make phone call ya )



Video Inspiration

Description :
YONGNUO LED YN360
YN360 is the first LED video light which made from RGB SMD lamps and LED lamp beads.It is formed by 40 RGB SMD lamps,combined with the brand new mobile phone APP wireless remote control,allows you choose the color as needed.There are 160 LED lamp beads with 3200k color temperature and other 160 LED lamp beads with 5500k color temperature extra-large luminous chips,the high display index lamp beads makes the color restore truly and naturally. With the advantages of simple operation,practical use and color diversity.Let your photography creations with more characteristic.
*Variety colors
Provide the full color RGB,you could choose the color as needed through the APP,or can adjust manually to create your unique color.
*Double modes
Composed from the RGB full color mode and 3200k,5500k color temperature mode,dual independent modes operation,simple operation with one key to switch the mode you need.
*Ultra-long irritation angle
The YN360 panel length is up to 39.5cm,greatly improve the length of the light, which especially suitable for solid and wide angle light supplement.
*Super-high Color rendering index
Selected 320 high quality lamp beads with large light emitting chip, color rendering index is greater than or equal to 95, perfectly restore the true color of the object.
* Adopts encoder digital dimming mode,with coarse and fine adjusting mode,can be dimmed accurately and reliable
*Two power supply modes
1.Support SONY NP-F series lithium batteries, convenient for outdoor use.It is recommend to use the YONGNUO NP – F750 lithium battery.The duration of the 3200k and 5500k color temperature mode with high brightness is 2 hours, the RGB full color mode with high brightness is 4 hours.
2.Support external DC power supply for long time use,the applied voltage is: 8V 5A (do not use the laptop power supply).
* Adopts LED digital display, display more stereoscopic, and the power output is more intuitive.
* Adopts YONGNUO LED constant current drive technology specially developed for LED video light, stable lighting intensity straightforward, photographic effect is more reliable.
Product Specifications :
Color temperature : 3200K – 5500K and RGB full color
Color rendering index : greater than or equal to 95
Mobile phone APP remote distance : less than 15 meters
Power : 19.2 W
Lumen value 2560 LM
Weight : 489 g
Illumination Angle : 55 degrees and 110 degrees
Power Supply : one NP – F series of lithium battery
External DC power supply : 8V 5A DC power supply
Dimension : 583*48*24mm
( Note:this product only supports the phone APP remote control, does not supports the 2.4 G wireless remote control )
The YN360 provides two versions for option, white version formed by 320 LED lamp beads with 5500k color temperature and 40 RGB SMD lamps. Bi-color version formed by 160 LED lamp beads with 3200k color temperature,160 LED lamp beads with 5500k color temperature and 40 RGB SMD lamps.