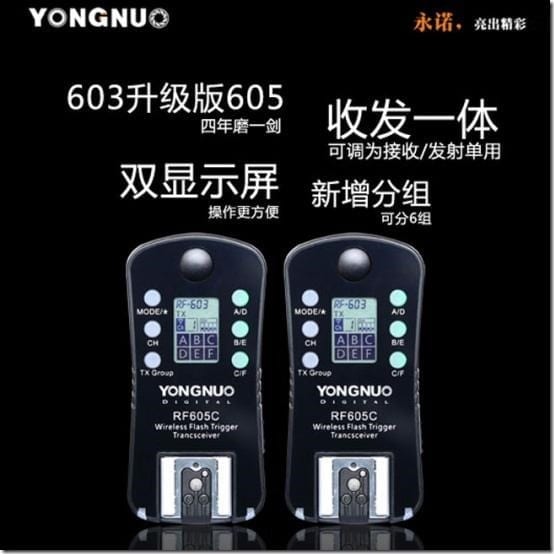 Promotional Price : RM 498 RM 198 (pair) RM 399 RM 99 (single) ( We also accept payments in SGD ) ( Kindly Contact Us For Unbelievable Best Price )
Purchase Options : Shipping Available To All Parts of Malaysia, Self Pick Up Is Available at our branch in Cheras
Community
Join The Zenit Worldwide Community : https://www.facebook.com/groups/zenit-world
RF605 Reviews
http://www.amazon.com/Yongnuo-RF-605-Wireless-Flash-Trigger/dp/B00OUTUOL2
http://petapixel.com/2014/10/11/yongnuo-rf605-grouping-added-affordable-transceiver-line/
http://flashhavoc.com/yongnuo-rf605-flash-trigger-announced/
http://www.slrlounge.com/yongnuo-announces-new-2-4ghz-rf605-triggers-complete-new-lcd-6-groups-16-channels/
http://www.bhphotovideo.com/c/product/1110981-REG/yongnuo_rf_605_n_wireless_flash_trigger_remote_for.html
Orders & Enquiries

Please email us at shops.famecherry@gmail.com or call us at 012-3375629

( We are also available on Whatsapp but if urgent please make phone call ya )



Description
YONGNUO RF605C Wireless Flash Trigger
Features:
RF-602/RF-603 two communication modes RF605 = RF602 +RF603
TX/RX/TRX multiple working ways
A/B/C/D/E/F 6 groups (compatible with YN560-TX)
Wireless shutter remote control
Clear LCD screen display, shortcut key operation
16 channels
Communication range up to 100M
Specifications:
Type: FSK 2.4GHz wireless remote control system
Transmission distance: 100m
Channels:16 channels
Group:6 Groups
Shutter release: half-press, full-press
Shutter interface: 2.5mm socket
Studio flash light interface: standard PC socket
Max Sync Speed: 1/320 second
Battery: AAA×2(3V )
Size : 85MM x 41MM x 35MM
History
Hong Kong Yong Nuo Photographic Equipment Co. Ltd. is a branch of ShenZhen YongNuo Photographic Equipment Co. Ltd.
Yong Nuo is mainly engaged in the product development, manufacturing and retailing of professional photographic equipment. The company started the business over 10 years ago and they are offering the high-quality photographic equipment to customers. They have abundant product development and an engineer who has a very experienced knowledge on photographic equipment manufacture leading Yong Nuo Photographic Equipment Co. Ltd. to be more professional, modern and internationally-recognized. Their management concept which is "Customer First, Reputation First and Service First"; made them a good reputation in China mainland market.
Yong Nuo as a professional photographic equipment manufacture in China, want to please and satisfy their customer all the time. It's the motivation for them to keep developing their company in order to become the top level of photographic equipment company in the world.
Now, Yong Nuo is setting up their HK branch from Dec 2007. It's not only helping their existing customers to keep in touch with us more easily but also more convenient to their new customers to understand more about the company and get new information.