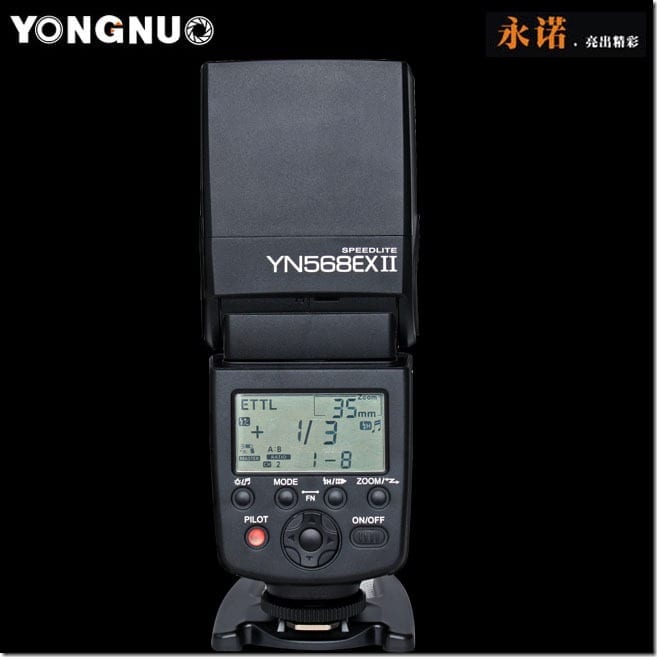 Promotional Price : RM 799 RM 499 ( We also accept payments in SGD ) ( Kindly Contact Us For Unbelievable Best Price )
Purchase Options : Shipping Available To All Parts of Malaysia, Self Pick Up Is Available at our branch in Cheras
Community
Join The Zenit Worldwide Community : https://www.facebook.com/groups/zenit-world
YN 568 EX II Reviews
http://www.davidpartington.com/m43/2014/12/16/yongnuo-yn568ex-ii-review/
http://lessonsfromdad.info/uncategorized/yongnuo-speedlite-yn-568-ex-ii-review/
http://www.martincphotography.co.uk/flash-head-head-nikon-sb-910-vs-yongnuo-568ex/
http://www.lightingrumours.com/yongnuo-speedlite-yn568ex-for-canon-hands-on-review-3327
Orders & Enquiries

Please email us at shops.famecherry@gmail.com or call us at 012-3375629

( We are also available on Whatsapp but if urgent please make phone call ya )



Description
HIGH SPEED, ULTRA POWERFUL GN MASTER CONTROL,OFF CAMERA, ACHIEVE PERFECTION
YONGNUO YN568EX II
– MASTER CONTROL, OFF CAMERA, HIGH SPEED AND HIGH INDEX ARE ALL EQUIPPED
Brand new master TTL wireless led flash function, can be as the master unit which support to trigger flash of EX series, 600EX-RT, 580EX II, 430EX II and EX series flash.
– SUPPORTS HIGH-SPEED SYNC FLASH
YN568EX II is the first speedlite supports high-speed flash in China; with high-speed sync (FP flash), the YN568EX II can synchronize with all shutter speeds. The maximum shutter synchronous speed is up to 1/8000.
– COMPATIBLE WITH N's and C's WIRELESS FLASHING SYSTEM
One YN568EX II is able to respectively accept internal flashing of YN568EX II, 580EX II, SB-910/900/800/700, 7D/60D/600D, C commander of N's built-in flashing and ST-E2 wireless signal, achieves off camera TTL and manual flashing. Some beckoning functions such as wireless TTL flashing, grouping light ratio TTL flashing and the illumination of remote controlled flashing can be easily achieved only if you carry a camera with built-in flashing command system and YN568EX II.
– HIGH GUIDE NUMBER+ TTL + HIGH SPEED SYNC
GN58@ ISO100, 105mm; which reaches the level of the mainstream hot shoe flashes, supports HSS, TTL/M/Multi mode.
– MULTIPLE TRIGGER MODE SUPPORTED
The YN568EX II can be triggered by the camera set-top, built-in or main-controlled flashing command, S1 and S2 (pre-flash-canceled mode).
– SUPPORTS AUTO/MANUAL ZOOMING
The covered focal length can be varied between auto, 24?105mm on the lamp adapter by operating the zoom button on the flash light, supports full-frame/half-frame camera.
– COMPREHENSIVELY SUPPORTS TTL FUNCTIONS
The YN568EX II supports HSS, FEC, FEB, Rear-curtain sync, FE lock, Modeling Light, Canon camera menu accessible
– EXTREME SPEED OF CHARGING RECYCLE
The time for full gloss output current-return just takes 3 seconds; you can get fast current-return experience even without brand-new batteries, which just takes 4~5 seconds.
– EQUIPPED WITH 2.5mm PC SYNCHRONOUS INTERFACE
It makes things easier on lightening the flashlight synchronously by using PC synchronous line.
– SOUND PROMPTING SYSTEM
When the sound prompting system is enabled, the different sound ways will prompt different working conditions of the flashlight so as to allow you focus on shooting.
– APERTURE PREVIEW
Press the camera's aperture preview button, the YN568EX II will send out continuous flash lasting one second for subjects imaging.
– ADVANCED OPTIONS FUNCTION
The YN568EX II has advanced options setting function, where you can self-define the functions of the flashlight to suit your own requirements.
– AUTOMATIC SAVING SETTINGS
YN568EX II can automatically save your current operating settings to convenient your next use.
– LCD DISPLAY INTERFACE, DECENT APPEARANCE
– METAL HOT SHOE STAND, SOLID AND RELIABLE
History
Hong Kong Yong Nuo Photographic Equipment Co. Ltd. is a branch of ShenZhen YongNuo Photographic Equipment Co. Ltd.
Yong Nuo is mainly engaged in the product development, manufacturing and retailing of professional photographic equipment. The company started the business over 10 years ago and they are offering the high-quality photographic equipment to customers. They have abundant product development and an engineer who has a very experienced knowledge on photographic equipment manufacture leading Yong Nuo Photographic Equipment Co. Ltd. to be more professional, modern and internationally-recognized. Their management concept which is "Customer First, Reputation First and Service First"; made them a good reputation in China mainland market.
Yong Nuo as a professional photographic equipment manufacture in China, want to please and satisfy their customer all the time. It's the motivation for them to keep developing their company in order to become the top level of photographic equipment company in the world.
Now, Yong Nuo is setting up their HK branch from Dec 2007. It's not only helping their existing customers to keep in touch with us more easily but also more convenient to their new customers to understand more about the company and get new information.