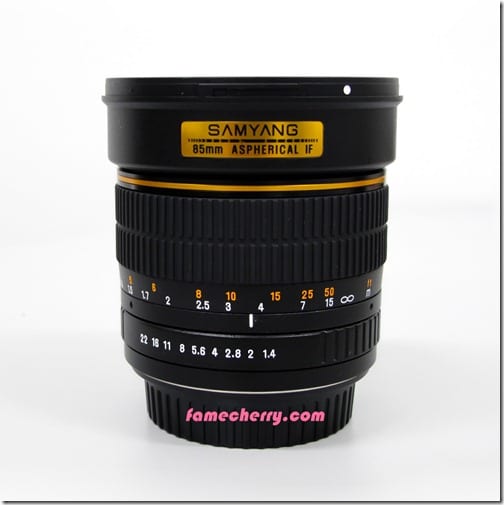 Promotional Price : RM 1250 RM 1180 ( Conventional Version )
Available Mounts : Canon, Sony, Olympus 4/3, Samsung NX
Purchase Options : Shipping Available To All Parts of Malaysia, Self Pick Up Is Available at our branch in Cheras
The highest quality portrait object lens produced for people looking for the highest image parameters possible. The construction of the object lens is based on 9 lenses in 7 optical groups with the internal focusing function where one lens is aspheric. Iris diaphragm was also used here which allows receiving incredibly plastic bokeh. All lens were covered with multilayer anti-reflection coutings thanks to which the transmision of light is kept on a very high level.
There have been many excellent reviews of the Samyang 85mm f1.4.  It seems that it out performed the Nikkor 85mm f.14 AIs and Carl Zeiss lenses.  Build quality is excellent, being superior to the Carl Zess (Contax) lens and the AF-D Nikkor.  The lenses come with exclusive mounting for Canon, Nikon, Sony, Pentax, Olympus, Samsung NX. The Samyang 85mm F1.4 Canon mount can be used on Canon APS-C sensors and Full frame camera as well.
Promotional Price : RM 1350 RM 1280 ( AE Version ) ( AE user can use Aperture Priority mode and set aperture through the camera )
Available Mounts : Nikon Only
Purchase Options : Shipping Available To All Parts of Malaysia, Self Pick Up Is Available at our branch in Cheras
Samyang AE 85mm f1.4 IF UMC is the highest-quality lens for taking portrait photo, has been designed for professionals seeking the highest-possible image quality. Latest edition features chip transmitting all data necessary for light measurement and allowing to control the aperture directly from your camera's body. Most importantly, this solution allows you to take full advantage f your flash.
All parameters are displayed in EXIF. The lens is comprised of 9 lenses and 7 optical groups with internal focusing function and one aspherical lens. The lens features 8-blades aperture allowing to artistically disperse your background.  All lenses are covered with multi-layered and anti-reflexive coatings UMC – Ultra Multi Coated ensuring that high transmission of light.

Orders & Enquiries : Please email us at

shops.famecherry@gmail.com

or call us at

012-3375629

( We are also available on Whatsapp )


Sample photos at https://www.google.com/search?q=Samyang+85mm+F1.4
In Action
http://www.youtube.com/watch?v=a-HyG0ukVnc