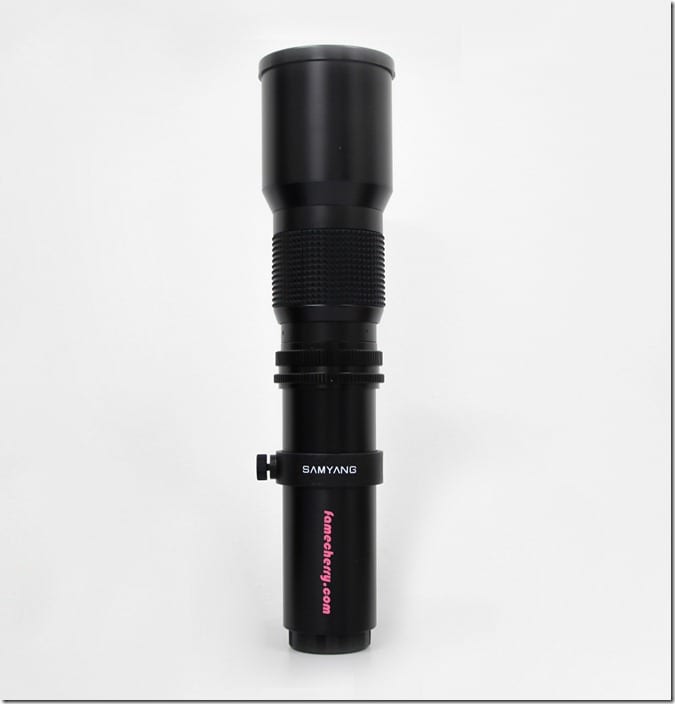 Price : RM 540
Purchase Options : Shipping Available To All Parts of Malaysia
Samyang 500 mm f/8 Preset ED IF MC is a telephoto lens constructed especially to extreme zoomings. It's perfect for photographing nature, astrophotography, spy photography and everywhere, where a large zooming is really necessary.
The construction of the object lens is really scrupulous, made of high class materials. Each lens was made of optic glass on which anti-reflection coutings ensuring hight light transmission were put on. The enclosure was made of durable metal and coloured with black and white, which provides attractive looks. Important here is the T2 universal mount which allows mounting it to all reflex type cameras after using an appriopriate T2 adapter. In the set together with the object lens we can find a practical case to transport and maintain our camera and T2 adapter to the chosen system.
What is more, one can buy dedicated coverter x2 thanks to which our camera will acquire the focal length of 1000mm. Worth mentioning is the fact that while using object lenses with APS-C cameras the focal length should be additionaly multiplicated by 1,5x so it will be 750mm and after the use of the converter 750mm using tings werit wil be 1500mm.

Orders & Enquiries : Please email us at

shops.famecherry@gmail.com

or call us at

012-3375629

( We are also available on Whatsapp )


Sample photos at https://www.google.com/search?q=Samyang+500mm+F8
Click to access f=500F8.0Preset.pdf