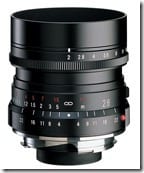 Promotional Price : RM 2459 RM 2159 ( We also accept payments in SGD ) ( Kindly Contact Us For Unbelievable Best Price )
Available Mounts : All Mirrorless Bodies
Purchase Options : Shipping Available To All Parts of Malaysia, Self Pick Up Is Available at our branch in Cheras
Lens Reviews
http://www.kenrockwell.com/voigtlander/28mm-f2.htm
https://www.flickr.com/groups/ultron28f2/
Orders & Enquiries

Please email us at shops.famecherry@gmail.com or call us at 012-3375629

( We are also available on Whatsapp but if urgent please make phone call ya )
Our Other Lenses : https://famecherry.com/online-store/zenit-malaysia



Description
The Voigtlander Ultron 28mm f2.0 lens is a medium/compact size lens. The ideal every-day lens for shooting in low light situations, with excellent focusing results.
Manufacturer : Voigtlander
Technology Background : German
Focal Length : 28 mm
Largest aperture : F2.0
Smallest aperture : F22
Lens Construction : 8 groups, 10 elements
Picture Angle : 75 Degrees
Aperture blades : 10
Closest Distance : 0.7 m
Diameter : 55 mm
Length : 51.2 mm
Weight : 244 g
Filter Size : 46 mm
History
Voigtländer is an optical company founded by Johann Christoph Voigtländer in Vienna in 1756.
Being the oldest name in camera and lens manufacture, it produced the Petzval photographic lens (the fastest lens at that time: f/3.7) in 1840.
They also made the world's first all-metal daguerrotype camera (Ganzmetallkamera) in 1841 and bringing out plate cameras shortly afterwards.
It set up a branch office in Braunschweig in 1849, moving its headquarters there later.
The company issued stock in 1898, and a majority of the shares were acquired by Schering in 1925.
Over the next three decades, Voigtländer became a technology leader and the first manufacturer to introduce several new kinds of products that later became mainstream.
These include the first zoom lens for 35mm still photography (36–82/2.8 Zoomar) in 1960 and the first 35mm compact camera with built-in electronic flash (Vitrona) in 1965.
Schering sold its share of the company to the Carl Zeiss Foundation in 1956, and Zeiss and Voigtländer integrated in 1965.
In 1972 Zeiss/Voigtländer stopped producing cameras, and a year later Zeiss sold Voigtländer brand to Rollei.
On the collapse of Rollei in 1982, Plusfoto took over the name, selling it in 1997 to Ringfoto.
Since 1999, Voigtländer-branded products have been manufactured and marketed by Cosina.