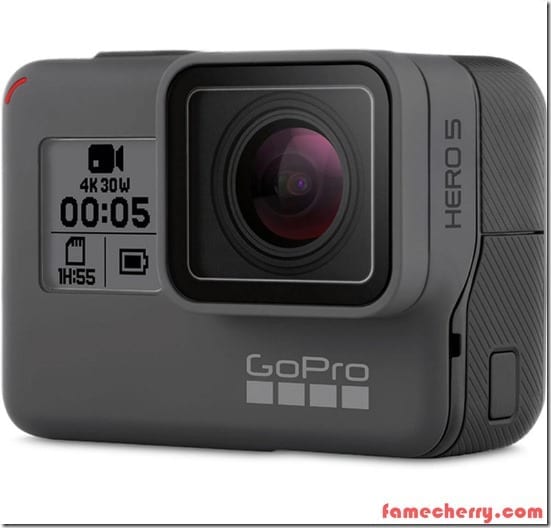 Price : RM 1979 ( Comes with very special mystery gift )
Description : The GoPro HERO5 Black Edition Action Camera ( Official Local Malaysian Set ) is the most powerful and easy-to-use GoPro ever, thanks to its 4K video, voice control, one-button simplicity, touch display and waterproof design. Smooth stabilised video, crystal-clear audio and pro-quality photo capture combine with GPS to make HERO5 Black simply the best GoPro. And when it's time to edit and share, HERO5 Black automatically uploads footage to your GoPro Plus cloud account to provide easy access on your phone.1 Then, you can create amazing videos automatically with Quik™, the GoPro editing app.
( We also accept payments in SGD ) ( Kindly Contact Us For Unbelievable Best Price )
Purchase Options : Shipping Available To All Parts of Malaysia, Self Pick Up Is Available at our branch in Cheras
Community
Join The Zenit Worldwide Community : https://www.facebook.com/groups/zenit-world 
Orders & Enquiries

Please email us at shops.famecherry@gmail.com or call us at 012-3375629

( We are also available on Whatsapp but if urgent please make phone call ya )



Video Inspiration

GoPro HERO5 Black Action Camera Specifications

– 1 Year Local Manufacturer Warranty
– Supports 4K30, 2.7K60, 1080p120 Video ; Capture 12MP Photos at 30fps
– 2 Inch Touchscreen ; Capture and Record with a single button press
– Rugged + Waterproof to 33ft (10m) without a housing
– Voice Control support for 7 languages, operate camera hands-free
– Distortion-Free Wide Angle Video and Photos with New Linear-View Setting
– Professional-Grade Electronic Video Stabilization
– Advanced wind-noise reduction using 3 microphones
– Automatic upload photos/ footages to the Cloud
– Wi-Fi and Bluetooth connectivity
GoPro HERO5 Black Action Camera Information

The New GoPro HERO5 Black action camera records stunning 4K videos and features a 2 inches touchscreen that able to capture 12MP photos at 30 fps. The HERO5 Black is waterproof that allows to be taken to depths of 33ft (10m) without the need for an external waterproof housing. The HERO5 Black is prepared to record with a single button press in any situation no matter in the lands of concrete, sand, dirt, snow, or water. Once finished recording, use the touchscreen to playback and even edit/ trim your footage right on the camera. The HERO5 Black also added a Build-in GPS, making it easier to tag a clip with location data.
The most exciting and cool features about HERO5 Black is the Voice Control with support for 7 Languages. It enables users to operate the camera hands-free simply by uttering voice commands. You will first have to say its Name to activate it, then speak the voice command. For instance, you can say "GoPro, start video" and the camera will automatically start shooting video footage. Users can also use voice commands to turn the camera On/Off, Start/Stop, Time Lapses, or tag special moments while recording.
PHOTO MODES:

1. Raw File Option – In addition to standard JPEG capture, the HERO5 Black can also capture raw images in the .GPR format. Raw images offer enthusiasts or professional photographers more flexibility after the photo is taken. Raw images can be processed after-the-fact for higher quality output.
2. WDR Mode – Bridging the gap between JPEG capture and raw, the WDR (Wide Dynamic Range) mode is also available. If the scene has dark shadows and bright highlights, WDR mode will retain better detail in those areas.
3. Burst Mode – Bursts of photos can be taken during high-action sequences to ensure that you capture the moment. The camera's buffer can fit up to 30 photos from a single burst, and burst durations can be set from six seconds to one second, effectively offering a 30fps burst of 12MP photos.
4. Time Lapse Mode – Record clouds floating by, traffic snaking through cityscapes, or stars and constellations tracing their way across the sky with the time lapse mode. Set your interval from a picture every 1/2 second to every minute for different effects.
VIDEO RECORDING MODES:

Record in UHD 4K resolution up to 30fps or switch to lower resolutions such as 1080p and 720p for access to higher frame rates, more FOV (Field Of View) options, and electronic stabilization. In 2.7K widescreen and lower resolutions, for instance, narrower FOV options open up, including Medium, Narrow, and the new Linear mode (only available in 2.7K and 1080p settings), which corrects the lens's barrel distortion.
All video recording modes can be as simple or advanced as you want them to be. If you only want to ensure that a shot is captured, auto-exposure is at your disposal. For those who are shooting less off-the-cuff footage and want complete control, manual control of exposure is also available.
Audio for video is recorded using three(3) microphones. In normal conditions, the HERO5 Black will process the audio for a stereo signal. If high winds start affecting the audio, the HERO5 Black can intuit which microphone is picking up the best sound and automatically switch to that microphone in real-time and filter out any excess wind noise. While the audio will only be in mono, you will know that you're getting the highest possible audio quality.
WIRELESS AND MOBILE DEVICE CONNECTIVITY:

Bluetooth and Wi-Fi connectivity enable the HERO5 Black to interface with mobile devices and wireless accessories. FREE apps from GoPro, CAPTURE and QUIK fully integrate the functionality of your HERO5 Black with your mobile device. CAPTURE offers live preview, playback, and full camera control over Wi-Fi. QUIK is a quick editing platform for easy trimming and sharing of your recorded videos.