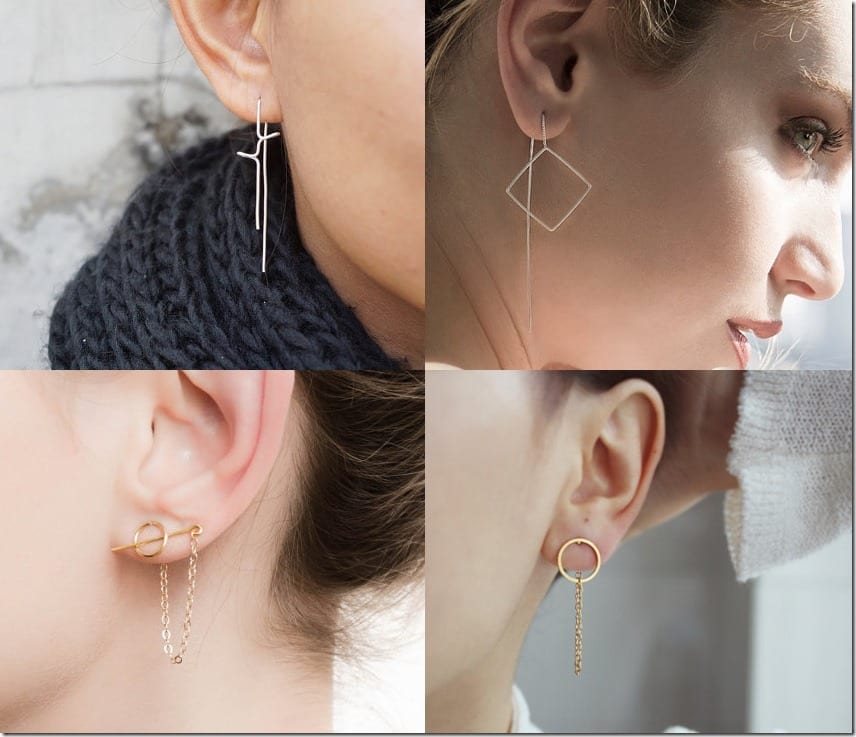 Out of the box earring style to wear this year: threader earrings. We show 7 threader earring styles to get your lobes all perked up.
I've seen this style of earrings a year before and didn't think much of them then as I was (still am) obsessed with the geometric style earrings. This year, statement earrings have been said to take over earlobes of people from across the globe but personally, I find that a more classic type of earrings beat an elaborate one at the end of the day.
Sometimes, a simple yet distinctive earring style is enough to give the wearer the pleasure of looking and feeling like she or she is taking the dressing game to a style level that is subtly intentional. I think delicate threader earrings have that minimal look that is hard to resist if you like the presence of classic jewelry that adorns without taking over.
So, what are threader earrings and how do you wear them exactly?
The word threader gives the meaning away as it paints a picture of a thread being inserted into the hole of a needle. But if you've not held a thread or a needle ever in your life before, then the description below will help:
Threader earrings are made for pierced ears and are different from other earrings in its distinctive design; they consist of a long fine chain that has a metal post, with the other end carrying a decorative charm as a statement.
What sets threader earrings apart from other earrings is the way they're worn which is by inserting the chain end through the hole in an earlobe, letting the post end part of the chain dangle behind the lobe while the the decorative charm end hang in front of the earlobe.
They can be worn on an earlobe with a single or multiple holes and you can adjust the length to your desire or loop the metal end to the front for a fun look.
Are you ready to up your bling game and wear the unconventional earring style this year? I've rounded up 7 to get your lobes all warmed up. Enjoy!
7 CHIC Earrings You Can Thread Through The Hole In Your Earlobe
Circle Stud Bar Threader Earrings

Circle Stud Chain Threader Earrings

Dainty Twig Threader Earrings
♥ | Henju
Leaf Charm Threader Earrings

Sapphire Stone Threader Earrings

Spike Quartz Threader Earrings

Square Chain Threader Earrings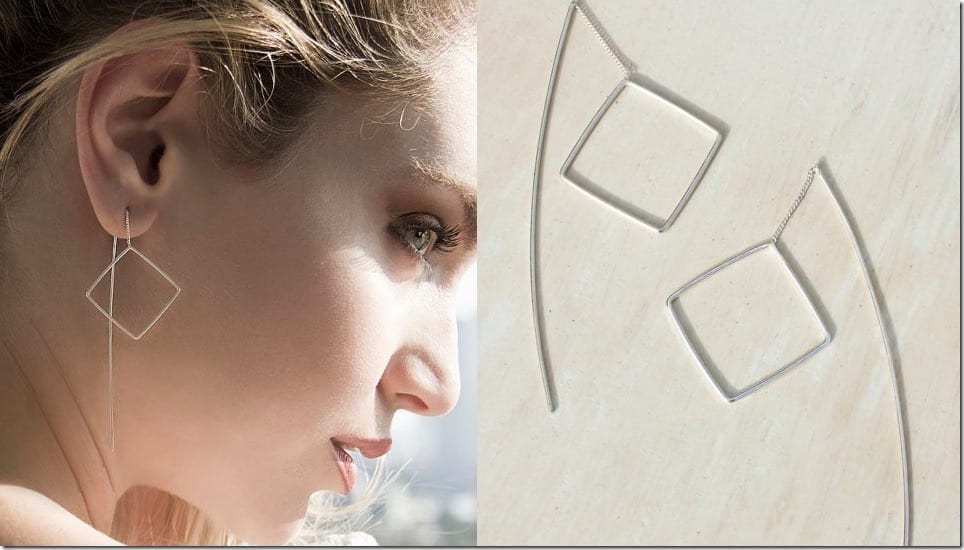 ♥ | ILUMA
What are your thoughts on these threader earrings? Would you wear them? Be candid and share below – I'd love to know!
Whatever we plant in our subconscious mind and nourish with repetition and emotion will one day become a reality. — Earl Nightingale
Disclosure: This post contains affiliate links, which means that if you click on one of the product links, a small commission may be credited to this site.
Love this post? Share it with your friends! Follow us for more fashion inspiration:
♥ Twitter ♥ Facebook ♥ Google+ ♥ Bloglovin ♥ Pinterest ♥ Polyvore ♥
© All images are copyrighted by their respective authors.
Here on Fashionista NOW, our one and very own Miss Reverie showcases the latest in fashion trends and its various social implications in our everyday lives. You may read more of her at REVERIE SANCTUARY.